Dayton Agreement should be revised - experts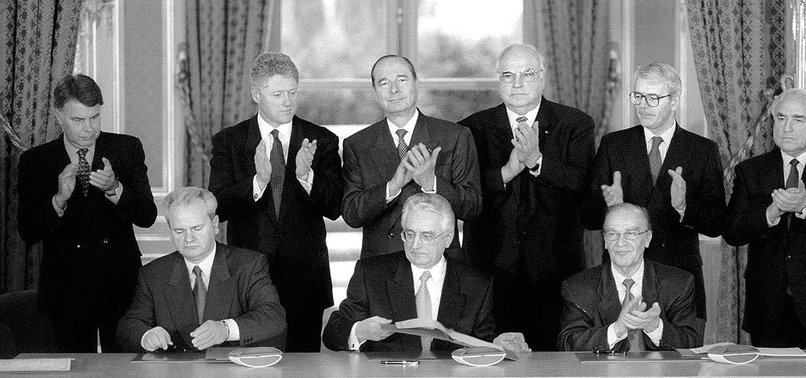 Twenty-four years after the Dayton peace accords ended the war in Bosnia and Herzegovina, the deal is viewed as "an expired peace agreement" in the country.
The accords, initiated at the Wright-Patterson U.S. Air Force base near Dayton, Ohio, on Nov. 21, 1995, ended a brutal civil war in Bosnia that resulted in around 100,000 deaths over three-and-a-half years.
However, nearly 3.5 million people today are living in one of the most fragile and multi-ethnic states in the world, facing economic difficulties and political deadlocks due to a complex constitutional structure.
Dayton built Bosnia and Herzegovina as a single state, but consisting of two entities -- the Croat-Muslim Federation of Bosnia, and Republika Srpska -- as well as Brcko, a neutral, self-governing canton.
The accords, which were agreed by then Serbian President Slobodan Milosevic, Bosnia's Alija Izetbegovic and Croatian leader Franjo Tudjman, also established several mechanisms that institutionalize Bosnian, Serb and Croat divisions.
The tripartite Presidency of the country is a clear example of the structural complexity.
The country also has ethnic quotas in public institutions, and the groups have veto rights on "vital interests" in decision-making.
This hybrid political establishment has led to the country being governed by five presidents, 13 prime ministers and 136 ministers over the last two decades.
Therefore, citizens at a local and national level are apathetic toward influencing political decisions due to a range of institutional shortcomings.
The peace agreement and its system have been publicly described as one which "needs updating". Meanwhile, the agreement is also viewed as an obstacle to Bosnia and Herzegovina's progress as well as its membership in the European Union and NATO.
Although the "Dayton 2" or "New Dayton" debates are often on the agenda, those who make use of the complex system do not allow such discussions to remain on the agenda for long periods of time or make necessary changes.
At the point of Dayton's update, the only major powers and the international community are involved.
- DAYTON MUST BE UPDATED
Turkey's President Recep Tayyip Erdoğan earlier said that the 1995 Dayton Agreement should be revised, as it was not generating a solution for Bosnia and Herzegovina's future.
The main and perhaps the only benefit of the Dayton Peace Agreement is silencing weapons and preventing further deaths.
US diplomat Richard Holbrooke, who participated in the Dayton talks, said: "The people of Bosnia and Herzegovina should live with this agreement for at least 15 years and that it is time to change it."
Holbrooke's statement expresses the views of the architects of the agreement.
Many Bosnian politicians and experts agree on the renewal of the agreement for the country's development and progress toward EU and NATO membership.
The Constitution, which also includes discrimination against other nations, is the biggest obstacle for Bosnia and Herzegovina on its way to the EU.