Thousands of people gather in German city of Kassel to protest far-right rally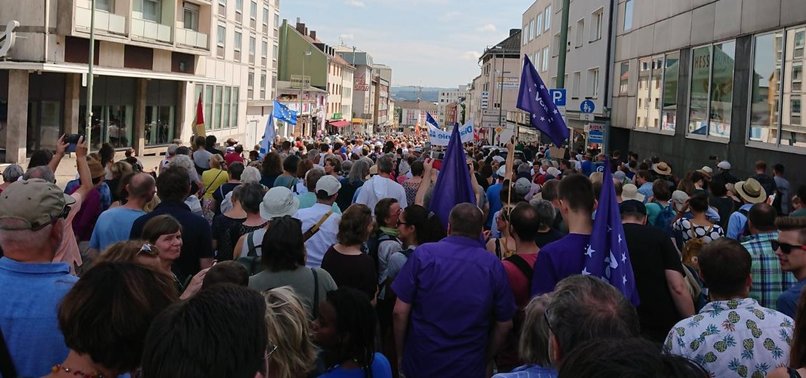 Around 10,000 people gathered on Saturday in the German city of Kassel to protest against far-right extremism, seven weeks after the killing of local politician Walter Luebcke.
The protesters gathered to demonstrate against a planned far-right rally, police said Saturday, which was initially expected to draw 500 people.
However, by Saturday afternoon, only 120 far-right protesters had arrived in the city centre.
More than 8,000 counterprotesters had already gathered in Kassel before the start of the far-right demonstration, which was scheduled to start at noon.
The counterprotesters were wearing T-shirts and carrying signs saying "Human rights instead of right-wing humans" and "Nazis are even more annoying than wasps." Some held pictures of Walter Luebcke, who was killed by a suspected right-wing extremist in June.
The far-right protesters were rallying against what they say is an attempt to use Luebcke's killing to unfairly paint them as violent.
The demonstration took place after a court denied attempts to ban it earlier this week.
After calls for violence began circulating online, police prepared for a major operation, and completely cordoned off the area around the far-right protesters.
Despite the precautions, both camps were able to get close to each other, with some protesters throwing bottles and brawling with police. Thirty-one people were taken into custody, police said.
German Justice Minister Christine Lambrecht criticized the far-right rally in strong terms.
"It is disgusting and hypocritical that those who foment hate would now, only a few weeks after this unspeakable crime, march through Kassel," she said.
Walter Luebcke, a local politician in Kassel, was shot dead at his home on June 2.
He had become the target of threats for supporting Chancellor Angela Merkel's refugee policies. Prosecutors say Luebcke's death was a politically motivated murder linked to right-wing extremism.
Luebcke's suspected killer has withdrawn his initial confession, though prosecutors still expect to be able to convict him.