At least 12 people killed in al-Shabaab attack on Somali hotel
WORLD
Agencies and A News
Published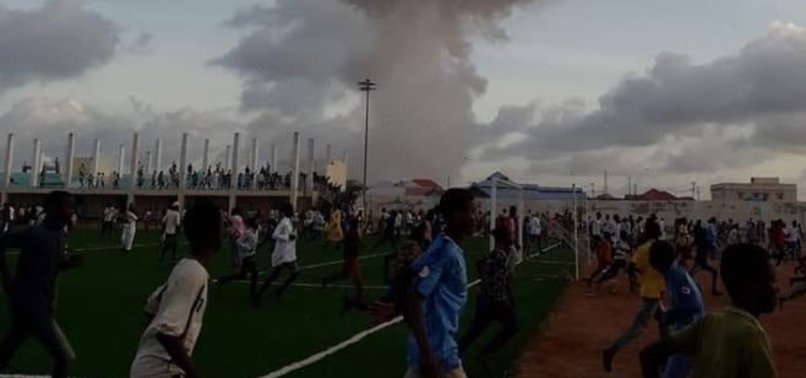 At least 12 people including a local journalist were reportedly killed and several others wounded in a suicide car bomb attack, targeting a busy hotel in Somalia's southern port city of Kismayo on Friday evening, officials said. Somali-based al-Qaeda affiliate al-Shabaab has claimed responsibility for the deadly attack in Kismayo, the capital city of Jubaland province.
At least 12 people were killed in a terrorist attack at a hotel in the Somali port city of Kismayo on Friday, a high-ranking police officer said.
Armed assailants stormed the hotel following a suicide attack on the building, according to the officer.
A suicide bomber rammed a vehicle loaded with explosives into the popular hotel in the southern town before several heavily armed gunmen forced their way inside, shooting as they went, security official Abdiweli Mohamed said.
"The blast rocked the popular Medina hotel formerly known as Cascasey which is located in downtown Kismayo," said Mohamed.
"Several gunmen entered and started shooting but the security forces responded quickly and engaged in a gunfight with the terrorists inside the building," he added.
Witnesses said among those killed was a well-known social media activist, her husband and a local journalist.
"The blast was very big," said witness Hussein Muktar.
"There is chaos inside, I saw several dead bodies carried from the scene and people are fleeing from the nearby buildings," added Muktar.
"The relatives of a local journalist Mohamed Sahal confirmed his death and I'm getting that social media activist Hodan Naleye and her husband also died in the blast," another witness, Ahmed Farhan, said.
Kismayo, the port city located about 500 kilometers (310 miles) South of Somali capital Mogadishu.
The al-Shabaab terrorist group claimed responsiblity for the attack on Radio Andalus, a pro-insurgent broadcaster, and said that its fighters were still in the hotel.
Al-Shabaab controls wide swathes of southern and central Somalia, regularly carrying out attacks that target security forces and civilians. The al-Qaeda-linked fundamentalists are fighting for dominance over the impoverished Horn of Africa country.
US forces and African Union peacekeepers support the government in its fight against the terrorist group.