UN chief slams lack of civilian security in conflicts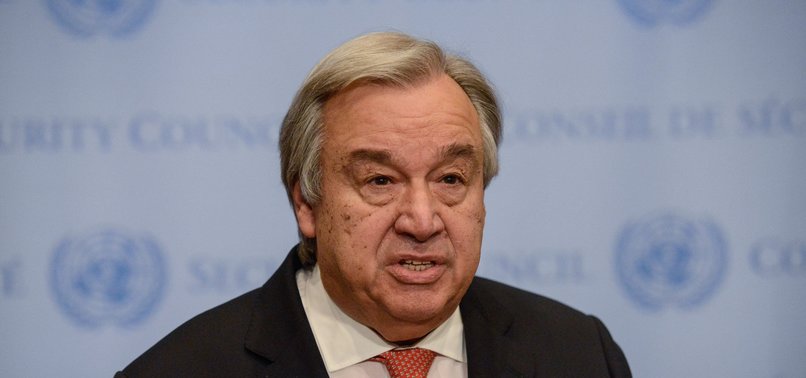 UN Secretary-General Antonio Guterres on Thursday lamented the lack of civilian protection in armed conflicts across the globe, saying international compliance with the UN's framework for such conflicts has deteriorated.
"Grave human suffering is still being caused by armed conflicts and a lack of compliance with international humanitarian law," Guterres said at a UN Security Council open debate.
According to UN data, 22,800 civilians have died in conflicts in Afghanistan, Iraq, Mali, Somalia, South Sudan and Yemen while 90% of those killed and injured from explosive devices in populated areas were civilians, not soldiers.
Guterres also mentioned Idlib, a province in northwest Syria facing a new offensive by the Bashar al-Assad regime.
The move by Assad's regime threatens to unleash a major humanitarian catastrophe with 180,000 civilians forced to flee in the last three weeks, according to the UN.
At least 151 civilians have lost their lives in Idlib province since April 25 and more than 405 have been injured.
Some 1.5 million people currently reside in Idlib. Half of them are displaced from other parts of the war-torn country.
Displacement is also a problem for many other places in the world. In 2018, 40 million people were internally displaced and 25 million became refugees, largely stemming from conflicts in Afghanistan and South Sudan in addition to Syria.
"Widespread access constraints jeopardized humanitarian and medical assistance to civilians in need," Guterres said.
The UN chief noted that hospitals and medical facilities were also being targeted by armed groups. There were 705 attacks against healthcare workers and facilities resulting in 451 deaths and 860 injuries, according to the UN.
The UN Security Council adopted a resolution in 2016 which condemned any attack against medical facilities in a conflict area. Some Council members considered such attacks to constitute war crimes.
Guterres, while expressing remorse over the lack of civilian protection in these conflicts, said there was room to improve on helping secure the safety of innocent lives in war zones.
Policy frameworks need to be established to provide clear institutional authority for civilian protection to ensure those who do harm to civilians are held accountable, the UN chief said.
"We have the rules and laws of war. We all now need to work to enhance compliance," he said.