Detained Kashmiri leader 'hospitalized' in New Delhi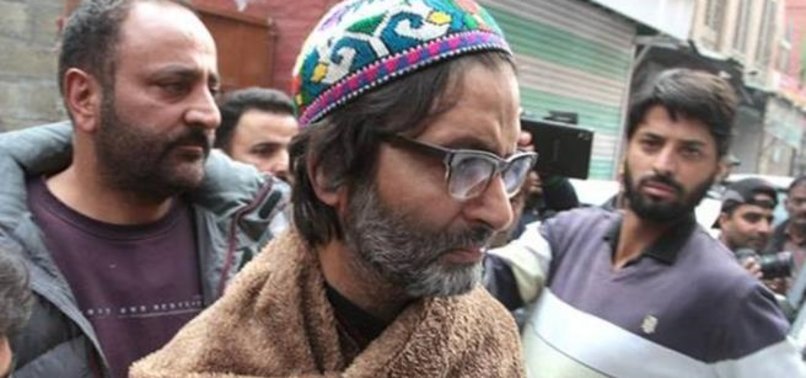 A Kashmiri leader, who was detained by Indian authorities last month, has been admitted to a hospital in the capital New Delhi after he fell ill, his party said on Saturday.
In a statement, Jammu and Kashmir Liberation Front (JKLF) said Malik has been admitted to Ram Manohar Lohia Hospital.
"After getting court permission, his (Malik's) lawyer was contacted by NIA [National Intelligence Agency] officials this morning and asked to come to the said hospital where the lawyer found that Malik was on a hunger strike," the statement said.
"The JKLF chairman started his hunger strike against the callous approach of NIA, a day after he was shifted to New Delhi and handed over to the agency," it added.
Despite repeated attempts, India's National Investigation Agency and hospital officials couldn't be reached for a comment.
Mirwaiz Umar Farooq, another Kashmir leader, also spoke about Malik's condition and said no one was being allowed to meet him.
"Deeply disturbed by the sudden news about Yasin Malik being seriously ill and shifted to hospital in New Delhi. As no one is allowed to meet him details are not yet known. His safety and well being is the responsibility of the state under whose detention he is arrested," Farooq said in a Twitter post.
Malik was arrested in February and then slapped with a Public Safety Act -- which allows for anyone in Kashmir to be arrested for up to two years without a trial -- and imprisoned in Kot-Balwal prison in Jammu.
On April 9, India's National Investigative Agency (NIA) brought Malik to New Delhi, where a court sent him into the NIA's custody till April 22 for interrogation in connection with a "terror funding case".
Malik's organization was also banned by the Indian government last month.
Several other Kashmiri leaders have been arrested on same charges by the NIA and imprisoned in Indian capital New Delhi.
Jammu and Kashmir, a Muslim-majority Himalayan region, is held by India and Pakistan in parts and claimed by both in full. A small sliver of Kashmir is also held by China.
Since they were partitioned in 1947, the two countries have fought three wars -- in 1948, 1965 and 1971 -- two of them over Kashmir.
Also, in Siachen glacier in northern Kashmir, Indian and Pakistani troops have fought intermittently since 1984. A cease-fire came into effect in 2003.
Some Kashmiri groups in Jammu and Kashmir have been fighting against Indian rule for independence, or for unification with neighboring Pakistan.
According to several human rights organizations, thousands of people have reportedly been killed in the conflict in the region since 1989.