Alt-right exploits Paris cathedral fire for anti-Muslim propaganda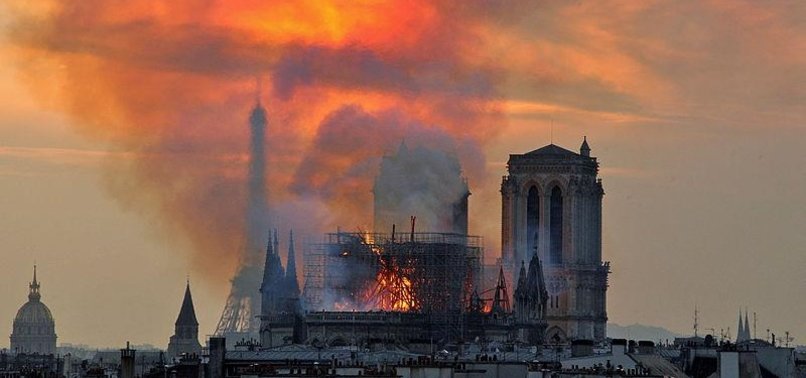 Alt-right individuals and conspiracy theorists are using the fire incident at the Notre Dame Cathedral to spread anti-Muslim hate and Islamophobic rhetoric on social media.
Right-wing provocateurs, primarily on Twitter and Facebook, began declaring the inferno, which has caused serious damage to the famed cathedral in Paros, as an act of terrorism even before the blaze was put out.
"If the Notre Dame fire serves to spur the White man into action—to seize power in his countries, in Europe, in the world—then it will have served a glorious purpose and we will one day bless this catastrophe," wrote Richard Spencer, a well-known right-wing commentator and president of the far-right National Policy Institute, on Twitter.
Another Twitter account with the name MorgothLives, who is also the editor of the right-wing blog Morgoth's Review, posted a picture of the burning cathedral on Twitter along with a statement that reads: "‪#NotreDame Cathedral ablaze is the perfect symbol of the modern age, it's almost as if the building set itself on fire to be done with seeing native Europeans replaced and spat on, the spiritual life of Europe crushed and mocked. The continent turned into a supermarket #Paris".
Jack Posobiec, an alt-right conspiracy theorist and a host at the right-wing One America News Network, compared the blaze to that of the 9/11 terrorist attack saying: "This feels like 9/11. I don't know what else to compare it to" and that "many catholics are saying Notre Dame feels like 9/11 did".
Other high profile figures, such as Paul Joseph Watson and Damien Rue, a French right-wing individual, took to Facebook and accused users -- who appeared to have Muslim names -- of responding to videos of the fire with the laughing and smiling emojis.
Watson is a right-wing media personality who runs a popular YouTube channel with the conspiracy site InforWars.
"A brief summary of who is responding to the tragic Notre Dame fire with 'smiley faces' on Facebook. Appalling," Watson said, although there is no evidence to show that these reactions were from Muslim users.
These high profile individuals have thousands of followers on social media and the organizations and platforms they run have a massive outreach.
On Monday afternoon a fire broke out at the centuries-old Notre Dame cathedral in Paris.
The inferno engulfed the popular landmark, destroying the iconic spire and the roof, and causing heavy damage to the interior of the structure.
Firefighters were able to put out the blaze and prevent the whole structure from being destroyed. French authorities have ruled out arson and any terror-related motives as the cause of the fire.