Rights group accuses Assad regime of deliberate attacks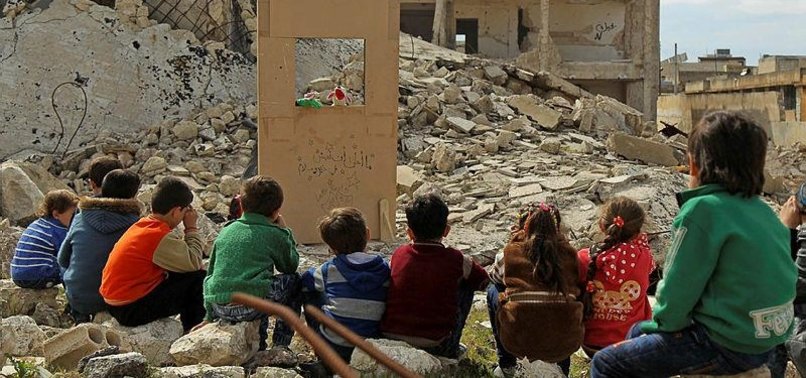 The Assad regime is targeting health facilities, bakeries, schools and civilian settlements in northwestern Syria's opposition-held city of Idlib, a human rights watchdog said Thursday.
According to a new report released by Amnesty International, the Syrian regime, backed by Russia, has escalated its airstrikes and artillery attacks on heavily-populated areas located along the Damascus-Aleppo Highway.
In the report, Amnesty International's Middle East research director, Lynn Maalouf, is quoted as saying: "Eight years into the crisis, the Syrian government continues to show utter disregard for the laws of war and the lives of civilians."
"Military gains have been achieved at great cost to civilians, leading to tens of thousands of deaths and the flattening of cities and towns," Maalouf says.
She adds: "The ongoing attacks in Idlib fit the same pattern we've seen before in Aleppo, Daraa and the Damascus countryside, where Syrian government forces hit hospitals, medical facilities, emergency responders, bakeries and schools, leaving people no choice but to flee."
The report goes on to assert that Assad regime forces targeted a school on Tuesday, killing a 10-year-old boy and injuring two other children, in Idlib's eastern Sheikh Idriss district.
The report also cites recent regime attacks on the Al-Hayat Hospital, a blood bank, an ambulance response unit and the civil-defense agency known as the White Helmets.
The hospital was closed following the attack, while patients in critical condition were transferred to nearby health facilities.
According to the report, Syrian regime forces also recently shelled an area near Idlib's Al-Rahme private hospital, killing one civilian and wounding three others.
One resident of Idlib's Khan Sheikhoun district is quoted in the report as saying that the city's main bakery was targeted in February.
"The Al-Rawda bakery… was destroyed in an airstrike attack... I removed the bodies of two men who died in the explosion in front of the bakery on the street," he says.
Maalouf, for her part, is quoted as saying: "Deliberate attacks on civilians and on civilian objects, including hospitals and other medical facilities, and indiscriminate attacks that kill or injure civilians, are war crimes."
On Wednesday, the U.K.-based Syrian Human Rights Network said the Assad regime and its allies had committed violations in Idlib's de-escalation zone 5,042 times since the zone was established in September of last year.
So far this year, the regime and its allies have reportedly been responsible for the death of at least 175 civilians -- and the injury of at least 480 others -- in air and ground attacks.