Jamal Khashoggi's fiancee hits out at Trump over 'cover-up'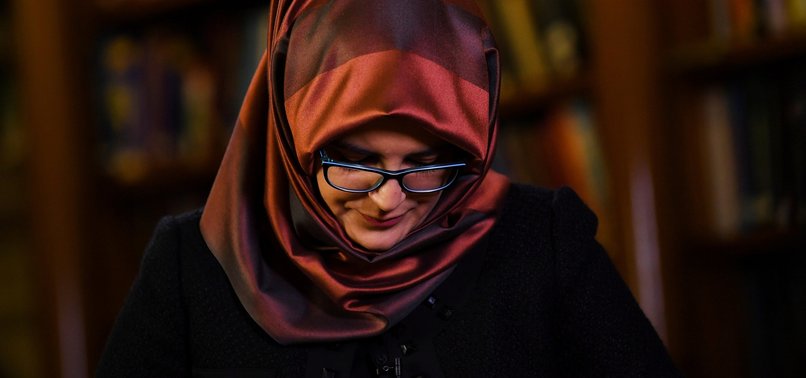 The fiancee of slain journalist Jamal Khashoggi has called on U.S. President Donald Trump and other leaders to ensure that his killing at the Saudi Consulate in Istanbul is not covered up. Speaking at a memorial in London on Monday, Hatice Cengiz urged Trump to "help reveal the truth and ensure justice be served."
The fiancee of Saudi journalist Jamal Khashoggi has hit out at US President Donald Trump's response to his murder, saying he must not let Riyadh cover up the killing.
"I am extremely disappointed by the stance of the leadership of many countries, particularly in the US," Hatice Cengiz told a memorial event in London late Monday.
"President Trump should help reveal the truth and ensure justice be served. He should not allow my fiance's murder to be covered up," she said in Turkish, according to a video published by British media.
She said she believed the Saudi regime knew where Khashoggi's body was, and called for the "evil criminals and their cowardly political masters" to be held to account.
Khashoggi was a Saudi journalist who went into self-imposed exile in the United States last year after falling out with the kingdom's powerful Crown Prince Mohammad bin Salman.
He was killed after entering the kingdom's consulate in Istanbul on October 2 to obtain paperwork for his marriage to his Turkish fiancee.
Western powers have expressed outrage at his killing and demanded answers from Riyadh, although Trump warned against halting a Saudi arms deal to increase the pressure, saying it would harm US jobs.
Cengiz said Khashoggi's death had "left a void in (her) heart and soul", adding: "If only I knew what would happen, I would have entered the consulate myself.
"If only I knew that would be the last time I would see my Jamal, his smile, hear his laughter, I would have stood in front of that murderous team myself."
The head of the Saudi investigation, Attorney General Sheikh Saud al-Mojeb, last week acknowledged that the killing was "premeditated", based on Turkish evidence.