Bangladesh says Rohingya repatriation to start mid Nov.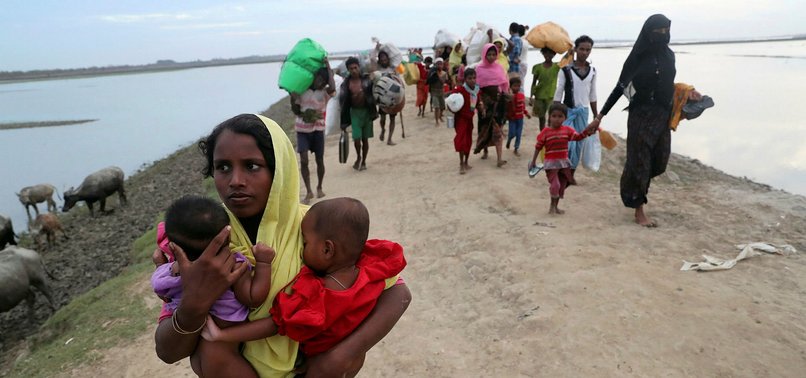 The first group of Rohingya will be sent to Myanmar in mid-November, a Bangladeshi official said Tuesday following a meeting with Myanmar officials in Dhaka.
The announcement came amid international concern and criticism of the repatriation process of the most persecuted community which fled military brutality in the western Rakhine state of Myanmar.
Bangladeshi Foreign Secretary Shahidul Haque told reporters following the Bangladesh-Myanmar joint working group meeting that both countries are planning to send the first group of Rohingya to Rakhine in mid-November, without providing any specific date, Bengali daily Prothom Alo reported.
The meeting was held to discuss the development regarding the repatriation process, which was inked by top diplomats of both countries last December.
The repatriation was scheduled to start earlier this year, as part of the agreement, but Bangladesh blamed Myanmar for unusual delay.
In February, Bangladesh handed over a list of 8,032 Rohingya to Myanmar as the first group to be repatriated, according to Haque. However, the Yangon authority only evaluated around 6,000 Rohingya for alleged terror links last month, he added.
Following the evaluation Myanmar agreed to accept only 4,600 Rohingya while they claimed 52 Rohingya were terrorists and showed reluctance to accept around 1,500 refugees.

Safety concerns
Tuesday's meeting was the third of its kind, said Haque, without providing further details about the repatriation process such as which area in Rakhine the Rohingya will be settled or how their safety will be monitored.
Rights organizations have repeatedly expressed their concern over the repatriation process as the killing of Rohingya is still ongoing in western Myanmar.
Marzuki Darusman, the chair of the UN's fact-finding mission in Myanmar, told reporters at the UN headquarters in New York on Oct. 24 that atrocities tantamount to genocide against Myanmar's Rohingya Muslim minority continue to take place.
"This is an ongoing genocide," he said, while calling on the international community to act to stop the abuses.
Human Rights Watch, Amnesty International, Burma Human Rights Network, Free Rohingya Coalition and European Rohingya Council are among several organizations which objected to repatriation claiming it was unsafe to return.
Despite repeated assurance by Bangladesh that repatriation will not take place until humanitarian situation and basic rights are improved, they have failed to convince the Rohingya community and rights groups.
Last year's agreement also says the repatriation will be voluntary.
Neither Bangladesh nor Myanmar have disclosed whether the listed 8,000 Rohingya are willing to return to their country without getting any kind of international protection.
Persecution
The Rohingya, described by the UN as the world's most persecuted people, have faced heightened fears of attack since dozens were killed in communal violence in 2012.
Since Aug. 25, 2017, nearly 24,000 Rohingya Muslims have been killed by Myanmar's state forces, according to a report by the Ontario International Development Agency (OIDA).
More than 34,000 Rohingya were also thrown into fires, while over 114,000 others were beaten, said the OIDA report, titled "Forced Migration of Rohingya: The Untold Experience".
Some 18,000 Rohingya women and girls were raped by Myanmar's army and police and over 115,000 Rohingya homes were burned down and 113,000 others vandalized, it added.
According to Amnesty International, more than 750,000 Rohingya refugees, mostly children, and women, fled Myanmar and crossed into Bangladesh after Myanmar forces launched a crackdown on the minority Muslim community in August 2017.
The UN has documented mass gang rapes, killings -- including of infants and young children -- brutal beatings, and disappearances committed by Myanmar state forces. In a report, UN investigators said such violations may have constituted crimes against humanity.