Turkey's Erdoğan says they expect to capture Afrin by Wednesday evening
WORLD
Agencies and A News
Published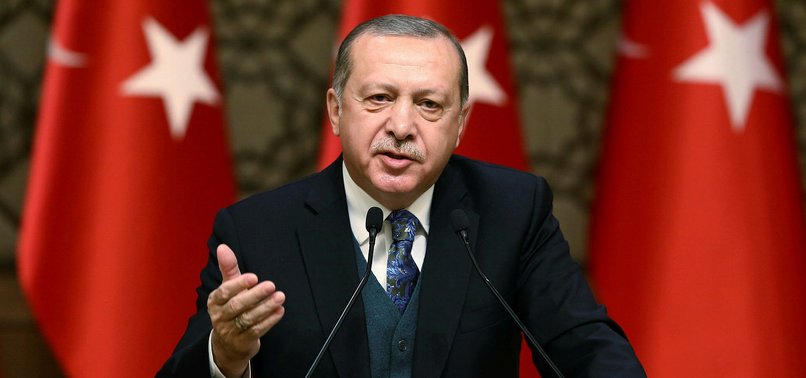 Turkish President Recep Tayyip Erdoğan on Wednesday made comments regarding Turkey's ongoing military operation in Syria's northern region, saying he hoped that YPG/PKK-held Syrian city of Afrin would fall by the evening.
Turkey's President Recep Tayyip Erdoğan said that he hoped Turkey's military and its rebel allies would completely capture the northern Syrian town of Afrin by Wednesday evening, a day after the armed forces said it had encircled the town.

"We have got a little bit closer to Afrin. I hope that Afrin will, God willing, have completely fallen by the evening." Erdoğan said in his televised speech in the capital Ankara.

Erdoğan reiterated that in the Turkish-led counter-terrorist operation, the utmost care is being taken to avoid harming civilians, and that if they had not done so, the operation would have been over by now.


Speaking to local administrators in Ankara, Erdoğan also said civilians in Afrin town were being evacuated in cars through a special corridor, as Turkish forces made substantial advances against the PYD/PKK terrorists in their nearly two-month-old offensive.
"We will clear Afrin of terrorists, clear Manbij, and east of the Euphrates River to our border with northern Iraq, we will rid the terrorist from all of them the same way."
Erdoğan also said that the terrorists lack the ability to construct the tunnels in the mountains that they use.
"They have partners, too. They did this all together as coalition powers. The terrorists aren't that smart, don't be fooled," he added.
"Today, as the operation entered its 54th day, almost 3,500 terrorists have been neutralized and about 1,300 square kilometers of land cleared of terrorists," he said.
Turkish authorities often use the word "neutralized" in their statements to imply the terrorists in question either surrendered or were killed or captured.
On Jan. 20, Turkey launched Operation Olive Branch to clear YPG/PKK and Daesh terrorists from the region of Afrin, near Turkey's southern border.
According to the Turkish General Staff, the operation aims to establish security and stability along Turkey's borders and the region as well as to protect Syrians from the oppression and cruelty of terrorists.
The operation is being carried out under the framework of Turkey's rights based on international law, UN Security Council resolutions, its self-defense rights under the UN charter, and respect for Syria's territorial integrity, it said.
The military also said only terror targets are being destroyed and that "utmost care" is being taken to avoid harming civilians.