Netanyahu avoids corruption allegations in address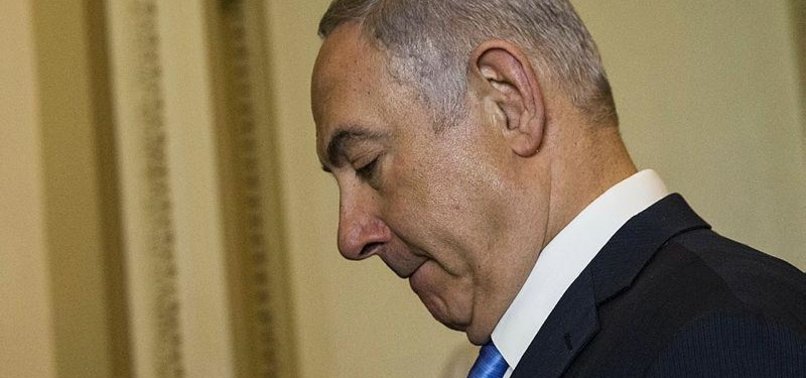 Israeli Prime Minister Benjamin Netanyahu urged Americans to rally behind Tel Aviv as it seeks to confront what he calls Tehran's growing malign influence.
"Iran is building an aggressive empire," Netanyahu said during his keynote address at the American Israel Public Affairs Committee. "I will not let that happen. We will not that happen."
"We must stop Iran. We will stop Iran," he added.
The comments come as Netanyahu and his wife Sara faces multiple graft investigations at home in the most serious threat to his nearly decade-long hold on Israel's top office.
On Friday, Netanyahu was questioned at the prime minister's residence in Jerusalem while his wife was interrogated in the city of Lod southeast of Tel Aviv.
The case involves accusations Shaul Elovitch, owner of the Bezeq telecommunications company, had instructed the Walla news website, which he owns, to provide Netanyahu with positive coverage.
In return, Netanyahu would promote regulatory changes advantageous to the company, according to the allegations.
Elovitch, along with his wife and two senior Netanyahu associates, was recently arrested as part of the ongoing investigation.
Last month, Israeli police recommended Netanyahu be indicted on corruption charges, saying there was now sufficient evidence to formally charge him in two other graft cases.
The cases appear to be gaining steam with a close Netanyahu confidant agreeing Monday to cooperate with the inquiry and testify in the corruption cases, according to Israeli media.
When pressed by a handful of American media outlets about the investigations into himself and his wife, Netanyahu declined to answer, according to National Public Radio.
Netanyahu made no mention of the cases during his pro-Israel address in Washington, instead raising the alarm over Iran while lauding Israel's technological advances.
"The force behind so much of what is bad is this radical tyranny in Tehran," he said.
Alluding to joint efforts to counter Iran, Netanyahu said regional states see Israel as "their indispensable ally in confronting our common challenges, and seizing our common opportunities.
"This is true for Egypt and Jordan, Israel's longtime peace partners. But it is also true for many other Arab countries in the Middle East," he said.