Washington to continue backing key YPG/PKK leader in Syria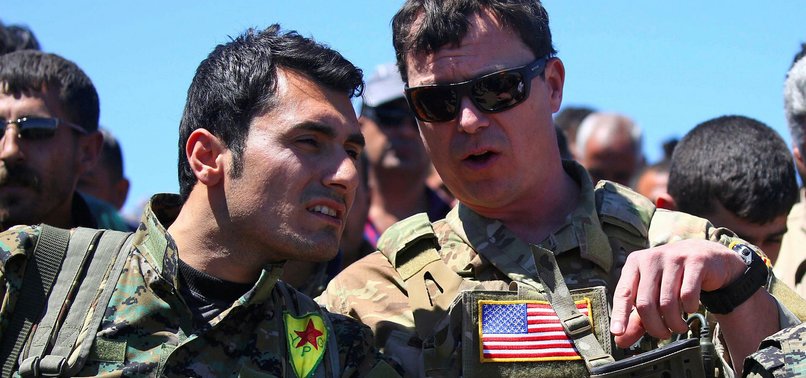 Pentagon spokesman Col. Rob Manning told reporters that the Pentagon would continue to support Cilo, who had been known as Mazlum Kobane being a PKK member for 27 years, and the YPG/PKK-led SDF militants in the territories that were liberated from Daesh.
Anti-Daesh operations of the YPG/PKK-led SDF have put on hold due to the departure of some of the SDF from their positions and their mobilization to Afrin to fight against Turkish forces.
"Operational pauses occur regularly for a variety of reasons," Pentagon spokesman Col. Rob Manning told reporters Monday, referring to Turkey's ongoing military operations in Afrin to clear YPG/PKK-Daesh terrorists.
Manning claimed that only "a small portion of the SDF" has left its positions, adding the nature of the U.S. mission to fight against Daesh in Syria has not changed.
Calling the leader of the YPG/PKK-led SDF, Sahin Cilo, "General", Manning added that the Pentagon will continue to support Cilo and the YPG/PKK-led SDF militants in the territories that were liberated from Daesh.
Cilo, also known as Mazlum Kobane, has been a PKK member for 27 years, according to Turkish officials.
Echoing Manning's remarks, another Pentagon spokesman, Maj. Adrian Rankine-Galloway, told Anadolu Agency that the Pentagon is "very concerned" about the situation in northwest Syria and is urging all parties to remain focused on defeating Daesh.
"We recognize Turkey's right to secure its border," he said. "However, we are engaged in working with our Turkish counterparts to de-escalate tensions along the Turkish-Syrian border and to ensure operations to defeat ISIS continue without interruption," he added, referring to another name for Daesh.
On Jan. 20, Turkey launched Operation Olive Branch to clear PYD/YPG/PKK and Daesh terrorists from Afrin.
According to the Turkish General Staff, the operation aims to establish security and stability along Turkey's borders and the region as well as to protect Syrians from terrorist oppression and cruelty.
Rankine-Galloway added that any military efforts outside of defeating Daesh will not receive coalition support and use of the weapons and supplies that were given to PYG elements by the U.S. will be monitored to ensure that they are only used against Daesh.
The U.S. has supported the PYD/YPG under the name of the SDF, which is considered by Ankara as the Syrian offshoot of the PKK terror organization.
American support for the terror group has long vexed Ankara as Washington views the SDF as a "reliable partner" in its fight against Daesh and continues to provide it with arms and equipment in the face of strong objections by Turkey.
Army Gen. Raymond Thomas said at a security conference in June last year that the U.S. had urged the YPG/PKK terror group to rebrand itself as the Syrian Democratic Forces to avoid Turkish concerns and to give the terror group a voice in Syria's future.
The PKK has fought a 33-year war against Turkey that has resulted in tens of thousands of deaths.