Germany's SPD clears way for new coalition under Merkel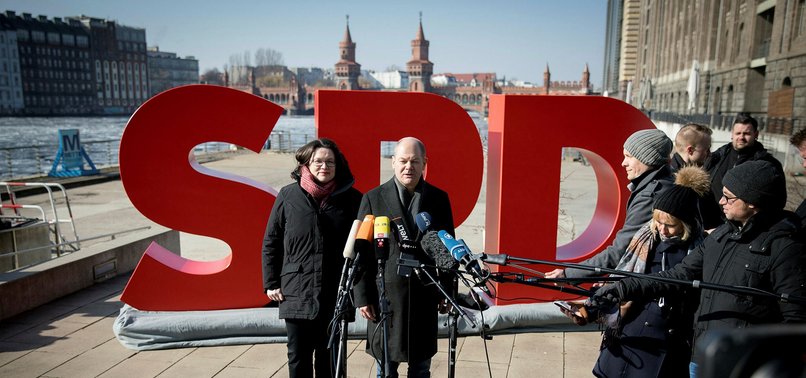 Germany's Social Democratic Party said Sunday its members have voted in favor of joining a coalition with Angela Merkel's conservative bloc, clearing the last major hurdle to the formation of a new government and a fourth term for the veteran German chancellor.
Members of Germany's Social Democratic Party (SPD) have voted in favour of a new grand coalition under Christian Democrat (CDU) Chancellor Angela Merkel, ending months of political stasis in the European Union's largest country.
In a postal ballot, SPD members voted by 66 per cent to back a deal hammered out with Merkel's CDU and its Bavarian sister-party, the Christian Social Union (CSU), the SPD announced from its Berlin heaquarters on Sunday.
The coalition will be the third such arrangement for the three parties under Merkel since 2005. The vote comes 161 days after the September 24 elections, ending the longest coalition-formation period in post-war Germany.
The SPD's decision to form a coalition with the CDU and CSU also makes the anti-immigrant and populist Alternative for Germany (AfD) the largest opposition party in the German parliament, the Bundestag.
In 2013, when SPD members voted on forming a grand coalition, 76 per cent voted in favour.
Merkel's attempt to form a new grand coalition with the SPD was launched after her bid to form a so-called Jamaica coalition with the Greens and the pro-business Free Democrats (FDP) collapsed in November.
Just over 78 per cent of the SPD's 463,723 registered members cast valid ballots in the vote.
The SPD youth wing, the Jusos, under the leadership of Kevin Kuehnert, had campaigned for a no-vote, insisting the party go into opposition to regroup after falling to its worst electoral performance since 1932.
Under the new coalition deal, Germany will spend 46 billion euros (57 billion dollars) on increased pensions, housing, scaling up broadband internet in the countryside and education, all policies with the stamp of the SPD on them.
There will also be tax cuts, along with restrictions on companies offering only repeated short-term rather than permanent contracts to workers. Local authorities will receive greater funding and autonomy.
The Bundestag is set to convene on March 14 to vote in the new chancellor - certain to be Merkel. This will be her fourth term as chancellor.