Baby Karim lives underground to elude Eastern Ghouta siege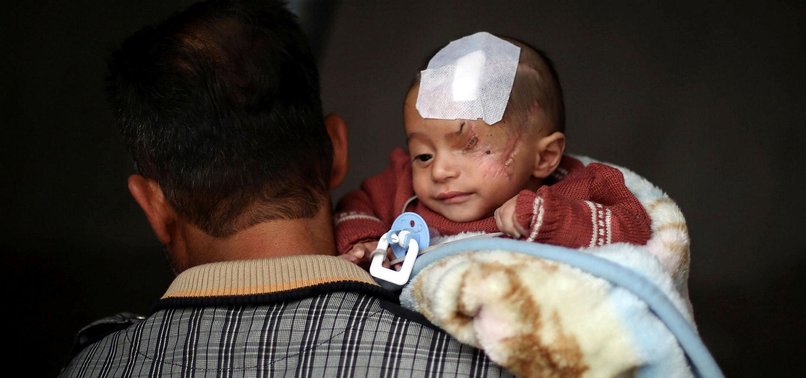 Considered a symbol of resistance to Syria's Assad regime, "Baby Karim" -- who lost one eye to a regime airstrike-has taken shelter underground to survive.
Civilians have been forced to take shelter underground due to airstrikes conducted by Bashar al-Assad's regime and its supporter Russia in Syria's besieged Eastern Ghouta suburb of Damascus.
Since Anadolu Agency first reported the story, thousands of people have expressed support for the child via online social media campaigns.
"I took Karim and his brothers to the underground shelter. Karim has been living in the shelter for eight days with his brothers. Many people are in these underground shelters. Nobody leaves them because the attacks have not been stopped yet," the baby's father, Ebu Muhammed, told Anadolu Agency.
He said there is no food, light, electricity and heat in the shelter where the children live and the planes are constantly hovering above.
According to the Syrian White Helmets civil defense group, the number of casualties has exceeded 400 in the past week due to the Assad regime's fierce attacks.
In the last two weeks, the regime has targeted 22 health centers, a mosque and an orphanage in Eastern Ghouta.
Eastern Ghouta falls within a network of de-escalation zones endorsed by Turkey, Russia and Iran in which acts of aggression are expressly prohibited.
On Saturday, the UN Security Council unanimously adopted a resolution demanding a 30-day ceasefire to allow for humanitarian aid deliveries.
The resolution, prepared by Sweden and Kuwait, also calls for the medical evacuation of 700 people, particularly in Eastern Ghouta, which has been under siege for the last five years, preventing the delivery of food and medicine and leaving thousands of patients in need of treatment.
Syria has been locked in a devastating civil war since early 2011 when the regime cracked down on demonstrators with unexpected ferocity.
According to UN officials, hundreds of thousands of people have been killed in the conflict.