Afrin op to continue until all threats eliminated, Ankara says
WORLD
Agencies and A News
Published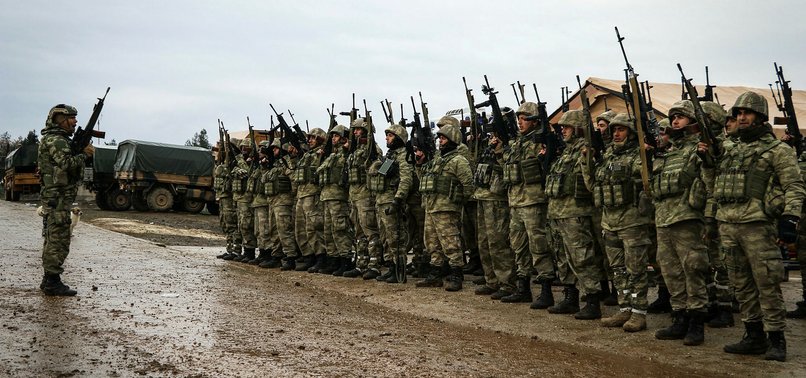 Ankara has said the main objective of the Afrin operation is to cleanse all national security threats near its border and it will continue until all terrorists that pose a threat to the country are eliminated
Turkish politicians have told the international community that the counterterrorism operation in Afrin, Operation Olive Branch, will continue until all terrorists who pose a threat to Turkey's national security are eliminated from Afrin to the east of the Euphrates in Syria.
Deputy Prime Minister Bekir Bozdağ also said on Monday that the operation's main objective is to cleanse every terrorist threat from the region and its only target is the PKK's Syrian affiliate Democratic Union Party (PYD) and its Peoples' Protection Units (YPG) militia.
Responding to remarks that Turkey has given guarantees to Russia, Bozdağ said Turkey had given no guarantee to Russia or any other country that Operation Olive Branch will only be confined to Afrin.
International players commented on the operation, saying that they understand Ankara's security concerns for its borders while indicating their worry over the escalating military violence in the region.
U.S. Secretary of State Rex Tillerson said on Monday that they hope to work with Turkey to establish a security zone in northern Syria if necessary.
"We are concerned over Turkey's activities in northern Syria," he added.
Speaking to reporters following a Cabinet meeting, Bozdağ also asserted that nobody has the right to impose limits on its operation against the People's Protection Units (YPG).
In the wake of international concern, the minister assured that the operation is continuing successfully as planned. He also said that it is very important for the international community to support Turkey's operation against terrorists in Afrin.
In response to Tillerson's comments about the possible cooperation between the U.S. and Turkey to create a security zone in northwestern Syria, Bozdağ said that the U.S. must first stop supporting the YPG and collect the weapons it provided the group if such cooperation is to take place.The White House has called for Turkey to limit its activities in northern Syria. White House Press Secretary Sarah Huckabee Sanders said that they take Ankara's concerns over security seriously, but that the duration and scope of the operation should be limited.
A Pentagon spokesperson also said that they have ongoing negotiations with Turkish authorities regarding both the operation and Turkey's concerns.
"Turkey seeks to avoid any clash with Syrian, Russian or U.S. forces during its operation in northern Syria, but will take whatever steps it needs for its security," Foreign Minister Mevlüt Çavuşoğlu said yesterday, adding it is to battle the terrorist organization.
U.S. Defense Secretary Jim Mattis yesterday said Turkey's ground and air offensive in northwestern Syria is a distraction from international efforts to ensure the defeat of Daesh. Mattis said it also risks worsening the humanitarian crisis there and in other parts of Syria. He said the U.S. sympathizes with Turkey's security concerns, adding that the violence in the Afrin region could be exploited by Daesh.
Speaking to the Habertürk daily, Çavuşoğlu said that the future of relations depends on the steps the U.S. takes next. "Terrorists in Manbij are constantly firing shots of provocation. If the United States doesn't stop this, we will stop it," Çavuşoğlu asserted.
"I must take whatever step I have to. If not, our future as a country is in jeopardy. We are not afraid of anyone in this matter, we are determined. ... We will not live in fear and threats," he said, indicating that Turkey would continue to act where it thinks action is necessary.
"Whether it is Manbij, Afrin, east of the Euphrates, or even threats from northern Iraq, it doesn't matter," Çavuşoğlu said. "If there are terrorists on the other side of our borders, this is a threat for us."
Russia has not stayed silent on the issue either, with Kremlin spokesman Dimitri Peskov saying that they are in touch with Ankara and are closely following the operation.A press official from the British Prime Ministry said that it is legal for Turkey to protect its own borders and the U.K. will continue to work closely with Ankara.
France's permanent representative to the U.N., however, said that they are concerned due to the escalating military violence in northern Syria.
"France understands Turkey's concerns on security and borders and calls for Turkey to have decency since the conditions in Syria are quite changeable."
Qatar's Foreign Ministry said Monday that Turkey's counterterrorism operation in Afrin is motivated by legitimate security concerns.
Two soldiers killed during clashes
Infantry Lt. Oğuz Kaan Usta was killed during a conflict yesterday with the PKK terrorist organization's Syrian affiliate, the Democratic Union Party (PYD).
Foreign Affairs Minister Mevlüt Çavuşoğlu announced the death of the soldier from his Twitter account saying that he gives his condolences to the whole region, and the struggle against terrorism will continue until it comes to an end.
On Monday, another Turkish soldier Infantry Sgt. Musa Özalkan was killed during a conflict in the southern city of Kilis' Syrian border. His funeral was held yesterday in Ankara with the attendance of President Recep Tayyip Erdoğan and other government authorities. Özalkan was married and had a 5 month-old daughter.