Russia posts videogame image as 'proof' US helps Daesh
Russia used footage from a videogame to try and prove US aided the Daesh terror organization in Syria.
Russia's defence ministry on Tuesday posted images it said proved the US was aiding the Daesh terror group in the Middle East, but social media users pointed out they included a still from a videogame.
The ministry's official account said the black-and-white images were taken on November 9 near the Syria-Iraq border and provided "irrefutable proof that the US is providing cover to Daesh combat units".
But the monitor Conflict Intelligence Team (CIT), along with a number of social media users, was quick to compare one of the images with an identical still from the wargame "AC-130 Gunship Simulator: Special Ops Squadron".
Other images posted to Twitter appeared to be taken from videos released by Baghdad's Ministry of Defence in 2016, showing the Iraqi Air Force bombing jihadists near Fallujah, the CIT said.
The posts have since been deleted from the ministry of defence's Twitter and Facebook accounts, and the ministry did not immediately respond when contacted for comment by AFP.



* The Russian MoD took this footage from a 2015 mobile game to back a sensational claim against the U.S.
However, AFP was able to compare the images in an emailed defence ministry statement with the images of the videogame on YouTube and confirm the resemblance.
Moscow has previously accused Washington of "pretending" to fight Daesh in Iraq, allowing jihadists into neighbouring Syria where Russia and the US have backed opposing sides in the bloody conflict.
The Pentagon has flatly denied the claims.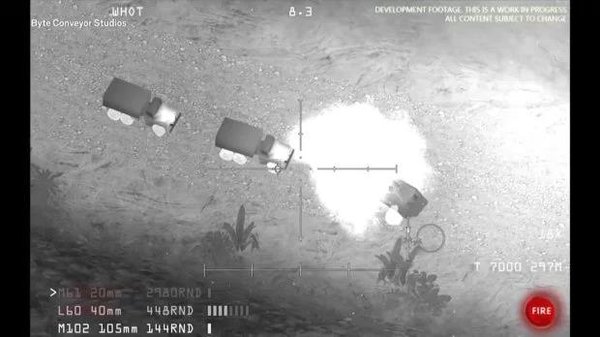 * This picture is actually from a preview of a mobile gaming app (Picture: Byte Conveyor Studios)
This year Russian media accused President Vladimir Putin of passing off footage of the American military fighting the Taliban in Afghanistan as the efforts of Russia's air force in Syria during a television interview.
The Kremlin denied that Putin had shown the wrong footage to the American director Oliver Stone during one of a series of interviews.