Trumps denies 'insensitive' call with soldier's widow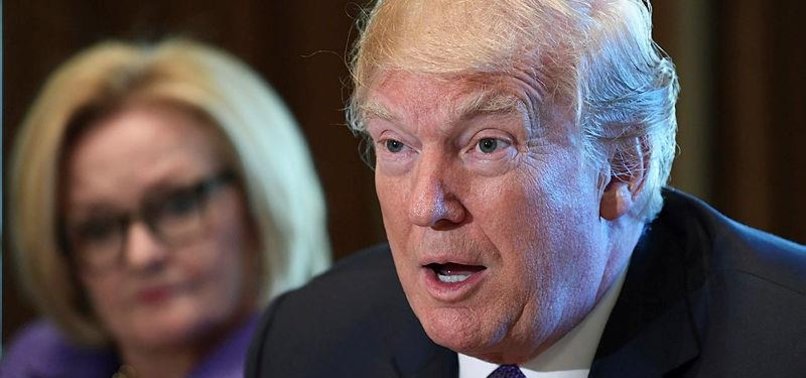 President Donald Trump said Wednesday he has proof a congresswoman's claims he told the widow of a slain army sergeant he knew "what he signed up for" are false.
"Democrat Congresswoman totally fabricated what I said to the wife of a soldier who died in action (and I have proof). Sad!" Trump wrote on Twitter.
Trump did not provide the proof and the White House did not immediately respond to an Anadolu Agency's request for clarity on the matter.
Trump repeatedly told the widow of slain Sgt. La David T. Johnson he knew "what he signed up for" during a telephone call meant to convey his condolences, according Rep. Frederica Wilson, who said she was privy to the conversation.
Johnson was one of four American service members killed in action in Niger during a deadly ambush by Daesh-affiliated fighters.
Wilson said she was traveling with Johnson's widow, Myeshia, en route to recover the soldier's body when Trump called.
"He said, 'But you know he must've known what he signed up for,'" the Florida congresswoman told NBC News on Tuesday, recounting the three- to five-minute conversation she heard over speakerphone.
"Everyone knows when you go to war you could possibly not come back alive but you don't remind a grieving widow of that," Wilson said. "That's so insensitive."
Myeshia Johnson told the lawmaker, Trump's inability to do one thing stung her.
"She hung up the phone and said, 'He didn't even remember his name,'" Wilson said Wednesday. "That's the hurting part."
The controversy follows Trump's false claim that "most" past presidents, including Barack Obama, failed to call the families of slain service members.
"A lot of them didn't make calls," he said Tuesday.
He later suggested that reporters ask White House Chief of Staff Gen. John Kelly if Obama called him after his son was killed in Afghanistan in 2010.
While making the statement to Fox News Radio Trump acknowledged he does not "know what Obama's policy was".
Kelly has not commented publicly if he received a call from Obama but the four-star general and his wife reportedly were seated at then-first lady Michelle Obama's table during a breakfast for families whose children have been killed in action.