Thousands of teachers in the Netherlands gather to demand beter working conditions and more pay
Thousands of primary school teachers gathered in The Hague, Netherlands, on Thursday for a demonstration during a one-day strike demanding better pay and working conditions. Many schools across the country were closed or running on a smaller staff.
Most elementary schools in the Netherlands will close on Thursday, giving more than a million children a day off, as teachers go on a rare, massive strike to demand more pay and better working conditions.
Around 90,000 teachers will participate in the second general strike of Dutch primary school teachers since the 1980s. Roughly 90 percent of all elementary schools are expected to remain shut.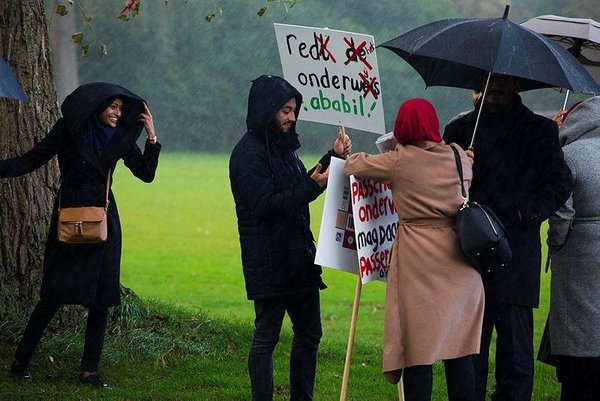 Carrying placards saying "Teachers are furious" and "Pay up!", thousands of teachers gathered at a park in The Hague and demanded that the incoming government pay some 1.4 billion euros ($1.6 billion) to improve their salaries and work conditions.
"Our salaries have barely grown in the past 10 years, while the work only got harder," 37-year-old teacher Bart Audenaerd said. "Something must be done now, to make our jobs more attractive and to prevent a major shortage of teachers in the years to come."

Teachers want at least 900 million euros to bring their salaries on a par with high school colleagues, while the rest of the amount should be used to alleviate work stress, Dutch media reports said.
The teachers' action reflects growing frustration among workers in one of Europe's strongest economies, who feel left behind as accelerating growth has not been matched by wage increases.


Protesters warned that if Prime Minister Mark Rutte's new government -- expected to be announced later this month -- fails to agree, they will consider striking for two days next month.
The protest affected "a large part of some 6,500 schools across the country," the Dutch newscaster RTL reported.
Strikes are unusual in the Netherlands.
"We are on strike because we want a better future for our younger colleagues. They have enormous pressures," Merian van Goethaem, a teacher from the southern city of Tilburg told AFP.
"The difference between primary and secondary education (salaries) is almost 600 euros per month. It's just a lot of money," added Michelle Onderwater, a teacher from Leiden.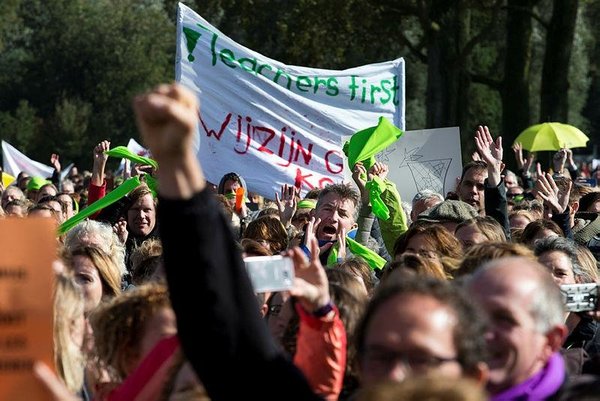 Sources told Dutch newspapers the new coalition planned to make available almost 500 million euros for primary school teachers, almost double the amount previously set aside.
"It's really good news. But the salary gap has not been bridged yet," an official of one of the striking teachers' groups told the popular daily Algemeen Dagblad.
"Also, we would like to see it in black and white first," the official added.
Dutch primary teachers spend more hours in class than the international average, a study by the Organisation for Economic Co-Operation and Development in 2014 said.
The teachers averaged some 930 hours over a single school year, compared to the OECD's average of 782 hours and the European Union average of 754 hours.
Elementary school teachers on average earn 20 percent less than their colleagues at secondary schools, while their maximum wage is some 1,000 euros per month lower.
The call for higher salaries has the backing of figureheads IMF-chief Christine Lagarde, Dutch Finance Minister Jeroen Dijsselbloem and central bank governor Klaas Knot, who have urged Dutch companies to raise pay. So far, however, their pleas have mostly been ignored.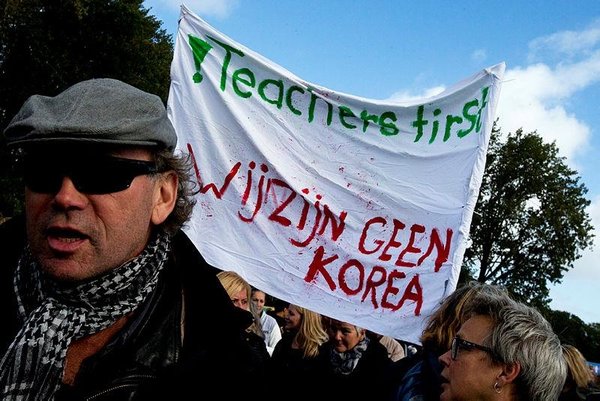 The pressure is rising, however, with the strong economic growth already leading to labour shortages in sectors ranging from computer programming and construction to marketing and accountancy. Last month, leading labor union FNV said it would demand wage rises of at least 3.5 percent in its negotiations with employers next year.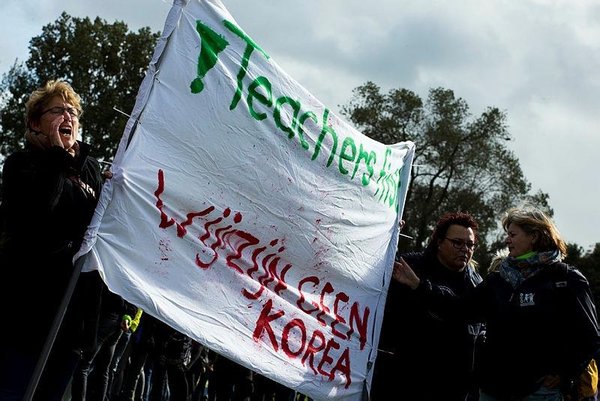 The teachers' strike comes just as Prime Minister Mark Rutte seeks to close over 200 days of government coalition talks, with teachers being promised close to 800 million euros in extra spending.
That is not enough to meet the demands of the teachers, who are willing to take further action, strike organizer Jan van der Ven said.
"We aim to strike for two days in November, if necessary, and I would expect at least three quarters of all schools to join again."

The Netherlands ranked as the tenth most-literate nation in the world behind top ranking Finland and other Scandinavian countries, according to a study published last year by the Central Conneticut State University.