Thousands of protesters march in Barcelona over police action
Several hundred thousand Catalans rallied Tuesday in fury at police violence against voters during a banned independence referendum, as Madrid accused regional authorities of "inciting rebellion".
Thousands of people are demonstrating in Barcelona, as labor unions and grassroots pro-independence groups urge workers to hold strikes in protest at what they say was police brutality during a referendum on Catalonia's secession from Spain.

Crowds yelled for national security forces to get out of the region, branding them "occupation forces", as the national government's standoff with the region dragged Spain deeper into its worst political crisis since emerging from dictatorship in 1977.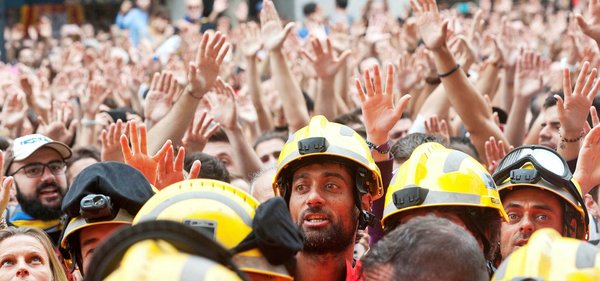 Protests started before noon outside polling stations where police action to prevent the vote two days earlier had resulted in the confiscation of ballot boxes and police charging at unarmed civilians.
Demonstrators including students and young families filled the streets in the regional capital Barcelona waving red- and yellow-striped Catalan flags.
"Closed for revolution," read one banner in the crowd.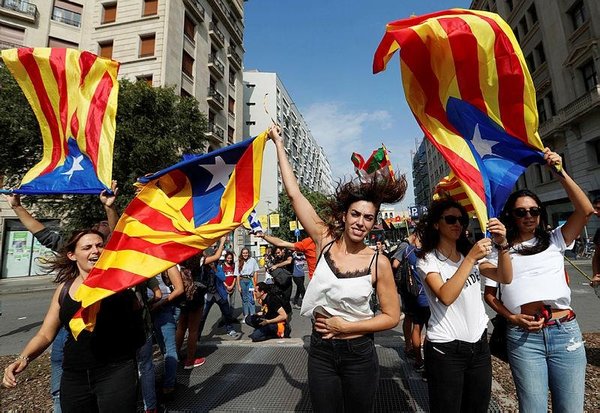 * People hold on to Catalan separatist flags on top of an air vent during a demonstration two days after the banned independence referendum in Barcelona (Reuters)
Draped in a pro-independence flag, 19-year-old communications student Pol Subira headed toward a packed University Square "in order to protest against this brutal repression and fight for the right to decide our future."

"I hope this helps politicians reach an agreement." Subira said. "All this repression has achieved is to produce more independents, like a factory. The government's violence is a guarantee for independence to triumph."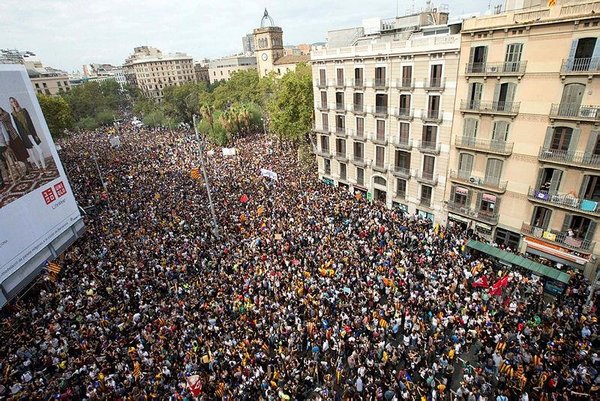 * Unions CGT, IAC, COS and CSC called for a general strike in Catalonia as a protest against the Spanish Government measures to avoid the celebration of the referendum last 01 October 2017 (EPA)
Barcelona football club refused to train as part of an accompanying strike, which officials said slowed down public transport and freight shipments in the port of Barcelona.
"On October 1 we became an occupied country, and they still have not left," said one protester in Barcelona, 56-year-old schoolteacher Antonia Maria Maura, referring to the police sent to prevent Sunday's vote.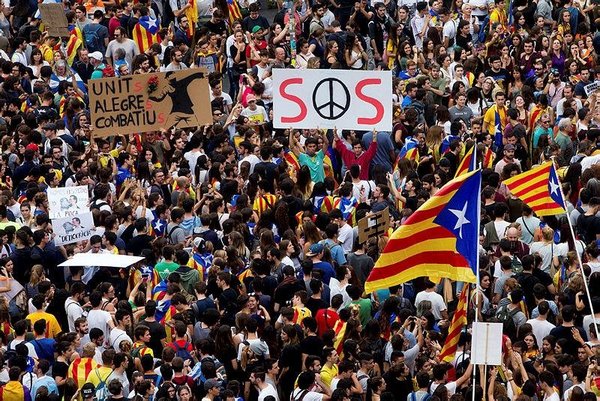 * According to unions, the strike is having a big support in sectors such as transport, shops, stowage or agriculture. (EPA)
- POLICE BESIEGED -
Pictures of police beating unarmed Catalan voters with batons and dragging some by the hair during Sunday's ballots drew international criticism.
European Commission spokesman Margaritis Schinas warned Monday that "violence can never be an instrument in politics".
But tensions rose further overnight as Catalans defied the Spanish government's vows to keep Catalonia as one of Spain's regions.
Protesters besieged Catalan hotels where state security forces were lodged, police groups said.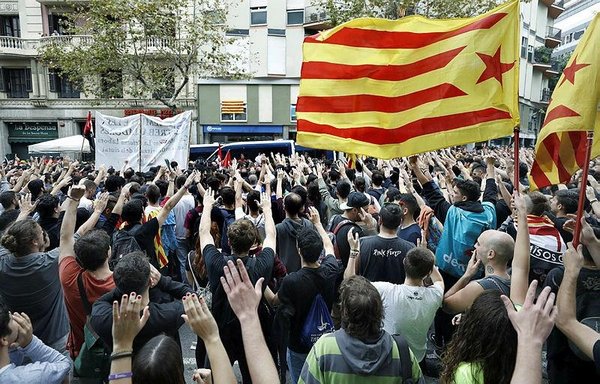 * People protest at the headquarters of the People's Party (PP) in Barcelona on occasion of the general strike called in Catalonia. (EPA)
"They are fleeing from hotel to hotel, they are like rats who have to hide," said the spokesman for Spain's main police union SUP, Ramon Cosio.
He warned that the state was losing control of security.
At least one hotel said local authorities had ordered it to ask the police staying there to leave.
- 'INCITING REBELLION' -
Spain's national government and courts have ruled the independence referendum illegal and Madrid blames the Catalan regional authorities for the tensions.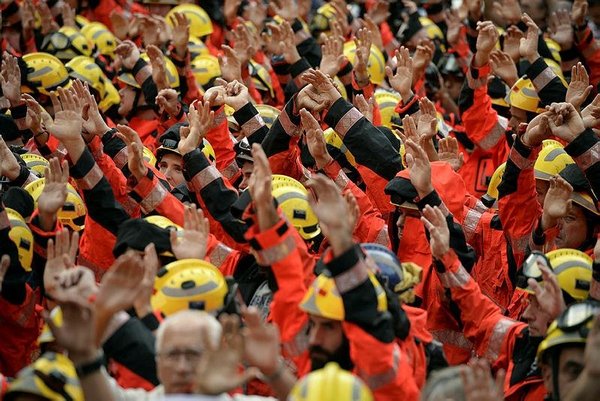 * Firefighters raise their hands during a general strike in Barcelona called by Catalan unions on October 3, 2017. (AFP)
"We see how day after day the government of Catalonia is pushing the population to the abyss and inciting rebellion in the streets," Spain's Interior Minister Juan Ignacio Zoido said on Tuesday.
He said his government would take "all measures necessary to stop acts of harassment".
- TOURIST SITES CLOSED -
Claims for independence for Catalonia date back centuries but have surged during recent years of economic crisis.
A rich industrial region of 7.5 million people that accounts for a fifth of Spain's economy, it has its own language and cultural traditions.
Catalan pro-separatist trade unions, schools and cultural institutions called Tuesday's stoppage to "vigorously condemn" the police response to the poll.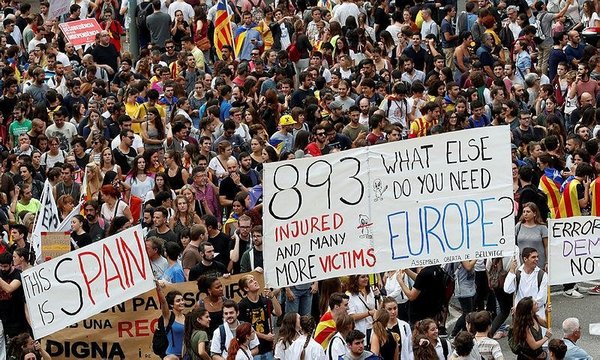 * People take part in a demonstration two days after the banned independence referendum in Barcelona, Spain October 3, 2017. (Reuters)
Catalan regional leader Carles Puigdemont said nearly 900 people had received medical attention on Sunday, though regional authorities confirmed a total of 92 injured. Four were hospitalised, two in serious condition
Schools and some businesses shut down during Tuesday's strike. Protesters stood on roads and highways across Catalonia, blocking traffic. On the highway linking Barcelona to France two youths set up a folding table and played chess.
Tourist sites like the city's emblematic Sagrada Familia Church were closed.
At the city's Sants train station all shops remained open except for the one run by Barcelona football club, which issued a statement saying both its professional and youth teams would not train on Tuesday.
- EMERGENCY TALKS -
The government of Prime Minister Mariano Rajoy held emergency talks after Puigdemont declared Sunday that Catalonia had "won the right to an independent state".
Puigdemont has appealed for international mediation to help solve the crisis.
The regional government said 2.26 million people took part in the poll, or just over 42 percent of the electorate.
But any attempt to unilaterally declare independence is likely to be opposed not just by Madrid but also a large section of the Catalan population, which polls indicate is split on the issue.
Puigdemont has said he will now present the results to the region's parliament, where separatist lawmakers hold a majority, and which has the power to adopt a motion to declare independence.