At least 58 dead, over 500 injured in shooting at country music concert in Las Vegas
WORLD
Agencies and A News
Published
A mass shooting at a country music concert near Mandalay Bay Casino in Las Vegas has claimed at least 58 leaves, injured over 500 on Monday.
At least 58 people were killed and more than 500 others wounded at a country music concert in the city of Las Vegas late Sunday night in one of the worst mass shooting in recent U.S. history, a Nevada sheriff announced Monday.
A gunman -- identified as Stephen Paddock -- opened fire on more than 20,000 concert-goers at an outdoor venue from across the Mandalay Bay hotel at around 10.08 p.m. local time (0508GMT Monday), Clark County Sheriff Joseph Lambardo from the Las Vegas Metropolitan Police Department (LVMPD) told reporters.
Lambardo referred to the 64-year-old attacker, who was killed by officers on the 32nd floor of the hotel, as a Las Vegas local resident and made no references to terrorism, instead calling the shooting a "lone wolf" attack.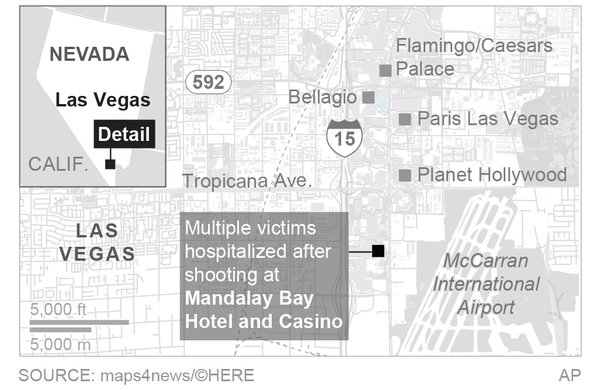 The shooter fired as many as 600 rounds in six or seven bursts with an automatic weapon for nearly four-and-a-half minutes, media reports quoted police sources as saying.
Video footage of the shooting showed thousands fleeing the venue in panic, causing stampedes, according to eyewitnesses.
U.S. President Donald Trump reacted to the shooting via Twitter on Monday morning, offering condolences to victims' families.
"My warmest condolences and sympathies to the victims and families of the terrible Las Vegas shooting. God bless you!" he wrote.
Police believe there are no additional suspects but are looking for a female "companion" of the shooter, identified as 64-year-old Marilou Danley.
An FBI-assisted investigation is underway, Lambardo said.
An exact number of casualties was not immediately available, officials said. A spokesman for a nearby hospital said at least 12 people were in critical condition.
At least two off-duty police officers are believed to be among those slain, according to media reports.


One Twitter user posted that the hotel was on lockdown, while another, citing police scanners, said two gunmen who had shot at a bodyguard and police were on the 32nd floor of the hotel.
Witnesses heard numerous gunshots at the casino hotel, where police tactical teams were searching for the attacker, according to reports on CNN and in the New York Times.
"Please avoid heading to the south end of the Strip," tweeted the city's police.
Police also reported that some flights out of McCarran Airport might be delayed due to the incident. The airport lies near the southern end of the Strip.

In May, 22 people —mostly youth- were killed in an explosion at pop star Ariana Grande's concert in Manchester, U.K., while a Daesh terrorist killed at least 50 people when he opened fire at a gay night club in Orlando.

LAS VEGAS SHOOTER A RETIRED, HAS NO CRIMINAL RECORD
The man who killed 58 people and injured at least 515 others at a Las Vegas concert was a retiree with no criminal history in the Nevada county where he lived, police said Monday.
The brother of Stephen Paddock, 64, said he's "completely dumbfounded" by the shooting at a country music concert Sunday night, the deadliest in modern U.S. history. Eric Paddock told the Orlando Sentinel newspaper that he can't understand what happened.
Stephen Paddock had no connection to an international terrorist group, the FBI said Monday. The announcement from Aaron Rouse, special agent in charge in Las Vegas, comes after the Daesh terror group claimed responsibility for the attack without providing evidence.
Nevada authorities say they believe Paddock acted alone and no motive was yet known.
Paddock owned a single-family home in Sun City Mesquite, a retirement community along the Nevada-Arizona border, Mesquite Police Chief Troy Tanner said.
He lived there with a 62-year-old woman, police said. Authorities said they don't believe she was involved and was out of the country at the time of the shooting but they wanted to speak to her when she returned.
Heavily armed police searched the home early Monday, hours after Paddock killed himself in a room at Mandalay Bay Hotel and Casino where police believe he opened fire on a crowd of 22,000 people.
Paddock bought the one-story, three-bedroom home about 80 miles north of Las Vegas in 2015 for about $370,000, according to property records that list him as a single man.
Authorities in Texas say he lived in a Dallas suburb from 2009 to 2012. Public records indicate Paddock may have lived in Mesquite, Texas, for longer, but police Lt. Brian Parrish said his department's review shows the approximately three-year period.
A preliminary review of police records don't indicate that authorities had any contact with him but police are still investigating, Parrish said.

POLICE BELIEVE LAS VEGAS SHOOTER KILLED HIMSELF
Police said Monday they believe the gunman who opened fire on concertgoers on the Las Vegas strip killed himself before officers broke into his hotel room.
"We believe the individual killed himself prior to our entry," Las Vegas Sheriff Joseph Lombardo told a news conference.
He said officers found "in excess of 10 rifles" upon entering the 32nd floor hotel room from which a gunman opened fire at concertgoers below, killing at least 50 and injuring hundreds.

An FBI-assisted investigation is underway, Lambardo said.
An exact number of casualties was not immediately available, officials said. A spokesman for a nearby hospital said at least 12 people were in critical condition.
At least two off-duty police officers are believed to be among those slain, according to media reports.

TRUMP SPEAKS TO NEVADA OFFICIALS ABOUT SHOOTING
The White House says that President Donald Trump has spoken to the Nevada governor, the Las Vegas mayor and the Las Vegas sheriff about the deadly mass shooting in Las Vegas.
The president called the attack on a Las Vegas concert an "act of pure evil" during remarks Monday. The shooting left more than 50 people dead and hundreds injured.
LAS VEGAS CONCERT ATTACK IN DEADLIEST US SHOOTING
Police identified the heavily armed gunman behind the Sunday night massacre on the Las Vegas Strip -- the deadliest mass shooting in modern US history -- as a 64-year-old Nevada resident named Stephen Craig Paddock.
Police said Paddock killed himself before a SWAT team breached his room in the Mandalay Bay hotel overlooking the concert venue.
President Donald Trump denounced what he called "an act of pure evil" and said he would visit Las Vegas on Wednesday.
Trump did not make any mention of Daesh claim that one of its "soldiers" who had "converted to Islam several months ago" was behind the shooting.
Daesh provided no evidence to back up the claim made by its propaganda outlet Amaq.
Concert-goers screamed and fled in panic as a steady stream of automatic gunfire rang out from the hotel shortly after 10 pm local time (0500 GMT Monday).
Las Vegas Sheriff Joseph Lombardo told reporters that at least eight rifles were recovered from Paddock's hotel room.
"We believe the individual killed himself prior to our entry," Lombardo said.
- 'ASTEROID FALLING FROM THE SKY' -
Stephen Craig Paddock, who photographs showed as greying with a trimmed beard and moustache, was a former accountant and a licensed pilot with no criminal record, according to ABC News.
Eric Paddock, the gunman's brother, said he was at a complete loss to understand what may have motivated the shooting.
"This is an asteroid falling out of the sky," Eric Paddock told CBS News.
He also said his brother had "no religious affiliation, no political affiliation."
"He was my brother. He was a guy. He gambled," Eric Paddock said.
He said his brother had no history of mental illness and was "not an avid gun guy at all."
Paddock resided in a new golf course development in the desert just outside Mesquite, Nevada, around 80 miles northeast (130 kilometers) of Las Vegas.
His female companion was initially listed as a person of interest by police but they said later she was not believed to be involved.
Police said 22,000 fans were attending the concert next to the Mandalay Bay as part of a three-day country music festival known as Route 91 when the gunfire erupted.
- 'LIKE FIRECRACKERS' -
Witnesses told how Paddock opened fire with an initial long burst, and then appeared to reload as he continued his spree.
"We heard (what) sounded like a glass breaking, so you looked around to see what's going on and then heard a pop, pop, pop," Monique Dekerf told CNN.
"You'd think for a moment okay we're fine, there's no more gunfire, then it starts again."
Her sister Rachel said it sounded like "the shots were coming from the right side... it sounded like they were right beside us too... it was right there."
Best-selling country singer Jason Aldean was on stage and near the end of his concert when the shooting began.
Aldean initially carried on playing when the first crackle of gunfire could be heard but then hurried off the stage once he realized it was a shooting.
Robert Hayes, a firefighter from Los Angeles who was watching near the front of the stage, said he first thought the gunfire was some kind of equipment malfunction.
Once he realized what was going on, he joined the first responders, donning one of their vests.
"Honestly I probably pronounced 15-20 people" dead, he told Fox News.
"It was pretty much like a war scene inside."
Emergency crews used anything to hand as makeshift stretchers, including tables and metal railings normally used to control the crowds, said Hayes.
Asked if he thought it was an inexperienced gunman, he responded: "With 30,000 people in the arena area, it was kind of like shooting goldfish ... He didn't have to be good."
- 'BEYOND HORRIFIC' -
The Las Vegas attack is the deadliest shooting in recent US history, exceeding the toll of 49 dead in an attack on the Pulse nightclub in Orlando, Florida in June 2016.
It was also the latest in a series of recent deadly attacks at concert venues.
Twenty-two people were killed while leaving an Ariana Grande concert in the northern English city of Manchester in May when a suicide bomber detonated a nail bomb in the foyer.
Ninety people were killed in November 2015 at the Bataclan venue in Paris during a concert by US band the Eagles of Death Metal.
A shocked Aldean told his fans via Instagram that he and his band was safe.
"Tonight has been beyond horrific," the singer wrote.
"It hurts my heart that this would happen to anyone who was just coming out to enjoy what should have been a fun night."
Pope Francis said he was "deeply saddened" by the "senseless tragedy" while Britain's Prime Minister Theresa May called it an "appalling attack."