South Korea, US get tougher on North Korea after ICBM test
South Korean and US authorities have decided to take strong and effective measures after North Korea's latest ICBM test.
President Moon Jae-in demanded "strong and effective" measures Saturday in response to North Korea's latest intercontinental ballistic missile (ICBM) test.
Seoul's Defense Ministry also explained that the United States will deploy more "strategic assets" to the peninsula.
Moon's comment came during a National Security Council meeting in the wake of the North's launch South's military said involved an "advanced" ICBM late Friday.
Pyongyang's official KCNA news agency confirmed the test took place under the guidance of leader Kim Jong-un. It was North Korea's second successful ICBM launch since July 4.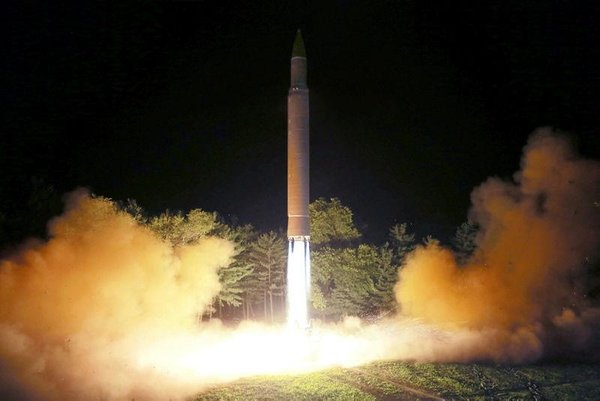 * Intercontinental ballistic missile (ICBM) Hwasong-14 is pictured during its second test-fire in this undated picture provided by KCNA in Pyongyang on July 29, 2017. (Reuters)
"The latest test proved our intercontinental ballistic rocket's reliability and a capacity to launch it in a surprised manner at any place and time," the KCNA report claimed, adding it should be seen as a "stern" warning to the U.S.
The South's president is now considering extra unilateral sanctions on top of existing punitive measures, according to a spokesman at a briefing.
"I direct the foreign affairs and security ministries to ensure that our government in tandem with our partners, including the United States, can craft a stern response to the North's provocation," Moon said in a message carried by the local news agency Yonhap.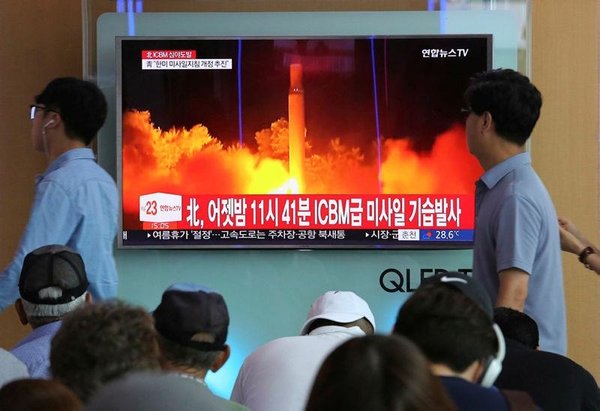 * People watch a TV news program showing an image of North Korea's latest test launch of an intercontinental ballistic missile (ICBM), at the Seoul Railway Station in Seoul, South Korea, Saturday, July 29, 2017. (AP)
Meanwhile, Defense Minister Song Young-moo explained South Korea and the U.S. swiftly carried out an exercise with surface-to-surface missiles early Saturday "and will have strategic assets deployed".
Under Moon's direction, Seoul additionally moved to deploy four more THAAD missile defense launchers to its existing pair despite domestic security concerns and opposition from China and Russia. The president delayed the full installation of a THAAD battery last year under his scandal-hit conservative predecessor, Park Geun-hye, who was expelled from office in March.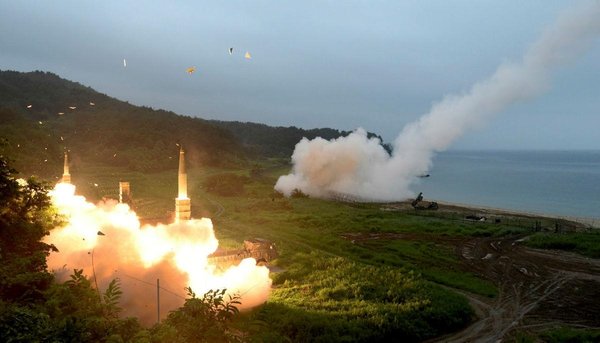 A handout photo made available by South Korea's Joint Chiefs of Staff (JCS) shows a Hyunmoo-2 missile system (L), South Korea's domestically developed surface-to-surface ballistic missile, and a US Army Tactical Missile System (ATacMS) being launched at an undisclosed location on the east coast, South Korea, 29 July 2017. (EPA)
Moon's reversal came after Pyongyang failed to respond to Seoul's repeated offers of dialogue this month. North Korea's refusal to cooperate has been a setback for the South Korean leader's pledge to improve ties on the peninsula.
Seoul and Washington have even been discussing their "military response options," based on comments from a U.S. Joint Chiefs of Staff spokesman.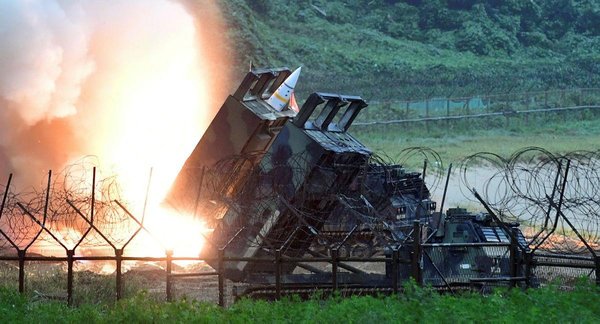 * South Korea and the United States conduct a joint missile exercise in response to North Korea's firing an intercontinental ballistic missile (EPA)