Turkish judiciary slams FETO members with heavy terms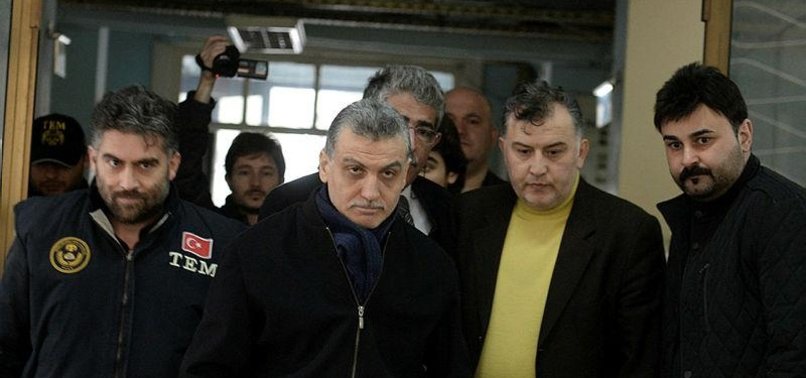 Three years after the July 15 deadly coup attempt by Fetullah Terrorist Organization (FETO) to overthrow the Turkish government, the prosecution process for the alleged members for their links to the FETO, the group behind the 2016 defeated coup, has been continuing.
The Ankara Heavy Criminal Court No: 4 handed down aggravated life sentences to Hidayet Karaca, former chairman of Samanyolu TV (STV); Ilhan Işbilen, a former lawmaker; Alaeddin Kaya, a former holder of daily Zaman that was shut down by the government; and Kazım Avcı, a relative of Fetullah Gulen, in one of the major cases involving 75 defendants.
They were given jail terms on charges of attempting to violate the country's Constitution.


Abdulkadir Aksoy, one of the attorneys of Fetullah Gulen, another attorney Ali Çelik and businessman Dilaver Azim were sentenced to 10 years and six months in prison for being a member of an armed terrorist organization.
Separately, in the capital Ankara, prosecutors had sought 141 aggravated life sentences for 17 alleged members of the FETO.
Former Air Force Commander Gen. Akın Öztürk -- the key officer who plotted the coup from within the military -- Ahmet Özçetin, Ali Osman Gürcan, Bilal Akyüz, Cemil Turhan, Erhan Çaha, Fırat Alakuş, Hakan Evrim, Kubilay Selçuk, Mehmet Dişli, Mehmet Partigöç, Ömer Faruk Harmancık, Murat Koçyiğit, Mustafa Barış Avıalan, Orhan Yıkılkan, Sinan Sürer, Muhsin Kutsi Barış received 141 aggravated life sentences.
The prosecutors had also demanded 140 aggravated life sentences for Osman Kılıç, 62 aggravated life sentences for Muzaffer Düzenli, 30 aggravated life sentences for Özcan Karacan, 29 aggravated life sentences for Ünsal Coşkun, Mehmet Şahin and Halil Gül, and 11 aggravated life sentences for Ramazan Gözel.
Ali Yazıcı, President Recep Tayyip Erdoğan's former military aide, retired Maj. Gen. Ilhan Talu, Osman Kardal, Levent Türkkan, Birol Kurubaş and Ahmet Bican Kirkek got one aggravated life sentence each.
Another commander, former brigadier general Ali Kalyoncu, was the one who had reportedly ordered the tanks to proceed toward the center of the capital Ankara on the night of the bloody putsch.
Other ex-commanders including Ejder Yıldırım got nine, Nuri Büyüzyazıcı got 6 and Ertuğrul Terzi got 2 aggravated life sentences.
Former Brigadier Kerim Acar, then-dean of the military academy, was among those slapped with aggravated life in prison.
Former rear admiral Irfan Arabaci and Murat Sirzai got one aggravated life sentence each and Hakan Üstem, a former coast guard commander, and Abdulkerim Ceyhan got life imprisonment.
The terrorist group's infiltration of the judiciary includes Mehmet Rasim Kuseyri who got eight years, Osman Şanal got 11 years and Ferhat Sarıkaya got 10 years in prison.
Nazire Terzi, the wife of the former Brig. Gen. Semih Terzi who was shot dead by Ömer Halisdemir, also got 18-year prison sentence for willingly aiding and abetting FETO.
Ayşenur Parıldak, a correspondent of the FETO-linked Zaman newspaper, was sentenced to seven years and six months in prison for being a member of armed terrorist organization.
The FETO members were also found guilty of leaking the civil service recruitment exam -- also known as KPSS -- in 2010, which they used to help them infiltrate state institutions.
Muhammet Sait Gulen, a nephew of Fetullah Gulen who is the leader of the FETO terrorist organization, was slapped with a sentence of six years and three months.
Yalçın Baransu, the brother of Mehmet Baransu who was found guilty of plotting against suspects in the "Sledgehammer" military coup case, got eight years and nine months prison sentence.
FETO and its U.S.-based leader Fetullah Gulen orchestrated the defeated coup attempt of July 15, 2016, which left 251 people martyred and nearly 2,200 injured.
Ankara also accuses FETO of being behind a long-running campaign to overthrow the state through the infiltration of Turkish institutions, particularly the military, police, and judiciary.