Bangladeshi Embassy in Ankara marks national day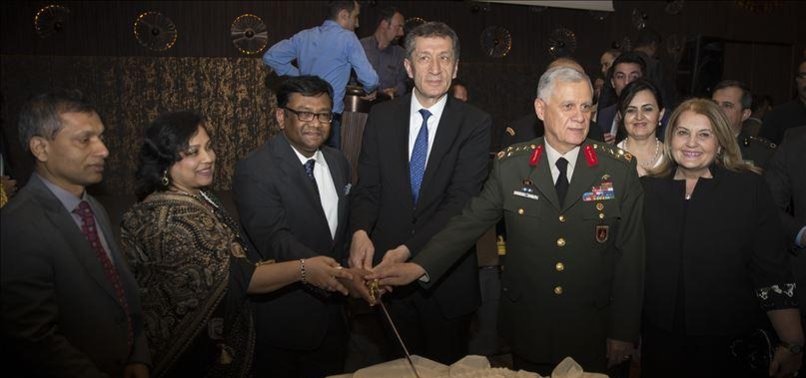 The Bangladeshi Embassy in Ankara celebrated the country's 48th Independence Day with a reception in the Turkish capital Tuesday.

After the national anthems of Turkey and Bangladesh were played, Bangladeshi ambassador M. Allama Siddiki and National Education Minister Ziya Selcuk addressed the guests.
Speaking at the event, Selcuk congratulated the Bangladeshi people on behalf of the Turkish government.
"Turkey and Bangladesh have always supported each other during their difficult times. The brotherhood between Turkish and Bangladeshi people has always contributed and empowered our relations," Selcuk said.
The education minister expressed his sincere desire to further strengthen the solidarity and relations between the countries.
"There is a great potential for business between two countries," he said.
Underlining that Turkey regards the Bangladeshi people as brothers and sisters, Selcuk said: "It is really important for us that Bangladeshi people live in solidarity and peace."
For his part, Siddiki paid his rich tribute to the founder of the nation, Bangabandhu Sheikh Mujibur Rahman and to the freedom fighters who sacrificed everything they had for independence in 1971.
He explained how Bangladesh started its journey as a war-struck nation with a lot of challenges and extreme poverty, but today it has become a proud and confident country.
"Under the visionary leadership of Prime Minister Sheikh Hasina, Bangladesh is a very fast transforming country and it has political stability and continuity of policy," said Siddiki.
The Bangladeshi envoy went on to say that because of its engaging, constructive and peaceful foreign policy, the country has many friends whose support is crucial for development.
Siddiki predicted that 10 years from now the world will see "a very different Bangladesh".
"We are trying to follow the success of our Asian neighbors Japan, South Korea, Malaysia and Thailand. Bangladesh would like to be another tiger country and economy of Asia," he said.
Speaking about relations with Turkey, he said: "Bangladesh and Turkey are traditional brotherly countries which have very old bonds.
"I am sure in the coming years Bangladesh-Turkey relations will reach to a higher level in many fields such as education, defense cooperation, commerce, trade, investment and cultural fields."
He also praised Turkey for its support to the Rohingya.
At the end of the event, traditional Bengali food was served to the attendees.
Bangladesh became independent from Pakistan on Dec. 16, 1971, after a bitter nine-month war which started on March 26.