Death toll in Istanbul building collapse rises to 21
TURKEY
Agencies and A News
Published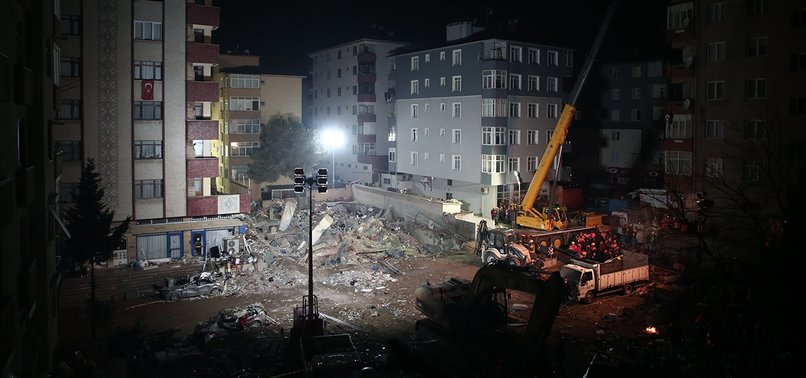 The death toll from the collapse of an apartment building in Istanbul rose to 21, as President Recep Tayyip Erdoğan said Saturday that authorities have "lessons to learn" from the incident. Interior Minister Süleyman Soylu, meanwhile, told reporters that the death toll had risen to 21 dead. The eight-storey block in the Kartal district on the Asian side of the city collapsed on Wednesday but the cause is not yet clear.
The death toll in Wednesday's building collapse in Istanbul has risen to 21, Turkey's Interior Minister said on Saturday.
"Those who are responsible will be held to account," Süleyman Soylu told reporters in Istanbul.
Earlier in the day, Turkey's Health Minister Fahrettin Koca informed that 13 injured people are in hospital, including two in serious condition.
Koca's remarks came at the Lutfi Kirdar Kartal Training and Research Hospital, where he visited the victims.

Dozens of rescuers were working at the site, as a crane lifted huge blocks of concrete to clear the rubble to search for any remaining victims.
Murat Kurum, the minister for environment and urban planning, said the building had permits for only six floors and had illegally built the top two floors with low quality concrete and sea sand instead of construction-grade concrete and stronger steel.
He called on residents to get their buildings checked to make sure they have followed construction codes.
In Istanbul, President Recep Tayyip Erdoğan also expressed condolences for the victims of the collapse.
Erdoğan, visiting the site Saturday, said: "We have a great number of lessons to learn from this. We will take the necessary measures."

The president also went to the hospital to talk to survivors, and then attended the funeral of the nine members of one family who lost their lives in the disaster.
The seven-storey building in Istanbul's Kartal district collapsed Wednesday for reasons as yet unknown, with 30 residents inside.
On Saturday, 9 members of Alemdar family -- who all died during the collapse of the building -- were buried today in a cemetery in Pendik district.
Gökay Alemdar (22), Mustafa Alemdar (48), Saime Alemdar (89), Ecrin Naz Alemdar (11), Erdoğan Alemdar (52), Eslem Alemdar (19), Safiye Alemdar (70), Safiye Alemdar (45) ve Ayşe Alemdar's (46) funerals were held.