Tourists visiting Bodrum increases by 34 percent, hotels at near full capacity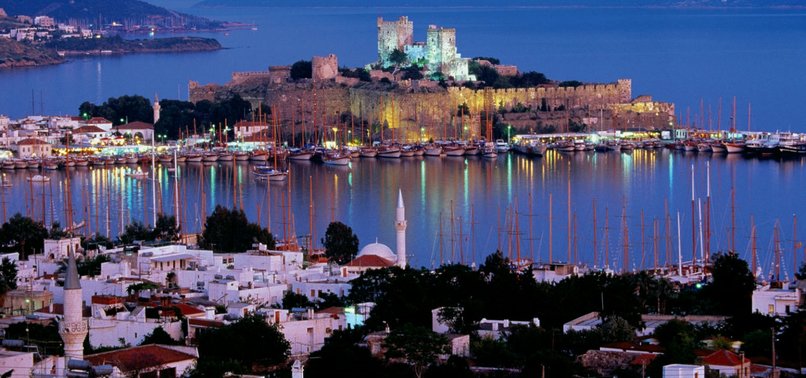 Hotels in southwestern Turkey's renowned resort town Bodrum are operating at near full capacity with a huge of influx of tourists according to Tourism Investors Association of Turkey (TTYD) Vice Chairman Recai Çakır.
Speaking to Anadolu Agency (AA), Çakır said hotels in Bodrum are operating at around 85 percent occupancy rates, which marks a 10 percent increase compared to last year's 75 percent as the resort town was visited by some 550,000 tourists in the first half of 2018 with an increase of 34 percent compared to 410,000 tourists in the same period in 2017.
Bodrum had a slow year in 2017, which Çakır describes as "the recovery year of tourism," with roughly 780,000 visitors. But Çakır is confident that the town will reach new record numbers in the following years as the town is estimated to host around 1.1 million visitors in 2018, almost reaching its record of 1.3 million visitors in 2012.
Çakır said their expectations were high for 2018 after seeing the hotels at full capacity during the Ramadan Bayram, also known as Eid al-Fitr. He said even though occupancy rates were down after Bayram was over, that won't be the case for long. Çakır estimates that the hotels will reach full occupancy rates after July 15, especially with the Qurban Bayram, also known as Eid al-Adha, in August which will cause a spike in tourist numbers. The occupancy rates are expected to be at maximum until September.
Making up the 80 percent of the visitors, foreign tourists were mainly from Europe. The Europeans, which were mainly absent from the town last year, returned this season by even greater numbers with English, German and French tourists being the majority. The town also welcomed visitors from various other countries such as Russia, Iran and Georgia.
Çakır said tourists prefer five-star hotels in Bodrum because they are reasonably priced. A double room in a five-star Bodrum hotel costs between 150 to 200 Euros ($175 to $230) per night while a similar hotel in Europe can cost 500 to 600 Euros ($580 to $700) he said.
Bodrum's touristic allure is not only because of its pristine beaches, according to Çakır, as foreign tourists also prefer to come to the town because it offers luxury and privilege to those who visit.
Bodrum currently has 44 five-star hotels, worth $5 billion. Twelve of these hotels are from global luxury hotel chains. The town also aims to host tourists during winter with an award winning detox hotel.
The town also features lots of high-end brand shops, restaurants and night clubs and a fancy marina which allows wealthy tourists to arrive in Bodrum in their yachts.
With many local and foreign businesses making investments in Bodrum year after year, Çakır expects Bodrum to increase its popularity worldwide. "It will be Turkey's St. Tropez," he said.