President Erdoğan hails UN resolution on Palestinians
TURKEY
Agencies and A News
Published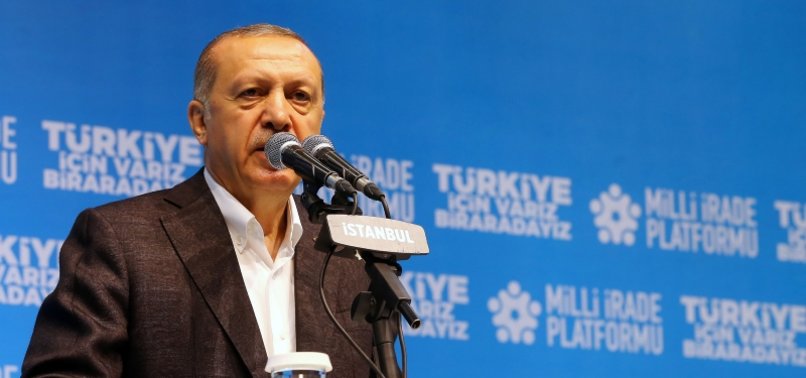 President Recep Tayyip Erdoğan on Thursday hailed a UN General Assembly resolution that urges protection for Palestinians.
Speaking after an iftar (fast-breaking) dinner in Istanbul, Erdoğan said: "I see the decision taken yesterday by the UN General Assembly as a historic milestone on the Palestinian issue."
"We will never leave the first qibla Jerusalem to the mercy of the invading Israeli state, which certainly only feeds from blood, slaughter and tears," Erdoğan added.
The Turkish and Algerian-sponsored resolution passed in the General Assembly with 120-8 votes. In all, 45 countries abstained.
The resolution blamed Israel for the recent deaths of Palestinians in the Gaza Strip and urged the international community to consider protection for Palestinian civilians.
The countries that voted against the resolution include the U.S., Israel, Australia, the Marshall Islands, Nauru, Togo, Solomon Islands and Micronesia.
Attack on ruling party members
Erdoğan also spoke about an armed attack in southeastern province of Sanliurfa which left at least four people dead and eight others injured.
He said: "Our security forces and judiciary will definitely find whoever is in front of or behind this incident."
"This is the most obvious example of the fact that the PKK and HDP (Peoples' Democratic Party) have not been able to abandon their growth strategies by feeding on the Kurds' blood," Erdoğan said.
"We have no problem with our Kurdish brothers, we have a problem with the PKK. I believe that our Kurdish brothers will also spoil this game," he added.
He said Turkey had given a befitting lesson to those who speak of democracy but hold weapons.
Health Minister Ahmet Demircan said MP Ibrahim Halil Yildiz was the target but he survived the attack. His older brother Mehmet Ali Yildiz died after succumbing to his wounds at the hospital.
Sanliurfa Governorship said in a statement that Yildiz, accompanied by a group of people, was visiting tradesmen in the center of Suruc district as part of his election campaign.
This April, the parliament passed a bill for early elections on June 24, cementing Turkey's move to a presidential system.
The PKK -- listed as a terrorist organization by Turkey, the U.S. and the EU -- resumed its armed campaign against Turkey in July 2015.
Since then, it has been responsible for the deaths of more than 1,200 Turkish security personnel and civilians, including a number of women and children.