Azeri deputy president backs Turkey's Afrin operation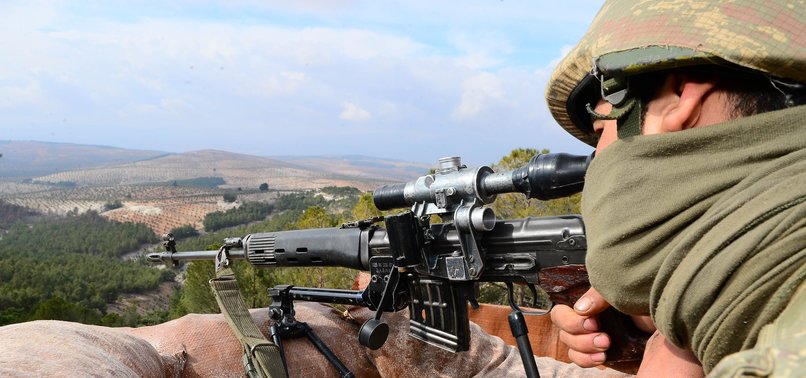 Azerbaijan's Deputy President Ali Hasanov on Wednesday supported Turkey's ongoing Operation Olive Branch in Syria's Afrin region, calling it a "rightful combat".
"We view the combat against terrorists as Turkey's rightful combat. We consider the combat as a fight against threats to Turkey's territorial integrity and security," Hasanov said during a meeting with Anadolu Agency Director General Senol Kazanci and TRT Director General Ibrahim Eren in Baku.
Kazanci and Eren arrived in the Azeri capital along with Turkish Prime Minister Binali Yildirim to attend the 6th Global Baku Forum.
On Jan. 20, Turkey launched Operation Olive Branch to clear YPG/PKK-Daesh terrorists from Afrin, northwestern Syria.
According to the Turkish General Staff, the operation aims to establish security and stability along Turkey's borders and the region as well as to protect Syrians from the oppression and cruelty of terrorists.
Speaking about a motion passed in the Dutch parliament supporting Armenian allegations about the events of 1915, calling them a "genocide", Hasanov said: "We told them it would be better to discuss an event which actually took place, such as the Khojaly Massacre, rather than bringing a non-existent event to the agenda of the parliament."
The Khojaly Massacre is regarded as one of the bloodiest and most controversial incidents of the war between Armenia and Azerbaijan for control of the now-occupied Upper Karabakh region.
On the heels of dissolution of the then Soviet Union, Armenian forces took over the town of Khojaly in Karabakh on Feb. 26, 1992, after battering it with heavy artillery and tanks, assisted by an infantry regiment.
When the massacre happened, the population of the town was more than 11,000.
The two-hour offensive killed 613 Azerbaijani citizens, including 116 women and 63 children and critically injured 487 others, according to Azerbaijani figures. One hundred and fifty of the 1,275 Azerbaijanis that the Armenians held during the massacre remain missing.
Asserting the presence of a smear campaign on social media against Turkey and Azerbaijan, he said: "We must combat these activities together. We must further enhance the cooperation between our diasporas.
"Our media organizations must enhance cooperation. I welcome the activities of Anadolu Agency and TRT. The more we enhance our cooperation the stronger we are."
Kazanci, for his part, asserted that Anadolu Agency does not separate the developments in Azerbaijan from the ones in Turkey.
He said: "We closely follow the matters such as the Nagorno-Karabakh conflict, the 100th anniversary of the Republic, as well as the visits of state officials.
"The matters that are sensitive to Azerbaijan are also affect us," Kazanci added.
Eren expressed solidarity with Azerbaijan and said TRT is preparing news and programs on the occasion of the 100th anniversary of the Republic.