US should resolve distrust with Turkey before discussing safe zone, Deputy PM Bozdağ says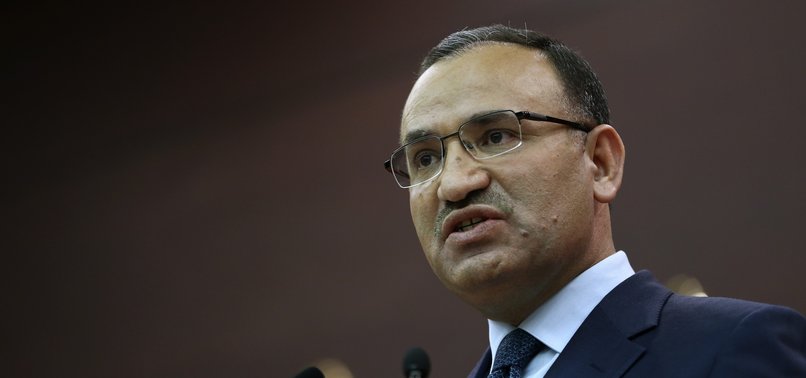 Deputy Prime Minister and government spokesman Bekir Bozdağ said Operation Olive Branch against PKK-affiliated groups in northern Syria is out of necessity, not a preference, and urged the U.S. to stop arming YPG terrorists to avoid confrontation with Turkey
While Operation Olive Branch (OOB) enters its second week, Deputy Prime Minister and government spokesman Bekir Bozdağ indicated that clearing Afrin of terrorist elements and rendering the region safe for both the local populace and Turkey are the main goals of the operation. Bozdağ said the U.S. proposal of a 30-kilometer-deep safe zone after the launch of the operation was rather meaningful, while underscoring that the U.S. should first address the distrust it has created.
Bozdağ asserted that launching the operation was not a matter of preference but was out of necessity, saying that Turkey had exhausted every diplomatic means to cleanse the border of terrorist elements and was left alone by its allies. Stating that cooperation with the U.S. in Syria is only possible if the U.S. stops supporting the PKK's Syria affiliate, the Democratic Union Party (PYD) and its armed People's Protection Units (YPG) militia, Bozdağ urged the U.S. to do so.
Daily Sabah: While Operation Olive Branch is ongoing, the U.S. proposed to establish a 30-kilometer-deep safe zone. How do you evaluate this?
Bekir Bozdağ: Our main goal in the operation is to cleanse Afrin of terrorist organizations and render the region safe for the local populace and Turkey.
A safe zone, on the other hand, has been advocated by Turkey for years now. It's important that the U.S. is proposing what we have been advocating; yet, the proposal's timing is meaningful. We're currently focused on OOB; we will continue the operation until we achieve our goals. No one should be concerned about this. A safe zone is an issue that should be discussed separately; it's not a matter that could halt the operation. Turkey is determined to reach its goals.
D.S.: Is it possible to realize the U.S.'s proposed safe zone?
B.B.:Time will tell. There is serious distrust between Turkey and the U.S. now. The U.S. had made certain promises, but we see that they are not keeping their word. They claimed that the PYD/YPG wouldn't cross the Euphrates and head to the northwestern parts of Syria; however, these terrorist organizations did cross it and are currently in Afrin, one of the westernmost cities of Syria. The U.S. promised not to give armaments to them, even President Trump himself claimed it had stopped; yet, the U.S. continues to provide support to these terrorist groups. We want to see the U.S. keeping its word.
Under normal circumstances, we should trust what the U.S. president is saying; however, seemingly it carries little weight in the field. Orders aren't carried out properly. Not only the U.S. president, but other U.S. officials have made promises about these issues, and they also failed to keep their promises. They have asserted that their cooperation with the terrorist PYD/YPG is conjunctural and limited to operations against Daesh; the U.S. said they would collect the armaments they have given to these terrorist organizations, but failed to do so. None of the promises were kept.
They are concerned about Turkey eradicating the PYD/YPG now; that's why they have made this proposal.
Instead of mincing words, we would want the U.S. to keep its promises. Because these promises weren't kept, Turkey has taken its own initiative. Turkey was forced to launch an operation to make the region secure for itself and Arabs, Turkmens and Kurds living there.
This operation is launched out of necessity; Turkey was forced to launch it. Turkey always exhausts diplomatic means to resolve issues first; if unable to produce results through diplomacy, Turkey takes its own initiative to resolve the issues. This is what we are doing today.
D.S.: Last week, President Trump spoke with President Erdoğan over the phone and proposed cooperation in Syria. What is your take on this proposal?
B.B.: If the US wants to cooperate with Turkey, it should do the following: stop arming the terrorists, collect the armaments from these terrorists and urge these terrorist elements to withdraw east of Euphrates. The U.S. isn't doing any of these. The terrorists in Afrin may not be supplied with armaments; however, it doesn't mean they are provided armaments in other regions. Who has trained and equipped the PYD/YPG? The U.S. Who has trained them to use specialized weapons? Again, the U.S.
Therefore, the PYD/YPG wouldn't act against the U.S.; everybody knows this. For this reason, U.S. officials should stop cooperating with them and indicate that their cooperation was limited to the fight against Daesh. The U.S. should act decisively in this matter; yet, we fail to see any decisive action.
D.S.: There are discussions on the possibility of Turkey and the U.S. coming across each other in the later days of the operation. What are your thoughts on this matter?
B.B.: What we want is clear; we want to end the instability in the region and eradicate terror from the region and our borders. Daesh is a terrorist organization that should be fought against effectively. Turkey has been the most effective country against Daesh. As Turkey has suffered from Daesh the most, with the exclusion of Iraq and Syria, no one should question Turkey's determination against Daesh. Similarly, the PKK is a terrorist organization. It is accepted as a terrorist organization by NATO, EU and the U.S. The PYD/YPG is a PKK affiliate in Syria, and it is also administered by Qandil. Therefore, any support to the PYD/YPG is against Turkey.
Turkey will continue to fight against these terrorist organizations until all this support is withdrawn. Turkey will fight against any threat to its national security and the local populace both in Afrin and elsewhere.
The U.S. administration does not want to come up against Turkey, and we don't want to have to come up against the U.S. It's easy to achieve this; all support to the terrorists should be cut off. Turkey will continue to fight terrorist organizations until they are deprived of all support.
We want logistical support to terrorists to end. Any kind of support to terrorists means siding with them. There are people wearing these terrorists' outfits. Turkey cannot distinguish them; they are on the same side with terrorists. For this reason, we are saying that anyone siding with terrorists will become a target of our operation.
Everybody should be cautious. Urging Turkey not to face the U.S., Tillerson should make plans that won't bring the U.S. and Turkey face to face. They should revise their strategies, initiatives, soldiers on the ground and supporting terrorists. No one can ask Turkey to just disregard terrorists. Similarly, no one can urge Turkey to stop eradicating terrorist elements that are a threat to Turkey's national security.
D.S.: How do you evaluate Trump's suggestion to keep the operation short, which was discussed during his phone call with Erdoğan?
B.B.: Good relations between Turkey and the U.S. will be beneficial for all. The countries should cooperate in resolving regional issues. However, for a time now, it has become obvious that we perceive certain things different than the U.S., like the events in Syria, arming the terrorist PYD/YPG, Gülenist Terror Group (FETÖ) and the Zarrab Trial. We haven't had the chance to reconcile with the U.S., as we fail to find common ground. They don't think like us on issues that threaten our national security. This definitely creates distrust between our countries. Resolving this issue would be beneficial for the two countries; however, we have yet to resolve it.
The U.S. wants the operation to be short. The operation could be ended within a short period of time, if the U.S. takes the PYD/YPG's armaments back and tells them to leave Afrin. This would definitely allow us to conclude the operation in Afrin rather swiftly. The PYD/YPG fighting together with the U.S. against Daesh on the eastern bank of Euphrates is still a terrorist organization. So, unless the U.S. takes armaments back from the terrorist organization and tells these terrorists to leave Turkey alone, the operation will be concluded when it is supposed to be concluded. If the U.S. does this, it would be an important step towards reestablishing trust.
Currently, Russia and President Putin are supporting us. The U.S. is our ally and our strategic partner; yet, we fail to see similar support from them. If the U.S. fully supports Turkey against the PYD/YPG and forces the terrorists to withdraw from the region, it would take a little time to finish the operation. It would definitely be more useful than urging us to keep the operation short.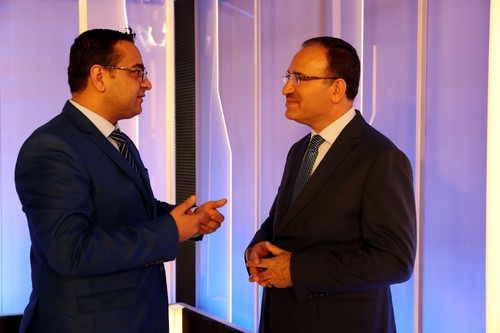 Daily Sabah's Ali Ünal, left, with Deputy Prime Minister Bekir Bozdağ
D.S.: Will the OOB also carry on to Manbij after Afrin?
B.B.: We are currently focused on Afrin. We will eradicate terrorist elements in the region and will reestablish our border security. Therefore, we will discuss what is next after the operation is successful. We previously stated what we think about other regions and cities. Turkey wants to see promises kept. We will definitely pursue these matters. If there is a threat to Turkey, Turkey will eliminate this threat with an operation. Nevertheless, we are focused on Afrin for the time being.
D.S.: It is claimed that the control of territories cleansed of the PYD/YPG will be transferred to the Syrian regime. What are your thoughts about this?
B.B.: When launching the operation, Turkey expressed its respect for Syria's territorial integrity, political unity and sovereignty. Turkish Armed Forces (TSK) launched this operation to eradicate separatist and terrorist PYD/YPG that threaten both Turkey and Syria with their existence. Therefore, we are clear about our aims.
We won't allow the PYD/YPG to stay in the region through collusion or other means. We will continue our operation until these terrorist organizations are annihilated.
D.S.: Last week, settlements and mosques in Hatay and Kilis were attacked. Some claimed that these attacks were carried out by Turkey. What is your take on these allegations?
B.B.: The PKK instructed its members to manipulate the media with images that show Turkey killing civilians, which are taken from other incidences not even related to Turkey, right on the day the issue of Syria was being discussed at the U.N. Moreover, the PKK also commanded its militants to spread slander about Turkey bombing its own civilians. Then, pro-PKK websites and their affiliates started to spread this deceitful "news." What's sad about this matter is that one of the Republican People's Party (CHP) deputies spread the PKK's propaganda – deliberately or not. How a member of our Parliament could even think that Turkey would harm its own citizens? While we have launched this operation to prevent any harm to our citizens, could we deliberately attack our own citizens? This would beat the purpose of launching an operation.
Nevertheless, this is slander by the terrorist organization. To garner support for their organization, these terrorists are distorting the truth over social media. I would like to ask our citizens to not heed the news on social media as most of them are fabricated by terrorist organizations.
D.S.: Lastly, a group of academics published a declaration, urging the operation to end. How do you evaluate this declaration?
B.B.: These so-called intellectuals didn't say anything when the PKK martyred a teacher, Aybüke Yalçın. When the terrorist organization killed dozens of civilians and children during the trench terror, they were silent. They didn't talk about right to life then. Again, when one of our military personnel was killed right beside his wife while shopping, they said nothing. There were terrorist attacks on Merasim Street, Kumrular and Tandoğan, all committed by the PKK and its affiliates; they stood silent. Yet, when the TSK launches an operation to eradicate the terrorist organization to protect the citizens of this country, they start to talk. They talk about peace when we crackdown on terrorists. So, where were they when the PKK caused the death of more than 40,000 people?
Why are they talking about peace and are "concerned" about civilians now, when YPG/PYD militants are seizing the properties of Turkmens, Arabs and Kurds who don't kneel before them? Why don't they talk about civilians when the terrorist organization forcibly deports civilians and forcibly recruits children? The TSK is not targeting civilians or harming them; the TSK only targets those who want to harm civilians and children along with seizing their properties. For this reason, I don't believe they are actual intellectuals. There's nothing new under the sun. These people are voluntary supporters of terrorist organizations. Under the guise of peace, they are trying to undermine the operation that aims to eradicate terrorists. I condemn their abhorrent behavior, and let the Turkish people decide what to do with them.

*Ali Ünal / Daily Sabah