Turkey's steps are not a move against Syrian Kurds, Erdoğan aide says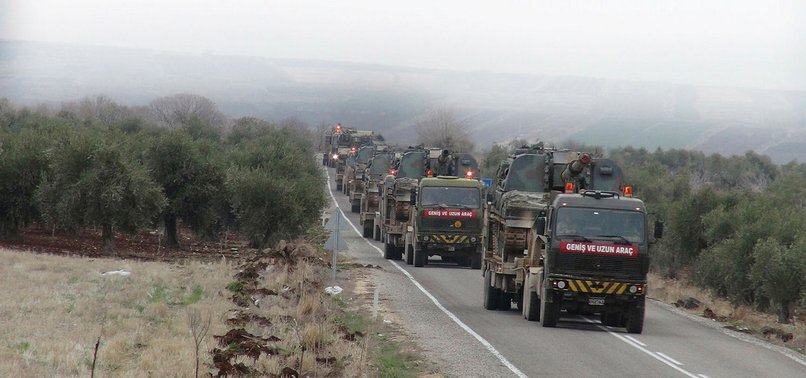 İbrahim Kalın, the presidential spokesman, told reporters in Istanbul on Thursday that Turkey's steps to protect national security are 'definitely' not a move against Syrian Kurds.
Turkey's steps to protect its national security are "definitely" not a move against Syrian Kurds, said Turkey's presidential spokesman on Thursday.
Speaking to reporters in Istanbul, İbrahim Kalın said Turkey will take any measure necessary to protect its national security without needing anyone's permission.
"I want to underline once more that the steps Turkey takes towards protecting its own national security in Afrin, Manbij, Jarabulus or in other places [in Syria] are definitely not a move against Syrian Kurds," Kalın said.
An operation in Afrin -- a region bordering Turkey's Hatay and Kilis provinces -- is widely expected in the wake of Turkey's successful seven-month Operation Euphrates Shield in northern Syria, which ended in March 2017.
The Assad regime handed over Afrin to the PYD/PKK without putting up a fight, and there are currently some 8,000-10,000 terrorists in the area, according to information gathered by Anadolu Agency.
After Turkey warned of their presence in Afrin, terrorists are now hiding out in shelters and pits in residential areas there.
The PYD/PKK is the Syrian offshoot of the PKK terrorist group, which has been designated a terrorist organization by Turkey, the U.S. and the EU.
Since the mid-1980s, the PKK has waged a wide-ranging terror campaign against the Turkish state in which an estimated 40,000 people have been killed.
- US SECRETARY OF STATE TILLERSON'S REMARKS
Kalın also commented on U.S. Secretary of State Rex Tillerson's remarks that Washington owed Turkey an explanation over "inaccurate" reports that it was creating a border force in cooperation with SDF/PKK terrorists in northern Syria.
Kalın said that Tillerson had said: "There will not be a force like that, it was expressed incorrectly. A false statement was made and wrong people spoke."
"Now, in plain words, we will be following this closely," Kalın said.
He added there had been an effort to legitimize U.S. support of the PYD/PKK under the name SDF and that Ankara would remain vigilant that a similar occurrence would not happen with regards to the border army.
The U.S.-led international coalition against Daesh said on Sunday that it would establish a 30,000-strong new border security force with the SDF/PKK -- a group largely controlled and manned by the PYD/PKK terrorist organization.