Southern Turkey's gorgeous autumnal coasts
Though summer may be long gone, Turkey's southern coasts are still open to those ready to take one last dip
Some say autumn is the best time to explore the Turkish seaside, and this is true to its core. Autumn is undoubtedly the best time to take a trip to southern Turkey and soak up the remains of summer. There are certainly much fewer people, meaning quieter beaches. Moreover, the sweltering weather begins to pity us human beings giving you an opportunity to enjoy your time on the beach without worrying about a burning sun.
Perhaps the best part of taking a vocation in autumn is hotel prices. They are much lower during this time of the season and you can stay in a much more beautiful place on a small budget. For holiday-goers who would like to soak up the last bits of summer, Daily Sabah has come with a few suggestions: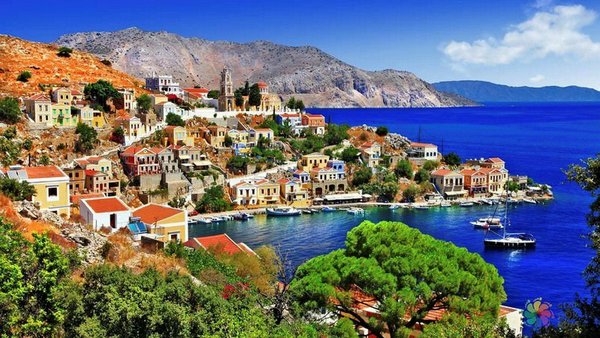 Datça
The Mediterranean summer never ends in August. Located in the junction of Aegean and Mediterranean, Datça looks like a small coastal town but promises so much more. Holiday-goers who prefer to have a relaxing holiday can always head to Datça, Muğla.
Apart from its beaches and pristine blue waters, Datça offers various activities like trekking to professional diving. The locals would always advise the visitors to take a boat tour to discover the virgin bays.
When you had enough of the sea you can also pay a visit to the Ancient city of Knidos which is located on the tip of the peninsula, about 30 kilometers west of Datça, near the village of Yazıköy. The city was once famous for a statue of Aphrodite, sculpted by Praxiteles of Athens. There are also two amphitheaters in Knidos, one of the facing Aegean Sea, while the other has a view of Mediterranean proper.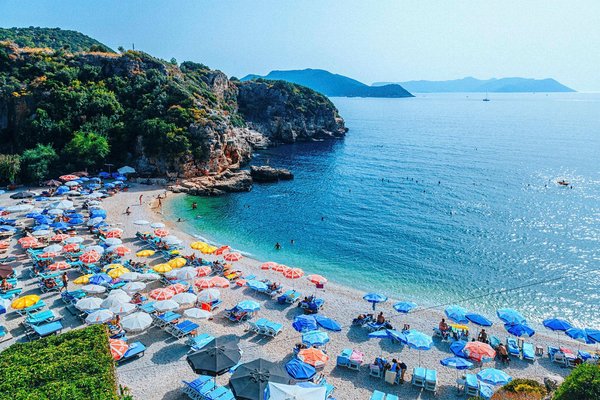 Kaş
Known for its clean air and unmatched sea, Kaş is a popular destination among those who pass by Antalya. It is sure to charm tourists with its cobblestone streets and houses with flower-decorated balconies. Since it is a small city, it is possible to walk around the entire town in just a few minutes. Thanks to its crystal clear sea and different species of fish, Kaş is also a hub for divers who want to discover its magical underwater world.
Bozcaada
If you have been to Bozcaada, located 20 kilometers from the Dardanelles, you would know that the sea can be chilly even in summer. But, surprisingly, it is quite warm in autumn which makes this beautiful island one of the best holiday destinations in autumn.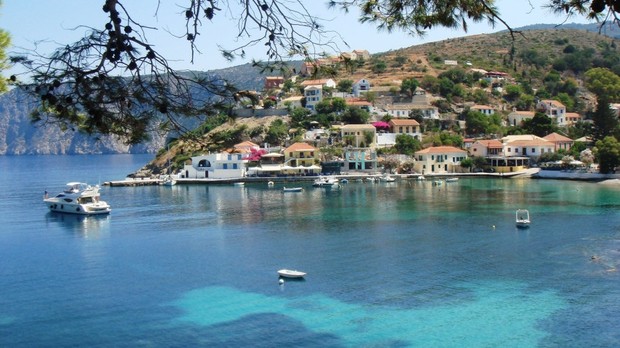 Because the island is fairly close to large cities like Istanbul and İzmir, the island's population multiplies during summer. But once summer is over, Bozcaada is nothing but a small town surrounded by vineyards and scattered pine woods, a perfect place for autumn vacationers. The beaches in this small Aegean island are located in the south. You can either drive or hop on a minibus to get around. There are two major beaches in the island called Ayazma and Habbele. However, since Ayazma's water can be a bit cold, we suggest you give Habbele a try.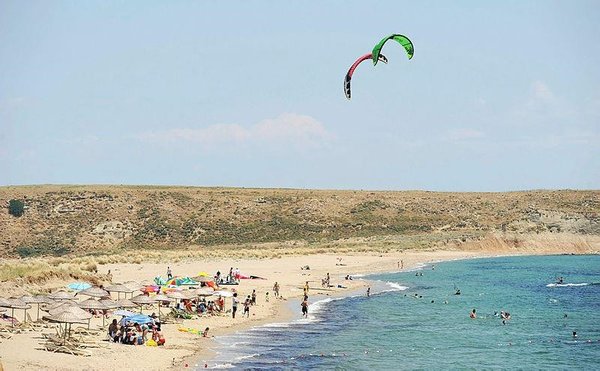 Aydıncık
Located in the heart of southern Turkey, Aydıncık in Mersin is the perfect place to take a dip in the sea in autumn. The beaches are covered with sand and the water is so warm in the summer that the locals usually prefer beach time in autumn. The districts black mud is also believed to have healing effects. You can mix skin care routine with some fun in the beach.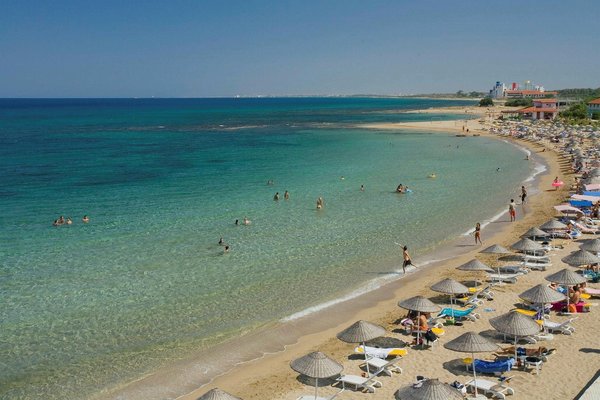 Bonus: Turkish Cyprus
Turkish Cyprus is a tourism paradise. Although Girne is the most popular city in the northern part of the island, the region of Bafra stands out with its beautiful beaches. Here you can enjoy the sea until the end of October.
Apart from beach activities, you can also pick up different sports from scuba diving to paragliding to hiking. The island has hosted numerous civilizations throughout history and there are many historic places you can visit. For instance, the Beflparmak Mountains are home to three picturesque and well-preserved castles: St. Hilarion Castle, Buffavento Castle and Kantara Castle.
You can also visit ancient ruins such as the Salamis ruins near Famagusta which is an ancient Greek city is full of statues, agoras, and much more, There is also an amphitheater where concerts and other events take place.