Rohingya Muslims in Bangladesh struggle to survive
Jamir Hossain, a Rohingya Muslim, walked for eight days to reach a refugee camp in Bangladesh.
He is among the 164,000 Rohingya Muslims who crossed into Bangladesh since Aug. 25, as violence escalated in bordering Myanmar's Rakhine state.
"We could not find food on the streets," he told Anadolu Agency on Thursday. "We were starving so we ate some fruitless banana trees we found in the forest. This is how my family and I survived and reached the camp."
A steady stream of refugees has been arriving at the government-run Kutupalong refugee camp, some making a difficult eight- to10-day walk through the forest, while others making the journey in small boats across the Naf river.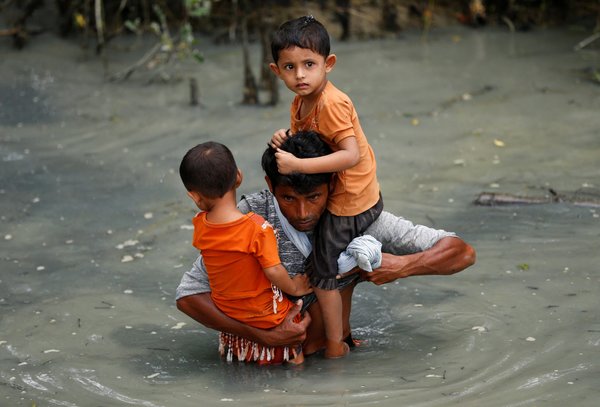 The refugees may have escaped persecution in their native country, but life in the camp is an everyday fight for survival.
Hasina Begum, who is pregnant with her third child, said: "I cannot find enough food for two of my children. We eat if the locals help, otherwise we spend the night hungry."
She said she took 10 days to walk to Bangladesh after her husband was killed by the Myanmar army.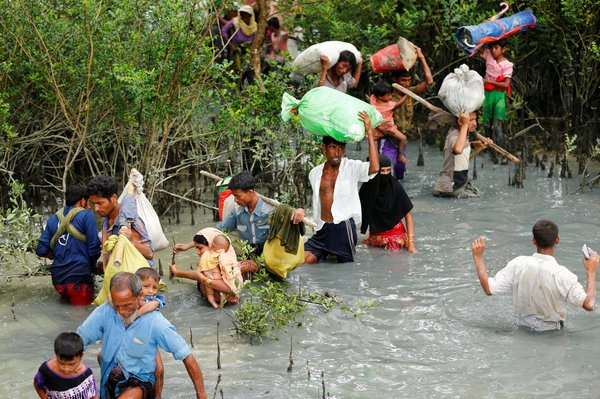 Women, children outnumber men
The camp is teeming with women and children, who outnumber men -- many of who have been killed in the ongoing violence.
In the quest for basic survival, the refugees have still not gotten time to grieve for the family members they report as having been killed by the military of Buddhist mobs.
Abul Kalam told Anadolu Agency that he fled after his grandfather was killed by Buddhist nationalists.
Kalam said many people had lost their lives as villages were set on fire and the army opened fire from helicopters.
His family of eight has been placed temporarily in a school building in Bangladesh, which is for now the only place they can call home.
Mahmud Kamal, another refugee, said that his father was killed by Myanmar forces as they attacked Rohingya villages.
Saeed Hossain said that one of his five relatives who reached Bangladesh had died in hospital while being treated for gunshot wounds.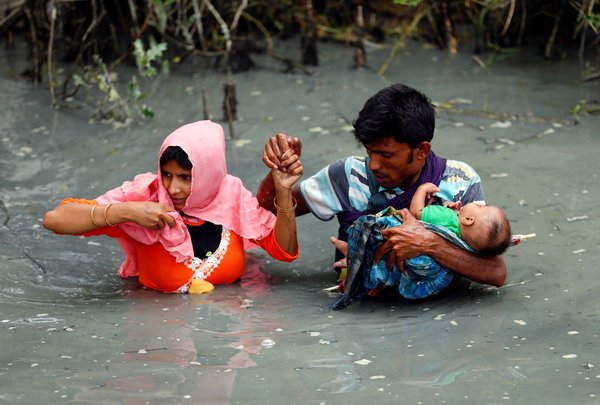 Human rights violations
Fresh violence erupted in Rakhine nearly two weeks ago when security forces launched an operation against the Rohingya community.
It triggered a fresh influx of refugees to neighboring Bangladesh, which already hosted around 400,000 Rohingya.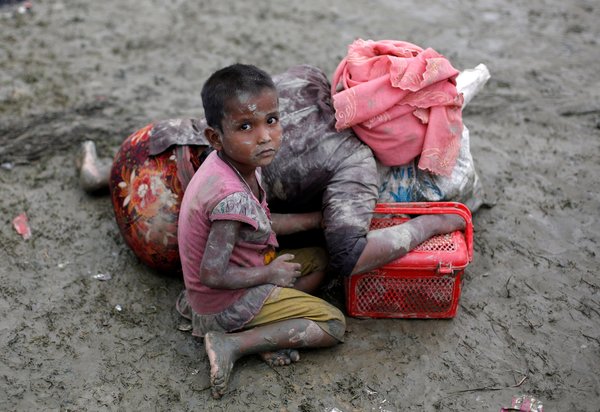 According to the UN refugee agency, 164,000 Rohingya had crossed into Bangladesh by Thursday. Tens of thousands have been forced from their homes and remain in Myanmar.
Rakhine has seen simmering tension between its Buddhist and Muslim populations since communal violence broke out in 2012.
A security crackdown launched last October in Maungdaw, where Rohingya make up the majority, led to a UN report on human rights violations by security forces that indicated crimes against humanity.
The UN documented mass gang-rape, killings -- including babies and children -- brutal beatings and disappearances. Rohingya representatives have said approximately 400 people were slain during the crackdown.