Citroen's Sebastien Ogier wins Rally Turkey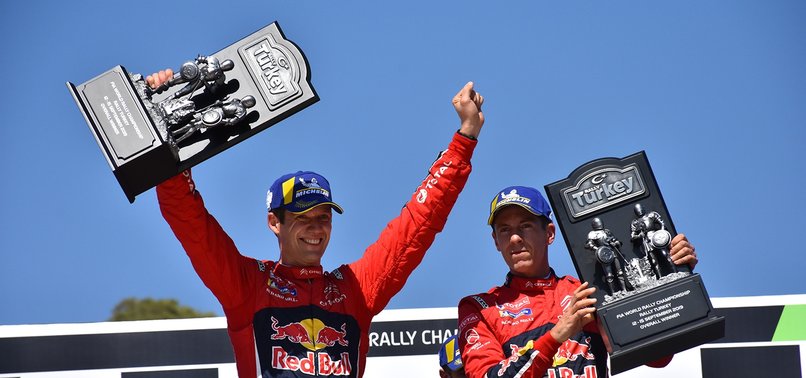 Sebastien Ogier won Rally Turkey on Sunday with an overall of 3:50:12.1, turning the misfortune of his two rivals to his favor.
Ogier's team-mate Esapekka Lappi finished second at 3:50:46.8 after showing dominance in the first two days. Lappi lost the leading position to Ogier on Saturday.
"This win was really needed and our only chance to get back in the championship fight," said Ogier at a news conference after the podium ceremony.
"We knew anything could happen because it's a super-rough rally but the bad luck we had on the previous round in Germany was behind us," he added.
"We are still quite some points behind him but we are still alive," said the winner.
He said he hoped to continue putting pressure on the championship leader Ott Tanak, saying England is a rally that suits him "very well".
Lappi said that he is "really satisfied" with his second position, adding that Citroen one-two gained important points for the manufacturers championship.
"Today was about driving safely and we managed to do that," he added.

Andreas Mikkelsen, who came third at 3:51:16.6 in his Hyundai i20, was also the quickest name in the Cicekli (SS16) stage.
Mikkelsen said that they have always been passive through the first runs of the days to keep everything under control, adding their strategy worked very well.
"This rally was about managing the pace and I think we did that quite well. I stuck to my strategy.
"I had a little bit too much tire wear on second passes, in general, but we had good stage times," Mikkelsen said.
Stressing that third place is a "good and important" result for the manufacturers championship, he added: "We also increased the gap on Toyota, which was the main point for this weekend. I think we can be happy with that."
Mikkelsen's team-mate Tanak, who came to the rally as the championship leader, said an early goodbye on Day 2 due to a technical problem in his car at Datca 1 (SS9) stage.
The Estonian returned to fight on Sunday and won the Marmaris 1 (SS14) and the Wolf Power Stage, Marmaris 2 stage (SS17) -- the final leg of the Rally Turkey.
Tanak secured the leading position on the championship charts after a troublesome weekend, while Ogier melted down the 33-point gap to 17 points.
Jari-Matti Latvala was the fastest at Gokce (SS15) stage.
Thierry Neuville, formerly placed second at the championship, could not change his eighth position on the final day as well.
Rally Turkey is set to be followed by Rally England, Spain, and Australia.