Israel deploys reinforcements near Gaza ahead of rally
MIDDLE EAST
Anadolu Agency
Published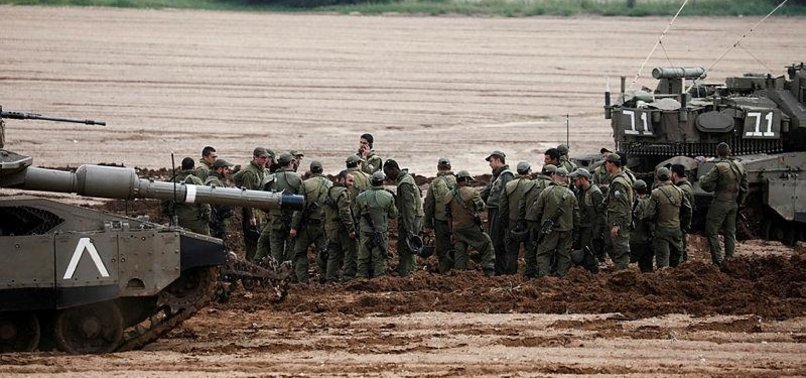 The Israeli army has sent reinforcements to the fraught Gaza-Israel buffer zone in advance of anticipated Palestinian demonstrations on Saturday marking the first anniversary of Gaza's "Great Return" march.
On Wednesday, Israeli army spokesman Avichay Adraee tweeted photos purporting to show large military encampments -- teeming with soldiers and tanks -- set up along the buffer zone.
He also posted video footage purportedly showing the arrival of fresh troops to the area.
According to Adraee, an additional infantry brigade and artillery battalion have been sent to the buffer zone in advance of Saturday's anticipated demonstration.
The reinforcements follow this week's military escalations in Gaza between Israel and Palestinian resistance factions.
Late Tuesday, Palestinian Public Works Minister Mufeed al-Hasayneh said a total of 500 homes in the Gaza Strip had been damaged by Israeli airstrikes carried out over the last 72 hours.
Israeli warplanes pounded Gaza on Monday after rocket-fire from the Hamas-run coastal enclave reportedly left seven Israelis injured north of Tel Aviv.
Since Palestinians in Gaza began staging the "Great Return" marches on March 30 of last year, more than 250 demonstrators have been killed by Israeli army gunfire.
Protesters demand the right of Palestinian refugees to return to their homes in historical Palestine from which they were driven in 1948 to make way for the new state of Israel.
They also demand an end to Israel's 12-year blockade of the Gaza Strip, which has gutted the enclave's economy and deprived its roughly two million inhabitants of many basic commodities.