Villagers in Afrin hail Turkey's ongoing operation
MIDDLE EAST
Anadolu Agency
Published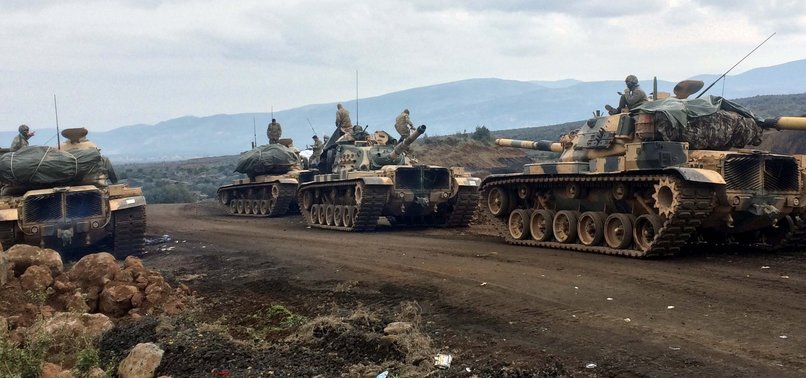 As life returned to normalcy, Ibrahim Hammed, resident of a village in northwestern Syria which was cleared of terrorists by Turkish troops, reopened his small shop.
He lives in Maryamayn village, which was liberated on March 9 by the Turkish military and Free Syrian Army (FSA) fighters, as part of Operation Olive Branch to wipe out Afrin from YPG/PKK-Daesh terrorists.
Speaking to Anadolu Agency, Hammed echoed the voice of hundreds of other villagers. "I wish the Turkish army and FSA stay here. They are very kind to us."
"The Turkish army and FSA bombarded strategic terror bases for two days, but the houses of civilians were not touched," he added.
Maher al-Kasim, another villager, said 90 percent residents stayed in the village despite the clashes and waited for the Turkish forces to clear the area.
Hassan Biddur, a pharmacist, said he was not willing to leave his home. "Most of us stayed here. Turkish and FSA soldiers were like brothers to us. But PYD/PKK has tortured civilians for not obeying them," he said.
"We have been waiting for this moment for more than two years," he added.
Yamin al-Hajji, another resident, said: "Thank God. We were waiting for this moment for almost two and half years. We were under siege by terrorists."
He added that the Turkish army and FSA were kind.
"We feel safe now," he said.
Mazin Haj Hasan, another trader, said many Turkish soldiers are their neighbors and relatives. "After the village was cleared of terrorists I opened my shop and saw soldiers. When they came near to me I realized they are my relatives and neighbors."
He rejected the false propaganda against the operation on social media, adding that it did not project real life.
Ahmed Al-Ali reiterated they were happy after the operation. "Before we were ruled by terrorists. When they crossed our way they asked us for money."
Haci Hasan, a shopkeeper, said: "Things have returned to normalcy. There will be more stability in the future."
Turkey on Jan. 20 launched Operation Olive Branch to remove PYD/PKK and Daesh terrorists from Afrin.
According to the Turkish General Staff, the operation aims to establish security and stability along Turkey's borders and the region as well as protect Syrians from terrorist cruelty and oppression.
The operation is being carried out under the framework of Turkey's rights based on international law, UN Security Council resolutions, its self-defense rights under the UN charter, and respect for Syria's territorial integrity, it said.
The military has also said that only terrorist targets are being destroyed and "utmost care" is being taken to avoid harming any civilians.
Afrin has been a major hideout for the PYD/PKK since July 2012, when the Assad regime in Syria left the city to the terror group without a fight.