'Game of Thrones' fans won't get their happy ending, actors forecast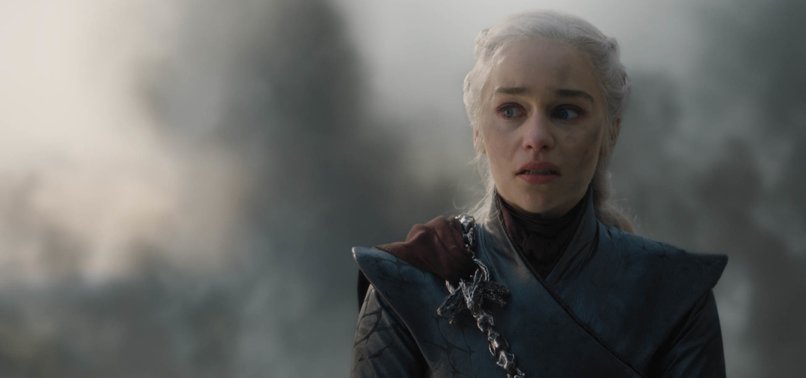 As the hugely popular fantasy show is wrapping up, the actors who played Hodor, the Mountain, and Septa Unella cast their predictions for the finale and discuss life after "Game of Thrones."
Game of Thrones fans are not going to get their perfect ending in the upcoming finale of the hit fantasy show - or at least that's what several actors in the show believe.
In an interview with dpa earlier this month, the actors who play the Mountain, Hodor and Septa Unella claimed they didn't know how the series will end but agreed that it would likely come as a surprise to fans.
"It will probably end in some way that no one wants it to end," said hulking Icelandic actor Hafpor Julius Bjornsson, known as Gregor Clegane or "the Mountain" in Game of Thrones.
His was the only character of the three still standing at the time of the interview, in the ruthless show which has killed off many a beloved character, as well as many less beloved ones.
The Mountain has since been killed off by his brother, the Hound, in the most recent and penultimate episode of the show.
"It [the ending] will surprise a lot of people," Bjornsson predicted, adding that most fans probably want to see the characters of Jon Snow or Daenerys Targaryen sitting in the Iron Throne in the end.
After the last fiery episode, however, fan support for Daenerys has waned with Jon Snow left as the "good guy" candidate for the throne.
"I can't imagine it's going to be satisfying," agreed Kristian Nairn, who played the popular character Hodor, with an equally towering stature.
"Everyone will have their own perfect ending won't they?" added Hannah Waddingham, a charismatic blonde actress who bears no resemblance whatsoever to the cruel nun Septa Unella whom she played.
The actors were in Israel filming a commercial for SodaStream, which was released Wednesday and will be aired in dozens of countries before and during the Game of Thrones finale on Sunday.
The commercial recreates a 2017 well-known "Say Goodbye [to single-use plastic]" campaign aired by the company in Germany.
The company has featured Game of Thrones stars in their commercials before, and this time decided to double up on its "say goodbye" message as the show takes a bow.
Bjornsson is setting his post-Game of Thrones sights on defending his title as the World's Strongest Man in Bradenton, Florida in June.
While he is currently focussing on his athletic career, the acting offers have been flowing and he expects more will come.
"Once you're a part of that show your life just changes," he explained gratefully. "It's great, I'm really enjoying life and really fortunate I was part of a great show. It gave me a lot of opportunities."
For Waddingham too, Game of Thrones opened up new horizons.
"It changed my casting bracket," she told dpa. "Producers and casting directors realized I can dig a little deeper and play quite unsavoury characters which is a lot more fun and I think at this time when women are given the chance to play stronger characters, it has done something very nice for my career."
Meanwhile Nairn is touring the world in his DJ hat after having just brought out his second track, and he also has more acting gigs lined up.
"Game of Thrones fever is in full swing," he said.
Naturally, along with the career doors this has opened to the actors, it also brings with it encounters with fans wherever they go.
Poking fun at their respective sizes, Bjornsson and Nairn laughed that "there's no hiding."
"Just the size of us stands out so if they don't know who we are they just see these huge guys and think we must be someone," Bjornsson said.
"You get people who haven't figured out who you are and you see them Googling tall actors on their phones," Nairn chimed in.
Asked if fans shout references from the show such as "hold the door" at him, he responded that this happens on occasion, and "it's a bit weird when [it happens] when you're in Tesco trying to pick a parsnip."
"I had that at a Cyprus shopping mall two weeks ago," Waddingham said.
She, however, is less thrilled when she is recognized as the stern-faced character she played who was always covered up in grey religious habit and is famous for chanting "shame" as she forced lead character Cersei Lannister to make a walk of atonement.
"A woman was shouting out 'shame' to me - and I thought 'are you kidding me? I must be looking really terrible today!'" Waddingham said of the interaction.
With the last episode approaching, bringing eight years of Game of Thrones mania to a close, all Nairn can advise fans is to "wait for the prequel."
"I often thought to myself I can't imagine the world without Game of Thrones," Nairn said. "It's just become such an intrinsic part of pop culture, referenced in every comedy show and sitcom."
"It's become part of the modern lexicon," agreed Waddingham.
"So what do we do now?" Nairn mulled. "Hang on tenterhooks and don't watch any other TV," he quipped.