Anti-Daesh envoy McGurk key in US arming of Iranian-backed militia, officials say
U.S. officials have agreed that Iranian-backed militia could be using American-made arms and that Brett McGurk, the anti-Daesh envoy appointed during the Obama era, had a key role in enabling policies that helped arm the militants, Washington Free Beacon said in a piece on Monday citing American officials.
"Lawmakers and other have singled out Brett McGurk, the special presidential envoy for the Global Coalition to Counter ISIS, as playing a key role in enabling policies that help arm Iranian backed forces," the website said, using an alternative acronym for Daesh terrorist group.
The militia fighters in Iraq closely linked to Iran's Islamic Revolutionary Guards Corps (IRGC), are being trained and armed by the American government, the website said, quoting sources labeling the policy as one of the chief failures of the U.S. in the region.
"Top lawmakers and others have begun to present evidence showing that the State Department continues to provide widespread support for Iranian-backed militias in Iraq, a program that first begun under the Obama administration," the Beacon said.
The Washington Free Beacon quoted multiple sources accusing the State Department of making "common cause" with the IRGC. According to the website, the sources said that the Iranian organization "benefited from ongoing American efforts to arm and train Iraqi militia groups."
Pointing to the continued presence of senior Obama administration officials in the U.S. government, the sources called their existence as one of the primary drivers of this ongoing policy.
The website also quoted Bill Roggio, a veteran military analyst and editor of the Long War Journal, which chronicles U.S. military efforts. According to Roggio, the drive to defeat Daesh terrorist group has pushed senior U.S. military and diplomatic officials to ignore Iran's growing role in Iraq.
"The U.S. military and government has been so desperate to defeat ISIS that it has consciously ignored that its allies in Iraq and Syria include Shia militias backed by Iran and the PKK, which is designated by the U.S. government as foreign terrorist organization," Roggio was quoted as saying in the piece.
The anti-Daesh envoy McGurk has drawn fire many times for paying visits to PKK-linked militants. In 2016, McGurk held a meeting with representatives from the PKK's Syrian offshoot PYD and its armed wing, YPG.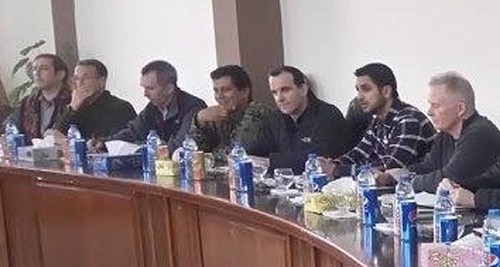 Photos of McGurk circulated in the media, which showed him sitting right next to senior PKK militant Abdi Ferhad Şahin, who goes by the alias "Şahin Cilo," and who is currently on the list of the Turkish Interior Ministry's most wanted terrorists with a TL 4-million ($1.03 million) bounty on his head.