Published December 05,2019
Subscribe
Hundreds of irregular migrants taking shelter in a refugee camp in northwestern Bihac province of Bosnia Herzegovina near Croatian border struggle to live under harsh winter conditions in which air temperature drops to minus 10 Celsius.
Up to 500 refugees living in the Vucjak Camp have lived under difficult conditions already, but the arrival of winter has taken their grievances to another level.
The refugees in the camp, which is only 15 kilometers (9.3 miles) away from the EU-member Croatia's border, urge Croatian officials to allow entrance so that they can proceed to European countries such as Germany, France, the Netherlands and Italy.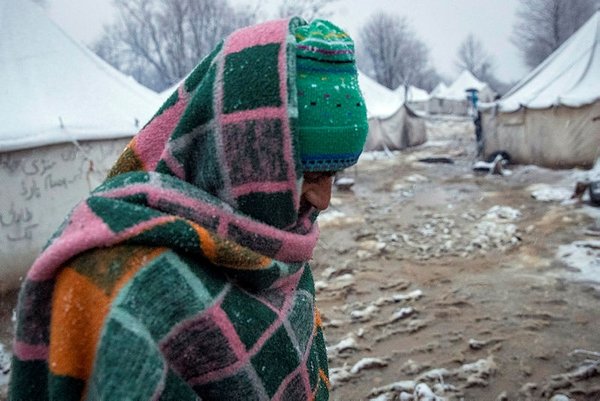 As they have not been allowed to advance to such countries, the camp residents have rejected the food delivered by the Red Cross for the past two days, and take shower with the water obtained from melting snow and warm up with the wood they collect from the nearby forest.
A placard stands in the middle of the camp, calling on the officials to extend a helping hand: "We are dying here. We want the EU to open its borders."
Although the authorities earlier suggested changing the camp location, no concrete steps have been taken in the camp where there are piles of trash.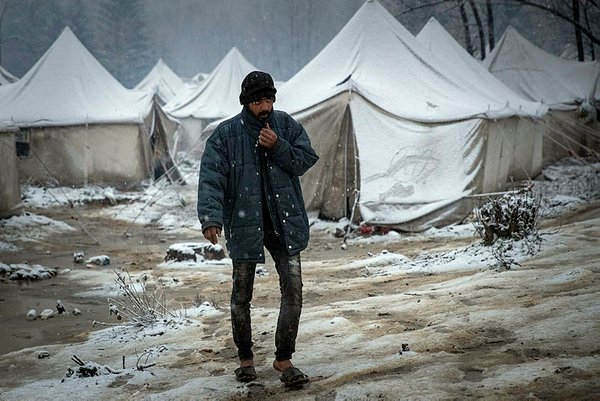 The camp residents can not find drinking water and not even able to walk properly due to mud.
"We do not want any help but the roads to be opened and [European countries] to allow our advance," said Muhammed, an Afghan national living in the camp, adding nights were freezing due to heavy snowfall.
Scores of the camp residents got sick due to heavy weather conditions, and some tents collapsed due to snow, making their struggle even more challenging, he said.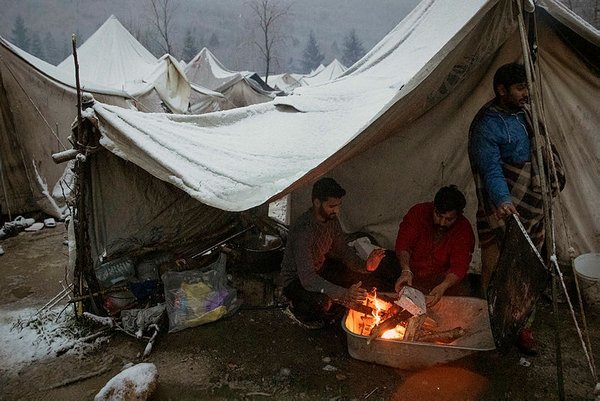 "They tell us to go to the lower [southern] camps but we are going to return after winter. The greatest favor to us would be opening the borders," he said.
Ekmel, a Pakistani camp resident, said nobody in the camp asked for any help, adding: "All we want is that the borders are opened."
The people in the camp did not even want to sleep due to fears of freezing to death, and they would gather around a bonfire and talk with others till the dawn, Ekmel said.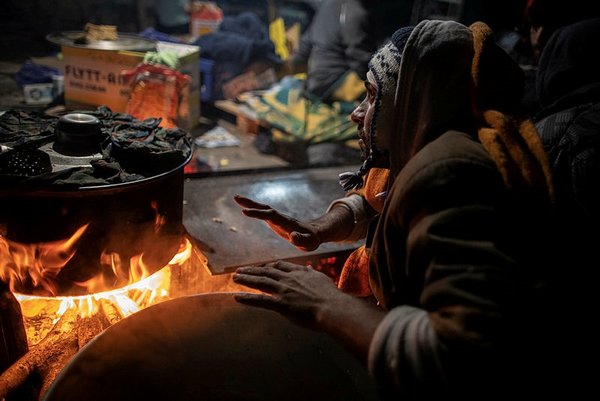 Some attempted to cross through the Croatian borders for numerous times, but the Croatian police arrested and beat them prior to sending them back to Bosnia Herzegovina, he added.
Ahmet, another Afghan in the camp, said the nights were freezing with the arrival of winter. "There are children and elders here. Maybe, it is not a big deal for the adults, but this place is just too cold for the kids."
Ahmet said the assistance of Turkey's Red Crescent eased the sufferings of the camp residents. "God bless Turkey, this place would be much worse if it wasn't for the tents [provided by the Turkish Red Crescent]," he said.