Gun attack leaves 24 dead in central Mexico
WORLD
Compiled from news agencies
Published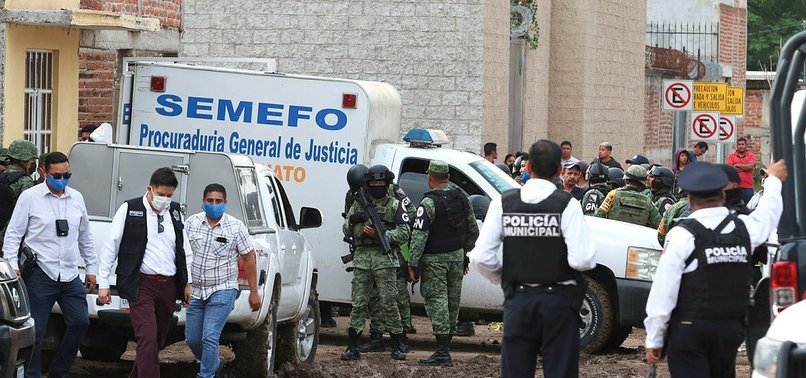 Gunmen on Wednesday attacked a drug rehabilitation center in central Mexico, killing 24 people at least and leaving seven wounded, local authorities said.
In an attack on a rehabilitation center, 24 people were killed by unidentified gunmen amid possible gang violence rampant in north-central Mexico, authorities announced Thursday.
According to preliminary information, the attackers "entered the scene, forced (the victims) onto the ground and shot them," said Pedro Cortes, secretary of public security in Irapuato, located northwest of Mexico City in Guanajuato state.
"We have reports that the (armed) subjects arrived in a red vehicle, no further information is known. The preliminary report we have is of 24 dead people and seven wounded," he added.
Authorities are working on locating the vehicle, Cortes said.
The city of Irapuato said in a statement that three of the wounded were in serious condition, but that no one had been kidnapped during the attack. It added that the area would be off-limits so that an investigation could proceed.
The state of Guanajuato, home to major industry and a number of large auto manufacturing plants, is plagued by organized crime violence.
The state's wealth has attracted groups such as the powerful Jalisco New Generation and Santa Rosa de Lima drug cartels, which are also involved in extortion, kidnapping and fuel theft.
Guanajuato Governor Diego Sinhue gave his condolences on Twitter and stated that "coordinated intervention by federal and state authorities is necessary as the only way to successfully confront this situation."
"My personal and institutional commitment is to the victims who lost their lives or were injured in this cowardly attack," he added.
On June 21 Mexican authorities announced the arrest of 26 alleged members of Santa Rosa de Lima gang after burning vehicles were used as road blocks in the cities of Celaya, Salamanca and Villagran.
Following the violent episode President Andres Manuel Lopez Obrador said that his government would not allow the country "to fall into anarchy and disorder."
Just days before, six members of a family, including a minor, were reported murdered in Celaya.
The government under ex-President Felipe Calderon began aggressively fighting cartel groups in 2006, hoping to squelch their influence by targeting their leaders.
In 2009, it was estimated that 45,000 military troops and federal and state police were fighting the so-called "war on drugs."
Since the initiative began, an estimated 200,000 people have died or disappeared due to cartel violence.
Government response
After several years of violence under the war on drugs, President Andres Manuel Lopez Obrador vowed to change the narrative. During his campaign, he said the government should not fight "violence with violence."
Instead, he wanted to take a more peaceful approach.
"You cannot fight fire with fire. We do not want deaths. We do not want a war," he said.
However, experts have since accused Obrador of similarly aggressive tactics, citing the fact that he sent the army to capture a cartel leader and created the elite National Guard police division.