House Intelligence releases Trump impeachment findings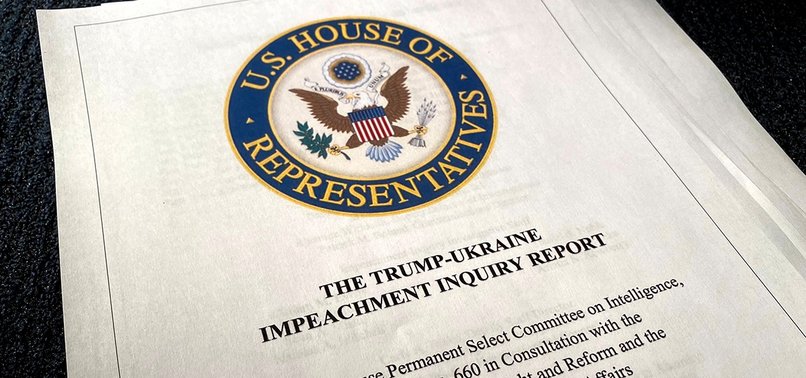 House Intelligence Committee on Tuesday released a draft report of its findings in the impeachment inquiry into President Donald Trump, a day before Judiciary Committee's hearing.
The 300-page report accused Trump of abusing power of his office over his dealings with Ukraine to benefit his 2020 presidential reelection campaign.


Trump conditioned a "coveted White House visit and critical U.S. military assistance Ukraine needed to fight its Russian adversary," said Intelligence Committee Chairman Adam Schiff, Oversight Chairwoman Carolyn Maloney and Foreign Affairs Chairman Eliot Engel in a statement.
The report was written by the staff of the three House committees.
"Finally, the evidence is clear that after his scheme to secure foreign help in his reelection was uncovered, President Trump engaged in categorical and unprecedented obstruction in order to cover-up his misconduct," said the Democrats.
Later in the day, the House Intelligence Committee will convene to vote on adopting the report before moving it to the Judiciary Committee which will hold its first hearing in the impeachment probe on Wednesday.
Roughly a dozen witnesses have offered sworn public testimony before Schiff.
White House was quick to react to the report, saying Schiff and Democrats could not produce evidence of wrongdoing by Trump as "one-sided sham process" ended.
"This report reflects nothing more than their frustrations. Chairman Schiff's report reads like the ramblings of a basement blogger straining to prove something when there is evidence of nothing," Press Secretary Stephanie Grisham said in a statement.
The impeachment investigation is centered on Trump's repeated requests to Ukrainian President Volodymyr Zelensky to open criminal investigations into Democratic candidate Joe Biden and his son, Hunter, as well as claims that it was Ukraine, not Russia, who meddled in the 2016 election.
Also at issue is the holdup of $400 million in congressionally appropriated military aid to Ukraine and whether Trump conditioned the release of that assistance and a possible Oval Office meeting with Zelensky on the Ukrainian president publicly announcing the investigations.
Trump has repeatedly lashed out at the impeachment probe as a "witch hunt" and denied wrongdoing, ordering his top officials not to participate in the proceedings.