Erdoğan calls for unconditional NATO support in anti-terror fight
WORLD
Agencies and A News
Published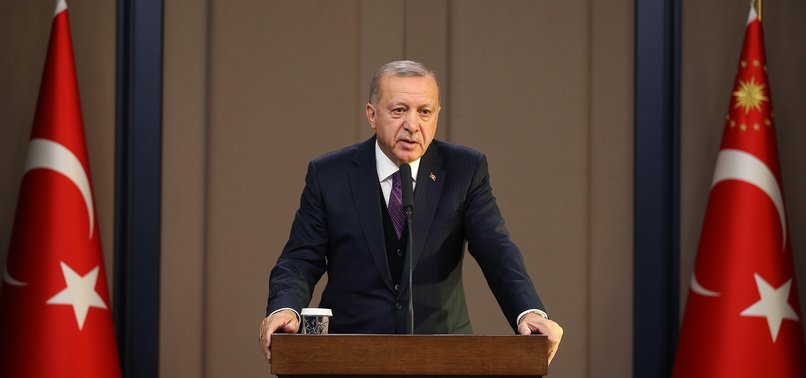 "Renewal of NATO in line with the current global situation is inevitable. Turkey expects allies to seek ways to boost cooperation and to show solidarity with it in support of its anti-terror fight," Turkey's President Recep Tayyip Erdoğan said in his comments to reporters in Ankara Esenboğa Airport ahead of his departure for the NATO summit in the British capital London.
Ahead of NATO's summit in London, Turkey's President Recep Tayyip Erdoğan on Tuesday called for unconditional support of the alliance in fight against terrorism.
Speaking to reporters at Ankara's Esenboğa International Airport before his departure for the meeting, Erdoğan said the member states should work to strengthen NATO in the face of common threats, instead of seeking alternatives.
Erdoğan stressed that the security umbrella provided by NATO was important for Turkey, which placed the military alliance at the center of its security and defense planning.


He said: "NATO needs to be more resolute, effective and proactive in the face of asymmetric threats, particularly those that emanate from terrorist organizations. NATO's reform in line with present-day threats is inevitable. In this regard, we expect very strong solidarity from our allies on the attacks that our country faces."
Erdoğan also underlined that Turkey is the only country that has fought on the ground against the terror group Daesh, also known as ISIS, and defeated it in Syria.
"TURKEY WILL INSTANTLY DO WHAT IS NEEDED"
Touching on the Turkey-Libya deal, Erdoğan said that this is the sovereign right of both countries, which Ankara will not discuss with France despite the latter's concerns.
The Restriction of Marine Jurisdictions signed Monday determined Turkey's maritime boundaries in the Mediterranean Sea.
Turkey has consistently contested the Greek Cypriot administration's unilateral drilling in the Eastern Mediterranean, asserting that the Turkish Republic of Northern Cyprus (TRNC) also has rights to the resources in the area.
"Greece can take steps, and we reserve the right to take steps. We take our steps, we will do what is needed instantly," he also said, referring to the deal.
Erdoğan said that relations with China and Russia were also expected to be discussed at the summit.
"We support constructive engagement based on mutual understanding with China, which we see as a rising power. It is one of the leading actors in our region and internationally along with Russia," he said.
Erdoğan also stressed that Turkey's good relations with Russia and other countries were not alternatives to its relations with its allies, but rather complemented them.
COUNTRIES 'PROTECTING' FETO MEMBERS
Erdoğan said other countries protected the alleged "imam" of Air Force members affiliated with the Fetullah Terrorist Organization, the group behind the 2016 defeated deadly coup in Turkey.
He underlined that Adil Öksüz, a theology professor and key link to U.S.-based FETO leader Fetullah Gulen, traveled between various countries including Germany and Belgium.
"We gave them [host countries] all their [FETO members] addresses and requested their return. Unfortunately, the governments have not yet sent us these FETO terrorists," he said,
Stressing that thousands of FETO members similarly live in such countries, Erdoğan hinted at a possible operation by Turkey's Interior Ministry to retrieve such figures.
FETO and its U.S.-based leader Fetullah Gulen orchestrated the defeated coup on July 15, 2016, which left 251 people martyred and nearly 2,200 injured.
Ankara also accuses FETO of being behind a long-running campaign to overthrow the state through the infiltration of Turkish institutions, particularly the military, police, and judiciary.
THERMAL POWER PLANTS
He went on to say that he had vetoed a law on Monday that sought to delay the installation of filters on coal plants due to environmental concerns.
Turkey will not allow firms to prevent people from breathing clean air, he said.