Erdoğan says told U.S. President Trump Turkey will not give up on S-400 missile defence systems
WORLD
Agencies and A News
Published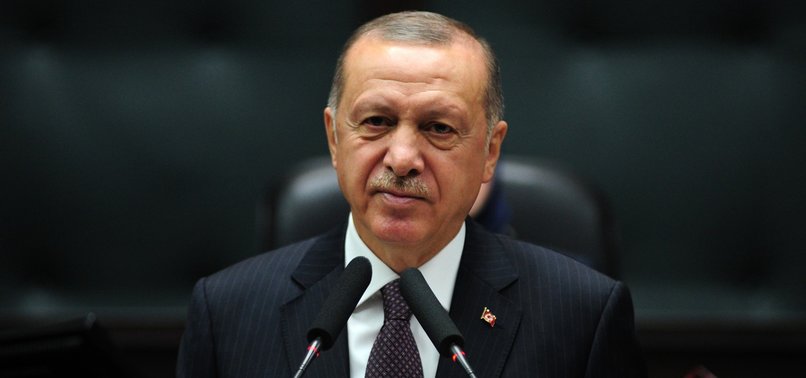 Speaking during a weekly meeting of the ruling Justice and Development (AK) Party at the Grand National Assembly of Turkey in the capital Ankara, Turkish President Recep Tayyip Erdoğan said he told his U.S. counterpart Donald Trump at the recent Washington meeting that If current disagreement on F-35 fighter jets continued, Turkey would look elsewhere to meet its medium-term defence needs.
Turkey's President Recep Tayyip Erdoğan said on Tuesday he told U.S. President Donald Trump during talks in Washington last week that Turkey would not give up on the Russian S-400 missile defence systems it procured this year despite protests from its NATO ally.
Erdoğan and Trump held talks at the White House to overcome mounting differences between the allies. Washington has said the S-400s pose a threat to its F-35 stealth fighter jets and has suspended Turkey from the jet programme, where it is a buyer and manufacturer. It has also warned of U.S. sanctions over the deal, but has yet to impose them.


Speaking to members of his AK Party in parliament, Erdoğan also said he had told Trump that if the United States maintained its "uncompromising stance" on the F-35s, Turkey would have to seek alternatives to meet its medium-term defence needs.
Underlining that Turkey was a partner in the production of F-35 fighter jets, Erdoğan said: "We are not a customer, we are a partner."
Turkey's acquisition of the advanced Russian air-defense system prompted the Trump administration to remove Turkey from the F-35 fifth-generation joint strike fighter program in July.
The U.S. maintains that the system could be used by Russia to covertly obtain classified details on the jet and is incompatible with NATO systems.
Turkey, however, counters that the S-400 would not be integrated into NATO systems and would not pose a threat to the alliance.

"TURKEY AWARE THAT U.S. SUPPORT FOR YPG WILL NOT END IMMEDIATELY"
Turkey is aware that the U.S. support for the YPG militants will not end immediately, Erdoğan said, but added that Ankara's battle against the Syrian branch of bloody-minded PKK terror group will continue.
Ankara views the YPG as a Syrian extension of PKK terror group that has been waging a terror campaign in Turkey for more than three decades, and has launched three offensives into northern Syria to drive YPG terrorists out of the war-weary region.

It has been infuriated by the U.S. support for the YPG, repeatedly urging its NATO ally to halt its relations with the group.
Erdoğan also slammed accusations against Turkey in the U.S. that Ankara was hostile towards Kurds.
"We are not against our Kurdish brothers, we are against the PKK, PYD and YPG, which are terror groups," said Erdoğan.
Erdoğan also criticized U.S. support to the PKK/YPG terror group in Syria.
"Those trying to show the separatist terror group [PKK/YPG] as fighting against Daesh[/ISIS] now try to hide that group's civilian massacres," Erdoğan said.
Turkey launched Operation Peace Spring on Oct. 9 in order to secure Turkey's borders, aid in the safe return of Syrian refugees and ensure Syria's territorial integrity by clearing YPG/PKK terrorists off northern Syria.
Ankara wants YPG/PKK terrorists to withdraw from the region so that a safe zone can be created to pave the way for the safe return of some 2 million refugees.
On Oct. 22, Ankara and Moscow reached a deal under which YPG/PKK terrorists would pull back 30 kilometers (18.6 miles) south of Turkey's border with Syria and security forces from Turkey and Russia will mount joint patrols there.
In its more than 30-year terror campaign against Turkey, the PKK -- listed as a terrorist organization by Turkey, the U.S. and the EU -- has been responsible for the deaths of 40,000 people, including women, children and infants. The YPG is the PKK's Syrian offshoot.
During his speech, Erdoğan stressed Turkey will continue to battle the YPG until all threats towards Turkey are stopped and every militant is eliminated.
"Notably in Syria and northern Iraq, our fight will continue until all terror threats towards our country end and the last terrorists neutralized," he said.
He also added that no plan in the region can be
realised without Turkey's consent
and support.