YPG to withdraw to beyond 30 km into Syria: Turkey's Erdoğan
WORLD
Agencies and A News
Published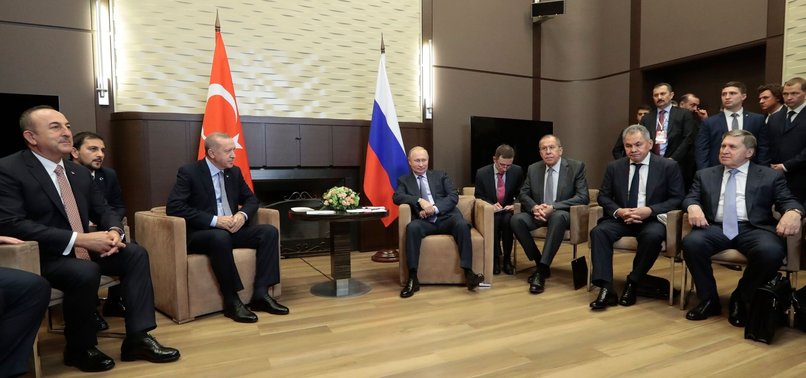 "All YPG terrorists with their weapons will be taken out from Syria's Tal-Rifat and Manbij. They will pull out in next 150 hours from area falling outside zone where Turkey's operation was underway," Turkish President said in a statement during the joint press conference with his Russian counterpart Putin on Tuesday.
Holding a joint press conference with his Russian counterpart
Vladimir Putin
,
Turkey
's President
Recep Tayyip Erdoğan
stressed in Tuesday's remarks: "The
YPG militants
will withdraw to beyond 30 km into Syria 150 hours after Wednesday noon.
"
Turkey
and
Russia
have agreed that the
YPG militants
in Syria will withdraw to beyond 30 km (19 miles) from the Turkish border and will also leave the towns of
Tel Rifaat
and
Manbij
," Turkish leader said in a statement.
Turkish and Russian troops will conduct joint patrols in northern Syria within 10 km of the border, he said, adding that Ankara would also work with Moscow for the
safe return
of Syrian refugees now in Turkey.
"We had a very productive meeting with our Russian counterparts today," the official said. "We reached an excellent agreement. We agreed to establish a
terror-free safe zone
," a senior Turkish official told reporters following the Erdoğan-Putin meeting in the city of
Sochi
, a Black Sea resort, as speaking on condition of anonymity.
The agreement came after the U.S.-backed YPG militants withdrew from an area in northern Syria that Ankara demanded be cleared of the Syrian extension of the bloody-minded PKK terror group.
TURKEY, RUSSIA AGREE ON 'HISTORIC' SYRIA DEAL
Ankara and Moscow on Tuesday agreed on "historic" Syria deal, Turkish President
Recep Tayyip Erdoğan
announced after meeting with his Russian counterpart
Vladimir Putin
.
According to the deal, starting at 12 noon (0900GMT) on Oct. 23, Russian military police and Syrian border guards will enter the Syrian side of the Turkish-Syrian border, outside the area of Operation Peace Spring to facilitate the removal of YPG/PKK elements and their weapons 30 kilometers (19 miles) off Turkey's border in northern Syria, which should be finalized in 150 hours.
The deal came after Erdoğan paid a one-day working visit to Russia's coastal city of Sochi to meet with Putin to discuss Syria and Turkey's Operation Peace Spring in northern Syria, which was launched on Oct. 9, to eliminate terrorists from northern Syria in order to secure Turkey's borders, aid in the safe return of Syrian refugees and ensure Syria's territorial integrity.
"All YPG elements and their weapons will be removed from Manbij and Tal Rifat [northern Syrian district]," according to the deal.
Turkey and Russia will launch joint efforts to facilitate to return of refugees in a "safe and voluntary" manner.
"A joint monitoring and verification mechanism will be established to oversee and coordinate the implementation of this memorandum," it added.
"TALKS WITH

ERDOĞAN

HAVE YIELDED 'MOMENTOUS' RESULTS FOR SYRIA"
Russian President
Vladimir Putin
said on Tuesday that talks with his Turkish counterpart Erdoğan had yielded what he called momentous results for Syria, but did not say what they were.
Putin, speaking at a news conference in southern Russia with Erdoğan, said the two countries' foreign ministers would disclose what had been agreed between the two men later.
Russian Foreign Minister
Sergei Lavrov
also said on that Moscow and Ankara had agreed that the YPG militants would pull back 30 km (19 miles) from the Syrian border in a deal he heralded as one that would end the bloodshed in the region.
Lavrov, who was speaking after talks between Russian President
Vladimir Putin
and his Turkish counterpart
Recep Tayyip Erdoğan
, said the YPG would also withdraw from the towns of
Manbij
and
Tel Rifaat
.
Lavrov said
Russian military police
and
pro-Assad border guards
would be deployed on the Syrian side of the border with Turkey from midnight on Oct. 23 outside the zone of
Turkey's military operation
.