Erdoğan to discuss regime deployment in 'safe zone' with Putin next week
WORLD
Agencies and A News
Published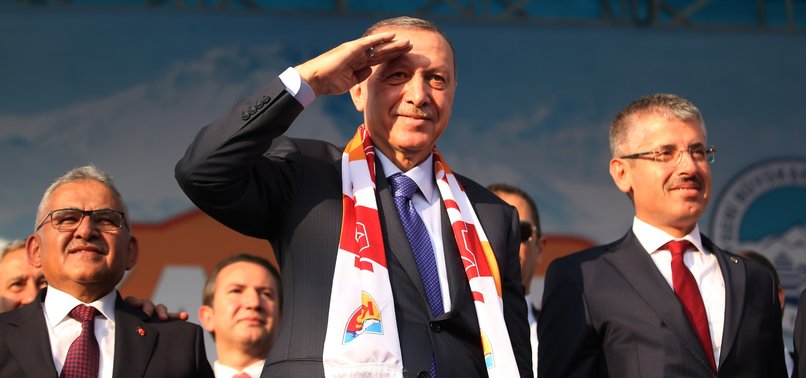 "The Assad regime forces are present at some part of Turkey's cross-border operation zone in northeastern Syria, I'll discuss matter with [Russian President] Vladimir Putin,' Turkish President Recep Tayyip Erdoğan said in his speech during a ribbon-cutting ceremony in Turkish city of Kayseri on Saturday.
Turkish President Recep Tayyip Erdoğan said on Saturday he would discuss the deployment of the Assad regime forces in a planned "safe zone" in northern Syria during talks with Russia's President Vladimir Putin next week, but warned Ankara would "implement its own plans" if a solution was not reached.
Turkey agreed with the United States on Thursday to pause its military offensive in northeastern Syria for five days while the YPG -- viewed by Ankara as the Syrian extension of the bloody-minded PKK terror group --- withdrew from a "safe zone".

Erdoğan will visit Sochi for emergency talks with Putin on what steps to take next.
Speaking at an opening ceremony in the central Turkish province of Kayseri, Erdoğan also said Turkey would "crush the heads" of YPG terrorists in northern Syria if they did not withdraw from the area during the 120-hour period.
Erdoğan added Turkey's stance in the establishment of a safe-zone in northern Syria has always been same and it has not changed.
On Oct. 9, Turkey had launched Operation Peace Spring to eliminate terrorists from northern Syria in order to secure Turkey's borders, aid in the safe return of Syrian refugees and ensure Syria's territorial integrity.
On Thursday, Turkey agreed to pause its Operation Peace Spring for 120 hours to allow the withdrawal of the YPG/PKK terrorists from the planned safe zone.
Turkish President Recep Tayyip Erdoğan and U.S. Vice President Mike Pence also agreed on Turkey having 20 miles (32 kilometers) of safe zone south of the Turkish border in Syria.
Ankara wants to clear northern Syria east of the Euphrates River of the terrorist PKK and its Syrian offshoot, the YPG/PKK.
In its more than 30-year terror campaign against Turkey, the PKK -- listed as a terrorist organization by Turkey, the U.S. and the European Union -- has been responsible for deaths of 40,000 people, including women, children and infants.