Report divulges rights violations by YPG/PKK in Syria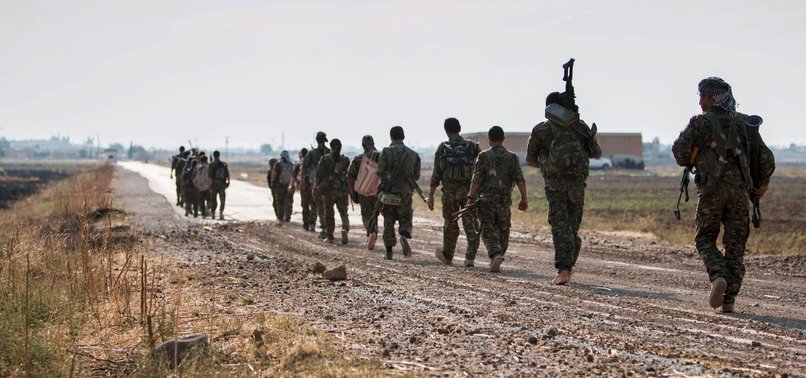 A Syrian research center has published a report on war crimes and human rights violations committed by YPG/PKK terrorist group in Syria.
The report released by Hibr highlighted "violations and demographic change carried out by separatist militias" and documented crimes committed against civilians from Turkmen, Syriac, Ezidi and Arab population.
The group carried out forced displacement with the ultimate aim to change the demographic structure in northern Syria.
Human rights violations -- including arbitrary arrests, looting of the evacuated homes, forcible recruitment of children and massacres -- were documented against Turkmen, Syriac, Ezidi and Arabs living in northern Syria.
The crimes have been documented in Qamishli, Tal Abyad, Ras Al-Ayn, Al-Hasakah, Manbij, Raqqah and Deir Ez-Zor.
On June 27, 2013, YPG/PKK opened fire at a protest in Amuda town, which called for releasing detained activists.
Eight protesters were killed including an eight-year-old boy, who was run over by a YPG vehicle.
On Sept. 13, 2014, the terrorist group committed a massacre by killing 43 civilians -- most of whom were women and children -- in Tal Khalil and Al-Hajia villages in the southern countryside of Qamishli.
The group forced migration of around 40,000 families in the rural areas of Tal Hamees and Jaza.
The graves of 20 people -- who were buried alive by YPG/PKK in Matiniya village of Qamishli -- were found out as a result of the bad smell coming from the decayed bodies.
Citing the Interim Syrian government's report released on Feb. 7, 2014, the research center said the terrorist group carried out fake military operation in the rural areas of Tal Abyad to spread fear among civilians and make them migrate. The group denied entry to families of locals that were trying to return to their homes.
The group forced Turkmen residents in Hammam Turkmen village to leave the region, otherwise they would report their location to the U.S.-led international coalition as Daesh terrorist positions and its warplanes would strike them.
Similar approach was adopted by YPG/PKK in 2014 and 2015 as they threatened Turkmen and Arab families with possible Daesh attacks in the villages of Al-Selahiye, Tel Bilal, Shekyan, Ferisat and the surrounding area.
Such threats have caused mass displacement in the countryside of Tal Abyad.
Thousands of civilians were displaced in Al-Hasakah and many Arab villages and houses were burned.
According to a report by the Syrian Network for Human Rights (SNHR), 91 civilians -- including 17 children and seven women -- were killed in racially motivated massacres by YPG/PKK in the ruling areas of Al-Hasakah province.
SNHR also documented the killing of 164 people -- including 31 children and three women -- by SDF -- a major component of which has been the YPG/PKK -- during battles to seize Raqqah that lasted until June 2017.
According to the report, the human rights violations by the terrorist organization are not limited to the violations against local people.
In 2018 alone, the YPG/PKK forced 313 children to fight in their ranks. 40% of them were girls who were 15 years old or younger.
According to SNHR's findings, the YPG/PKK massacred 1,157 civilians -- including 203 children -- until September 2019.
At least 47 people were tortured to death by the terrorist group which arbitrarily detained 2,907 people -- 631 of whom were children.
On the other hand, 877 people -- including 52 children -- were forcibly disappeared in the areas occupied by the YPG/PKK.