Erdoğan says Operation Peace Spring aims to send Syrian refugees back to their homes
WORLD
Agencies and A News
Published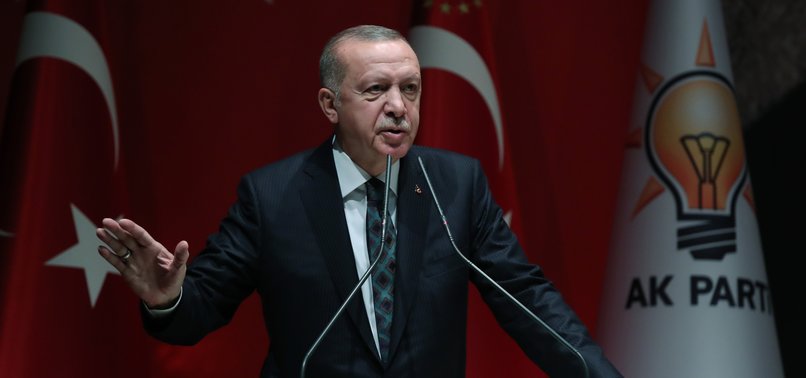 Speaking during an AK Party meeting on Thursday, Turkey's President Recep Tayyip Erdogan defended Turkey's military operation dubbed "the Operation Peace Spring" into Syria after a wave of international criticism, saying the military operation would support Syria's territorial integrity by removing YPG and Daesh terrorists out of the northeastern region of the war-torn country.
Turkey's military operation dubbed the Operation Peace Spring launched by Turkey led-forces to clear the YPG and Daesh terrorists off the northeastern region of war-torn Syria is aimed at restoring the region's demographic structure and sending Syrians back to their own homes, Turkish President Recep Tayyip Erdoğan stressed in his speech on Thursday as speaking during the meeting of AK Party provincial heads.
In a speech to officials from his AK Party in the capital Ankara, Erdoğan said he could not accept any harm being inflicted on civilians during the offensive.

Turkish president says that there have been 109 "terrorists killed" — a reference to Syrian Kurdish fighters — since Ankara launched an offensive into Syria the previous day.

Erdoğan did not elaborate and the reports on the ground did not indicate anything remotely close to such a large number of casualties.
Turkey aims at averting the creation of a "terrorist state" along its borders, Erdoğan said, referring to the YPG militants which controls large areas in north-eastern Syria.
"We will destroy what is left of them," Erdoğan said of the operation, dubbed "Peace Spring", calling on the YPG fighters to lay down arms.

"We have a message to those who were forced to join the YPG ranks: If you leave now... our arms are wide open," he said.
Erdoğan also warned the European Union not to call Ankara's military operation into Syria an 'invasion,' and renewed his threat of letting Syrian refugees flood Europe.
He reiterated an earlier statement that Turkey could "open the gates" for an influx of Syrian migrants to Europe.

"Hey EU, wake up. I say it again: if you try to frame our operation there as an invasion, our task is simple: we will open the doors and send 3.6 million migrants to you," Erdoğan said in a statement.
Turkey currently hosts 3.6 million refugees from the eight-year conflict in Syria -- the highest number in the world.
Under a 2016 agreement with the EU, Turkey agreed to prevent refugees from leaving towards Europe in exchange for six billion euros and visa-free travel for its own citizens.
But it has frequently criticised Brussels for being slow in providing the money and not doing more to help with the broader refugee problem.
"You have never been sincere," Erdoğan said, addressing the EU.
"Now they say they will withhold three billion euros from us. Have you ever kept any promise you gave us so far? No."
One of Ankara's aims for the military operation is to establish a "safe zone" in which at least one million Syrian refugees can be repatriated, after the long-term presence of refugees became an increasingly political liability.
Erdoğan also lashed out at Egypt, Saudi Arabia, the EU and the US, arguing that the ongoing offensive to the east of the Euphrates river is aimed at "eliminating terror" from along Turkey's borders.

"They are not honest, they just make up words. We, however, create action and that is our difference," Erdoğan said of Turkey's critics, singling out Saudi Arabia and Egypt.
Erdoğan charged that Saudi Arabia was killing civilians in Yemen and referred to Egyptian President Abdel-Fattah al-Sissi as a "killer."