Trump defends Syria move, doesn't want US troops in Mideast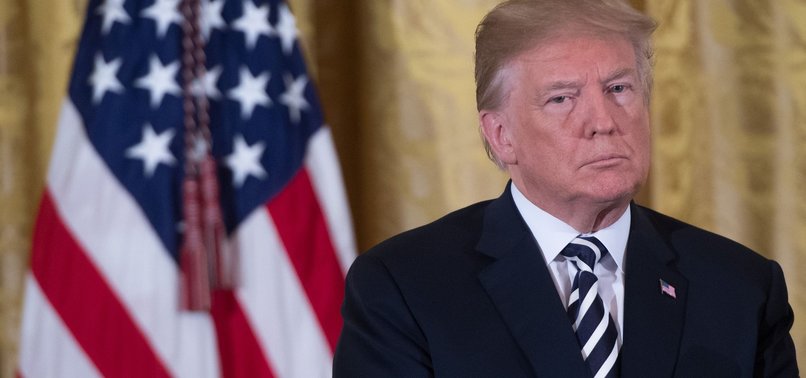 "Going into the Middle East ıs the worst decision ever made in the history of our country! We went to war under a false & now disproven premise, WEAPONS OF MASS DESTRUCTION," U.S. President Donald Trump wrote on his official Twitter page on Wednesday in reference to the 2003 US invasion of Iraq.
President Donald Trump lashed out Wednesday over sharp bipartisan criticism of his decision to pull back U.S. troops from northeastern Syria, saying he is focused on the "BIG PICTURE" that does not include American involvement in "stupid endless wars" in the Middle East.
"Fighting between various groups that has been going on for hundreds of years. USA should never have been in Middle East," Trump said in a series of morning tweets. "The stupid endless wars, for us, are ending!"
Turkey launched its offensive Wednesday, with President Recep Tayyip Erdoğan announcing on his official Twitter account that the operation had begun. Erdoğan said the operation aims to eradicate "the threat of terror" against Turkey.
Trump defended his unpopular decision, arguing on Twitter that "GOING INTO THE MIDDLE EAST IS THE WORST DECISION EVER MADE IN THE HISTORY OF OUR COUNTRY!" He said the U.S. went to war under a "false & now disproven premise, WEAPONS OF MASS DESTRUCTION. There were NONE!"
Trump said he is "slowly & carefully" bringing home "our great soldiers & military," in line with his campaign promise to do so.
He added: "Our focus is on the BIG PICTURE! THE USA IS GREATER THAN EVER BEFORE!"
Trump also claimed the U.S. has spent $8 trillion "fighting and policing" in the Middle East, up from the $7 trillion figure he has cited numerous times.
Trump is using an inflated estimate on the cost of wars and referring in part to predicted costs going decades into the future, not money actually spent. Some of the spending also reflects his policy decisions he made since taking office nearly three years ago.

Trump announced Tuesday that he and Erdogan will meet at the White House on Nov. 13.