Peace corridor will solve Syria migrant crisis, Erdoğan tells UN General Assembly
WORLD
Agencies and A News
Published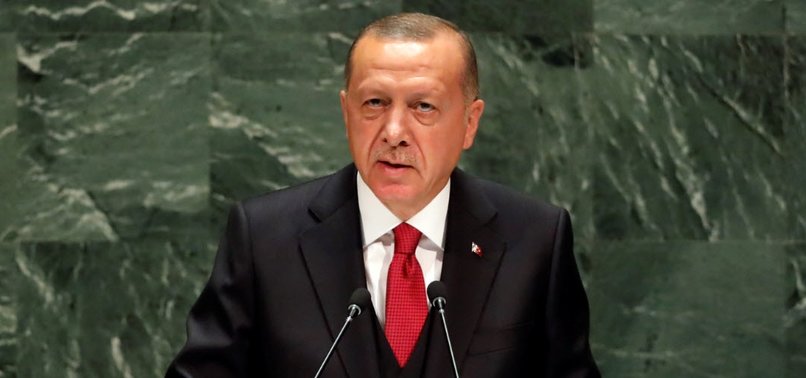 "Turkey can't exclusively bear the burden of hosting Syrian refugees, as he reiterates a call for creating a "safe zone" in north-eastern Syria. We can resettle up to 3 million Syrian refugees in this zone," Turkish President Recep Tayyp Erdoğan told the UN General Assembly as he held up of a map of the Turkish-Syrian border region.
A peace corridor on Turkey's Syria border will enable the resettlement of 3 million Syrians from Turkey, Europe and other countries if it is extended to the Deir ez zor-Raqqa line, Turkish President Recep Tayyip Erdoğan said Tuesday.
Addressing the UN General Assembly in New York, Erdoğan said "efficient functioning" of the Constitutional Committee is "critical for political and territorial unity of Syria".
Turkish and U.S. military officials agreed Aug. 7 to set up a safe zone in northern Syria and develop a peace corridor to facilitate the movement of displaced Syrians who want to return home.


The PKK/YPG terror group is operating under disguise of Syrian Democratic Forces in northern Syria, must be dealt with for safety and security of the region, Turkish leader said in a statement.
Erdoğan also called on UN members to back Turkey's efforts to ensure security in Syria's Idlib to avoid mass migration and massacres and he added international community "losing ability to find lasting solutions" to challenges such as terrorism, hunger, misery and climate change.
Turkey is "the most generous country" with humanitarian aid, hosting 5 million displaced people fleeing conflict, starvation, persecution -- more than population of 29 U.S. states.
"In 2019, Turkey saved 32,000 irregular migrants from drowning at sea, repatriated 58,000, not including Syrians," Erdoğan added.
Syria has been locked in a vicious civil war since early 2011, when the Bashar al-Assad regime cracked down on pro-democracy protests with unexpected ferocity.
Hundreds of thousands of people have since been killed and more than 10 million others displaced, according to UN figures.
The PKK's Syrian branch YPG has managed to occupy one-third of Syria under the guise of fighting against Daesh with the support of the U.S.

ERDOĞAN USES AYLAN KURDI PHOTO TO DRAW ATTENTION TO REFUGEES' PLIGHT
Turkey's president held up a photo of Aylan Kurdi, the 3-year-old Syrian whose body washed up on a Turkish beach in 2015, to say the world's memory is short when it comes to refugees killed en route to safety.
"Here, as you can see, the world was very quick to forget about Aylan, the baby," Erdoğan told the UN General Assembly as he raised the photograph that appeared on front pages across the world and highlighted the scale of the humanitarian crisis created by the Syrian conflict.
Pictures of Aylan's body on a beach near the town of Bodrum, after his family attempted to make the crossing to Greece, sparked a global outpouring of sadness and anger.
"Do not forget that you may go through the same one day. Because there is not one Aylan baby, there are thousands, millions. We have to take measures against all these [deaths]," Erdoğan said.
- INTERNATIONAL COMMUNITY, UN SHOULD PROVIDE SUPPORT TO PALESTINIANS
Palestinian territories under Israeli occupation has become one of the places on earth where "injustice prevails the most," Erdoğan said.
"If the images of an innocent Palestinian woman who was murdered heinously by Israeli security forces on the street just a few days ago cannot awake the consciences, then we are at a point where the words fail," he said.
Turkey has "a clear stance" on the issue, Erdoğan said. "The immediate establishment of an independent and homogeneous Palestinian state on the basis of the 1967 borders with East Jerusalem as its capital is the solution," he said, as he urged the international community and UN to provide "concrete support to the Palestinian people beyond mere promises."
He also questioned the role and mission of UN, saying it fails to implement its own resolutions against Israel.
"How can the Golan Heights and the West Bank settlements be seized, just like other occupied Palestinian territories, before the eyes of the world if they are not within the borders of this state," he asked rhetorically. "Is the aim of the initiative presented as the 'Deal of the Century,' to eliminate the presence of the state and people of Palestine?," he said in reference to U.S. President Donald Trump's much hyped plan to solve the Palestine-Israel issue.
He then admonished his audience by saying: "All actors of the international community, in particular the United Nations, should provide concrete support to the Palestinian people beyond mere promises."
- TURKEY TO CONTINUE PROTECT ITS INTERESTS IN THE EASTERN MEDITERRANEAN
Despite negotiations of more than 50 years, the Cyprus issue has not been resolved due to the "uncompromising position of the Greek Cypriot side," said the Turkish president.
Saying the Greek Cypriot side refuses to share the political power and prosperity with Turkish Cypriots, Erdoğan stressed those who claim to solve the problem under the condition of "zero security, zero guarantee" have "ill-intentions."
As the international treaty-based guarantor, Turkey will continue its efforts until a solution that guarantees the security and rights of Turkish Cypriot people is found, he said.
"We believe that the energy resources in the Eastern Mediterranean constitute an important opportunity for cooperation if we all adopt a 'win-win' approach," Erdoğan said.
He said some countries in the region are trying to turn "the issue of energy resources into an area of conflict."
"In the Eastern Mediterranean, we will protect the legitimate rights and interests of both Turkish and Turkish Cypriot people till the very end," Erdoğan said, and added that Turkey will be open to all proposals based on cooperation and equitable sharing.
In 1974, following a coup aimed at Cyprus' annexation by Greece, Ankara intervened as a guarantor power. In 1983, the Turkish Republic of Northern Cyprus was founded.
The decades since have seen several attempts to resolve the dispute, all ending in failure.
The latest, in 2017 in Crans-Montana, held with the participation of the guarantor countries -- Turkey, Greece, and the U.K. -- ended in failure.
In 2004, in twin referendums, the plan of then-UN Secretary-General Kofi Annan was accepted by Turkish Cypriots but rejected by Greek Cypriots.
Talks have focused on a federal model, based on the political equality of the Turkish Cypriot and Greek Cypriot sides, but Greek Cypriots' intransigence and rejection of such a solution, including the Annan plan, led to the emergence of other models.
In a recent report, current UN Secretary-General Antonio Guterres also said "new ideas" may be needed for a settlement on the island.
- LIBYA NEEDS A DEMOCRATIC ADMINISTRATION BASED ON FREE WILL
Turkey endeavors to ensure security and stability in Libya through the establishment of a democratic administration based on the free will of the people, Erdoğan said.
"The political and economic empowerment of Libya will be a relief for both North Africa and Europe," the president said. He added: "We also hope that discussions about Iran's activities as well as related threats to this country will be resolved in a rational framework."
Libya has remained beset by turmoil since 2011, when longtime ruler Muammar Gaddafi was ousted and killed in a NATO-backed uprising after four decades in power.
The oil-rich nation has since seen the emergence of two rival seats of power: one in the east to which renegade Gen. Khalifa Haftar is affiliated, and the Tripoli-based GNA, which enjoys UN recognition.
Haftar's forces launched a campaign in April to capture Tripoli from Libya's internationally recognized GNA.
Clashes between the two sides since then have left more than 1,000 dead and about 5,500 wounded, according to the World Health Organization (WHO).
- MIDDLE EAST NEEDS 'REAL JUSTICE AND EQUITY'
The murder of Washington Post columnist Jamal Khashoggi and suspicious death in a court room of Egyptian President Mohamed Morsi showed "a real need for justice" in Middle East, said Erdoğan
Khashoggi was killed in October in the Saudi Consulate in Istanbul. Saudi Arabia initially denied any knowledge of his whereabouts after he went missing but later attempted to blame his death on a team of rogue operatives carrying out a botched rendition operation.
Morsi, Egypt's first democratically elected president, died of a sudden heart attack in June while he was in court. He was ousted in a military coup in 2013.
- MARCH 15: INTERNATONAL DAY FOR SOLIDARITY AGAINST ISLAMOPHOBIA
Turkish president also requested the UN designate March 15 as "International Day for Solidarity against Islamophobia," in honor of victims of a massacre in New Zealand.
At least 51 Muslim worshippers were massacred March 15, 2019, at two mosques in Christchurch, with as many injured, in an Islamophobic terror attack carried out by Australian-born Brenton Harrison Tarrant.
Erdoğan concluded his address to the UN with a message of "freedom, peace, prosperity, justice, peaceful and safe future for all."