Nearly 400 terrorists 'neutralized' in anti-terror operations in 3 months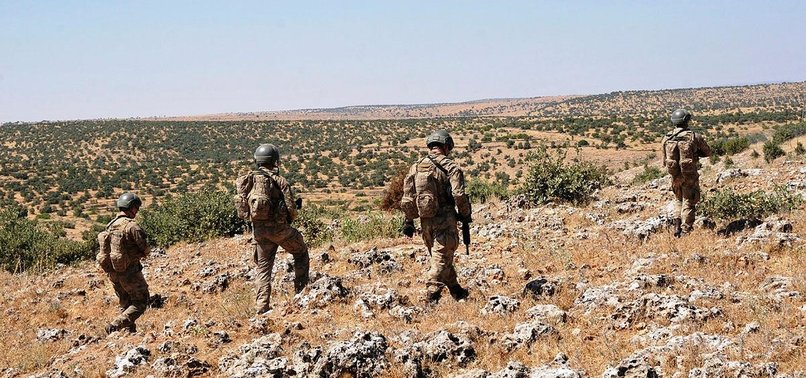 A total of 396 terrorists, including those wanted with the nation's red code, were "neutralized" in Turkey's domestic and cross-border operations over the last three months.
Turkish authorities often use the term "neutralized" to imply the terrorists in question surrendered or were killed or captured.
The counter-terrorism operations were supported by the Turkish Armed Forces, police, gendarmerie, and the National Intelligence Service (MIT).
According to data compiled by Anadolu Agency, PKK's terrorist attacks martyred 28 Turkish security forces, besides eight civilians, including children, from June 1 to Aug. 31. Separately, some 40 others, including civilians, were injured in terrorist attacks.
Security forces arrested 1,064 people for their suspected links to the PKK. Some 130 of them were remanded into custody.
Among terrorists neutralized were Şerif Yakut, who was on the red, most-wanted category of the Interior Ministry's list. He was neutralized in the eastern Bitlis province on June 19.
Hülya Kul, codenamed Sevin, was sought with 1. 5 million Turkish liras (around $264,000) bounty on her head when she was neutralized in the eastern Bingöl province on July 22. She was on the blue, second most-wanted category of Turkey's list.
The anti-terror operations in Bitlis also neutralized Ünal Dinar, codenamed Eren Karker, on June 16.
On July 28, Uğur Arslan -- codenamed Ağır -- was neutralized in the eastern Ağri province.
In mid-August, security forces neutralized Ahmet Boyraz -- codenamed Fikri -- in the eastern Erzincan province. He was wanted with a bounty of 600,000 Turkish liras ($105,000).
Dinar, Arslan and Boyraz were on the orange category of Turkey's wanted terrorists list.
In June, terrorist Osman Gülen, codenamed Civan, with a 300,000 Turkish liras ($51,000) bounty on his head, were neutralized in the eastern Diyarbakir.
The same operation also neutralized Cihan Akalın, codenamed Bahoz Velat, who was the perpetrator of the 2016 terrorist attack targeting Merasim Street in the capital Ankara.
Meanwhile, a June operation in the eastern Hakkari captured a perpetrator of the 2016 Istanbul attack which targeted Beşiktaş Vodafone Park.
In July, Muhammet Fadullah Kamış, codenamed Sevger, was arrested in the eastern Erzurum province with a bounty of 300,000 Turkish liras ($53,000) on his head.
Gülen, Akalın and Kamışwere on the gray category of Turkey's list.
Turkey's fight against the terrorists continue incessantly.
Operation Claw, an ongoing cross-border operation launched in May 27, targets terrorist in Hakurk, northern Iraq.
Turkey also launched a fresh domestic offensive, Operation Kıran, on Aug. 17 in Van, Hakkari and Şırnak to fight against the terrorists.
In its more than 30-year terror campaign against Turkey, the PKK -- listed as a terrorist organization by Turkey, the U.S. and the EU -- has been responsible for the deaths of some 40,000 people, including women and children. The YPG is its Syrian branch.