New Yorkers hope high-tech traps will end rat menace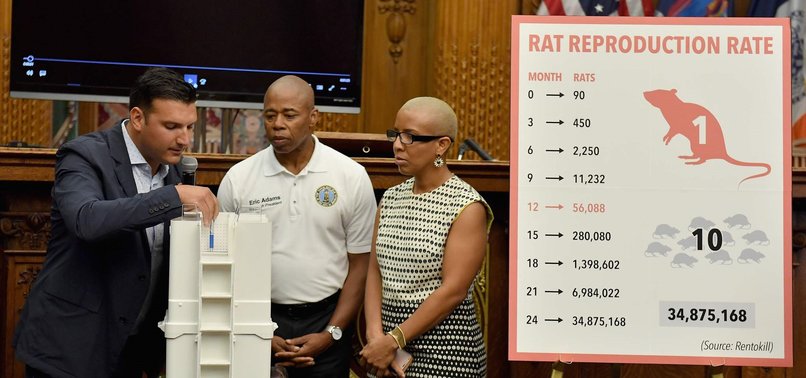 Officials in New York have unveiled a hi-tech rat trap which they say could finally begin to tackle the city's massive problem of rodents scurrying across basement floors, sidewalks and subway stations.
On Thursday, Brooklyn Borough President Eric Adams told reporters of a month-long pilot scheme that could be rolled out to tackle a problem that has eluded officials, who have spent millions of dollars on anti-rat schemes over the years.
A battery-operated device imported by Rat Trap Inc, called Ekomille, uses seeds and nuts to lure rodents into machines before triggering a trap door that plunges them to their deaths in a bucket of alcohol-based liquid.
The company's website describes devices, which are about 2 foot tall and can hold as many as 80 drowned rat carcasses, as an environmentally-friendly and "innovative and effective system of rodent control".
"Unlike other conventional attempts to combat the growing rat population in New York City and the greater New York area-including the use of dangerous traps, pesticides, and poisons-Rat Trap, Inc. is a system that poses no threat to public health or the environment," it says.
In one test, the company said a single trap had captured and killed 36 rats in six days. During the recent trial around Brooklyn Borough Hall, as many as 107 rats drowned inside the bucket of pale green alcohol solution.
Rats are a well-known blight for New Yorkers. Thousands of city denizens call a health department phone line each year to gripe about rodents scurrying through their kitchens and rummaging through trash cans outside apartments.
New York officials have spent millions of dollars over the years on everything from rat-proof garbage cans to a liquid designed to make rats infertile, but such attempts have so far done little to put a dent in the estimated 2 million animals in the city.