US hypocrite over its concern for Venezuelans: Jorge Arreaza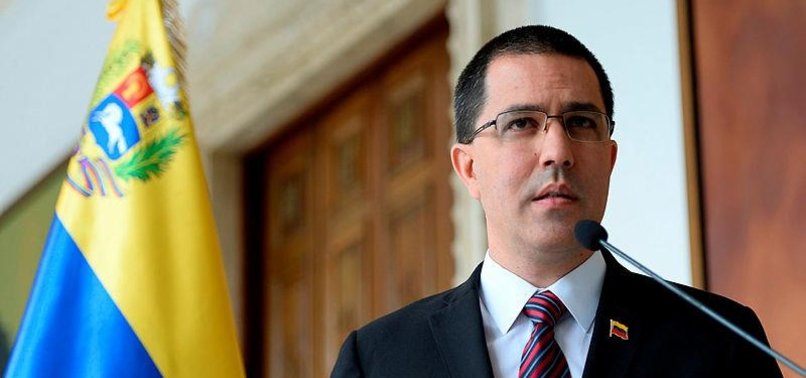 Venezuela has denounced the U.S. administration for trying to convince international community "in a hypocritical way" that Washington has concerns about South American nation's economic crisis.
"As they [the U.S.] are the ones causing the difficulty for food and medicine to enter the country," Foreign Minister Jorge Arreaza said in a statement late Wednesday.
The statement came after U.S. State Department announced a humanitarian assistance package of $120 million dollars for the displaced Venezuelans in Colombia, Ecuador, Brazil, and throughout the region, due to economic and political instability.
"Hypocrites! U.S. government steals billions of dollars of assets from Venezuela, blocks billions more in international banking, ignores the UN Humanitarian Assistance Plan and pretends to make others believe about they care about Venezuelans," Arreaza captioned a tweet where he shared State Department's statement.
State Department spokeswoman Morgan Ortagus announced Wednesday an additional $120 million in humanitarian aid for Venezuelan migrants, blaming President Nicolas Maduro's administration for the failure.
According to the statement, the U.S. contribution to the Venezuelan regional crisis reached more than $376 million -- including humanitarian aid and economic and development assistance -- since 2017 fiscal year with the latest additional fund.
Washington also called on opposition leader Juan Guaido and Guaido-led National Assembly to prioritize the humanitarian crisis.
President Donald Trump's administration has been focusing on economic and diplomatic measures against Maduro, including imposing sanctions on him, his top officials, and several governmental departments as it seeks to ramp up pressure on him to step down.
After imposing sweeping sanctions on Venezuela's state-owned oil firm PDVSA in January, Trump issued an executive order earlier this month freezing all assets in the U.S. belonging to the Venezuelan government in a significant escalation of tensions with Caracas.
Since the beginning of this year, Venezuela has been embroiled in political unrest as Maduro and Guaido engage in a power battle amid a dire economic crisis in the Latin American nation.
Guaido in January proclaimed himself Venezuela's interim president, dismissing Maduro's 2018 re-election as a fraud, in a move recognized by more than 50 countries, including the U.S.
But Venezuelan state institutions, the military, and many countries including Russia, China, Iran, and Turkey have put their weight behind Maduro.
Nearly 5,000 people leave Venezuela every day due to instability and uncertainty amid the economic and political crisis, and 3 million Venezuelans have left since 2015, according to the UN refugee agency.